Galaxy News: Images of Galaxy Gear, Note 3 and Note 12.2 surface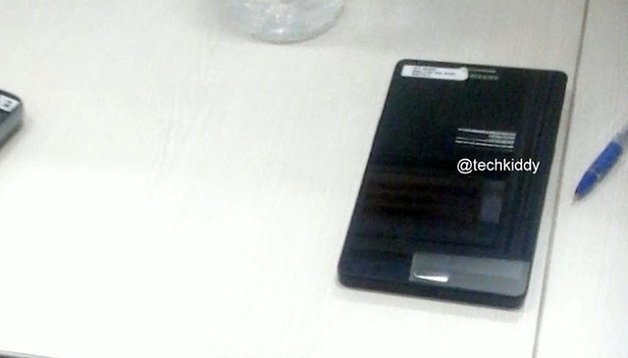 Although we are AndroidPIT and not SamsungPIT, there were so many pictures leaked of hotly anticipated devices over the weekend that they deserve a little special attention. For starters, we've finally seen the first images appear of what purports to be the Samsung smartwatch, the Galaxy Gear. And they have absolutely nothing in common with the previous concepts and patent filings that we've seen so far! We now have a better idea of how the Note 3 will look, and for the first time, catch sight of the giant – the Galaxy Note 12.2 – thanks to the first full-body shots. See for yourself.

Galaxy Gear
Here in the editorial office there has been some considerable interest in Samsung's Android watch called the Galaxy Gear. So far, the most common design concept that we've seen circulating around the internet has been a work-up from the design Samsung patented a while back, which we had all come to kind of like. It's been known for a while that the smartwatch would not have a flexible display, but the design at least had grown on us. However the California tech blog, VentureBeat, has now revealed images culled from a promo video and posted descriptions based on time spent with an actual prototype of the wearable device. And it ain't pretty. The Californian blog has, however, stated that the square-screened device shown here is just a prototype so it could change in production, but what we see here is probably close enough to the final product. Tell us what you think in the comments. Here are the pictures:
Like the Galaxy S4, the Galaxy Gear is also equipped for health and fitness types with an integrated heart rate monitor as well as software that measures caloric intake and other similar functions. Here again is the technical data that we are thus far expecting:
| | |
| --- | --- |
| Processor | Dual-Core Exynos 4212, 1.5 GHz |
| GPU | ARM Mali-400 MP4 |
| RAM | 1 GB RAM |
| Display | 2.5-inch, OLED-Display (320 x 320 pixels), non-flexible |
| Camera | 4 MP armband mounted camera, 720p (HD) video recording |
| Internal Memory | 6 GB / 8 GB |
| Speakers | Armband integrated |
| Connectivity | Bluetooth, NFC |
| Operating System | Android Jelly Bean |
| Battery Life | 10 Hours |
Galaxy Note 3
An anonymous tipster has provided TechKiddy with a picture that for the first time shows the Note 3 as a whole. This is one of those typical blurry, lo-res and pixelated pictures which you do not want to trust as fact, but, kind of like Bigfoot, any evidence is good evidence. It must also be said that what we see here is quite reminiscent of the front panel which we also saw recently leaked. But here we see for the first time the entire body and can probably expect that the Galaxy Note 3 will have sharper edges and a less rounded body. If I had to bet, I would say that this is authentic, but in two days, this question will be answered by itself when the device is revealed at IFA, so there is no real point going too far out on a limb unnecessarily.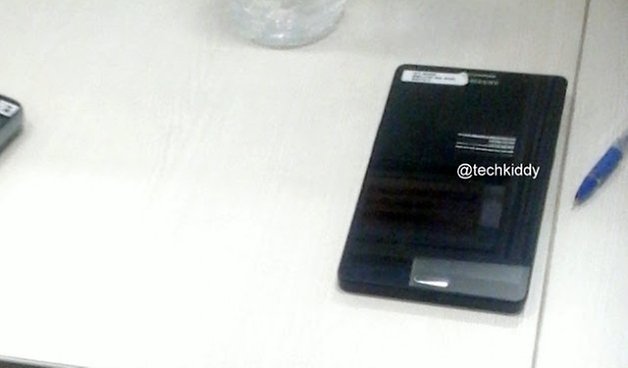 We also saw @evleaks publish the allegedly official lockscreen wallpaper for the Note 3:
Present: Note 3 lockscreen wallpaper http://t.co/VquoyYfF0o (original) pic.twitter.com/JIKilBeOsI

— @evleaks (@evleaks) August 31, 2013
Galaxy Note 12.2
We reported this morning on a very large Samsung Note 12.2 tablet leak photo doing the rounds, however, there was nothing more than visual cues. However, there was a distinct similarity to the harder edged Note 3 images. And now we have some more information on the SM-P900, at least according to various Samsung-oriented blogs, including SamMobile. The source of the image is the website Move Player, which for me at least is a previously unknown site, but SamMobile seems to trust their authenticity. As for the built-in technology we so far know diddly squat, and there are only tentative speculations pointing to the new Exynos 5420 octa-core processor with Mali-T 628 GPU and a screen resolution of 2,560 x 1,600 pixels with S-Pen stylus. Recently it was said that the release date was to be sometime in October... but now some tech blogs are speculating that the device could be presented at the IFA alongside the other devices above. Only time will tell, and there's not much of that left!