How Would You Improve Google Now?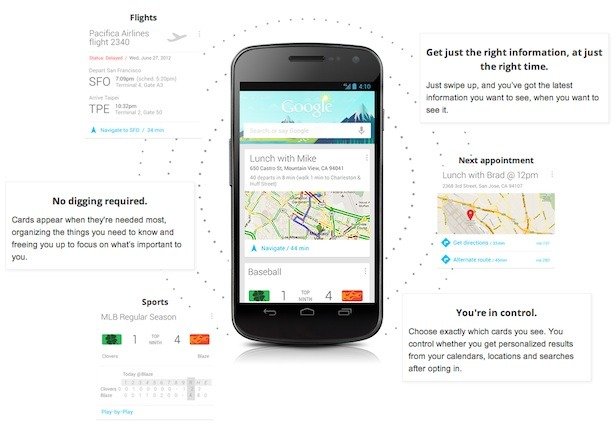 Android 4.1 / Jelly Bean is being installed on more and more devices every day, and a lot of people are getting to use its most significant feature: Google Now. Part Siri-competitor, part mind-reader, Google Now will tell you how long it'll take you to get to work, what the weather is like, and offer fun tips in your neighborhood. While the service has unbelievable potential, Google's been slow to roll out new features. As of now, the app basically just tells you the weather and offers transport recommendations.
But some users have already gotten a taste of Google's broader vision. On a Reddit thread, someone said they'd been tipped by Google Now about how to get to the nearest H&M store. Turns out, the user's girlfriend had been shopping on H&M on her Chrome browser at home, and that's why Google Now had told him how to get there. This suggests that Google is already analyzing our search habits to find good recommendations – which could make the feature much, much more amazing.
Imagine you've been searching for a pizza place on your browser at home. You go out for a drive and Google Now alerts you when you're a mile away from that same pizza place and asks if you'd like directions to it. That's really just the tip of the iceberg: I can imagine this service becoming even more useful in the coming weeks and months. Google Now could...
Alert you when you're near a movie theater playing a film you've recently searched for.
Tell you which nearby store has an item you've been looking for online.
Let you know when airfare has dropped to a vacation destination you've been Googling.
Alert you of road closures and train delays.
But really, there are so many ways this service could be improved. If you worked at Google, what features would you add to "Now"?