 In-App Subscriptions Go Live, Maybe Developers Will Make Money Now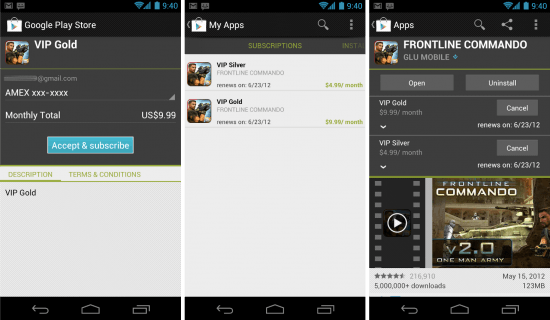 A while back we brought you a story about how Android game developers were making far less than their iOS counterparts. Why? Primarily because Apple had streamlined the process by which users paid for in-app purchases. Instead of being re-directed to the Apple App Store every time they wanted to buy ammo or a new hat for "Cordy," all they had to do was enter a password.
But Google is finally waking up to the demands of developers and is now set to roll out a new feature to help them make more moolah. Starting today, developers can use In-app Billing to sell monthly or annual subscriptions from inside of their apps, according to the Android Developers blog. "All subscriptions are auto-renewing, for every app and game and every type of subscription product," writes Google.
The subscription model could be used by game developers to unlock levels, by magazines and journals to renew subscription or by any developer for any value-added services. Users can alos carry their subscriptions across multiple devices.
Obviously, this is a feature we've been waiting for. Any feature that makes it easier for developers to make money off their app is great for the Android ecosystem.