In Bad Piggies, You Are the Orville Wright of Barnyard Flight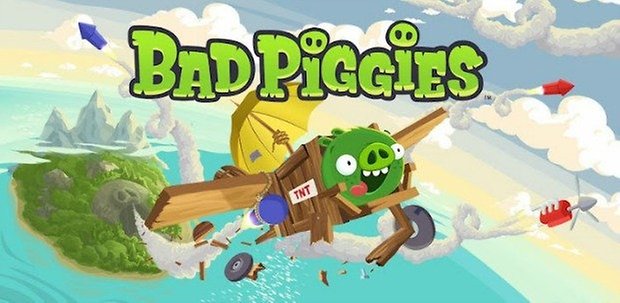 In Angry Birds, it felt quite satisfying to launch those squaking blobs of feather at sitting pigs, but why should the birds get to have all the fun? In Bad Piggies, the snorting green nemeses get to go airborn, too.
Like all great games, Bad Piggies incorporates physics with a dash of whimsy. You are the Orville Wright of barnyard animal transportation, and it's your duty to provide flying contraptions for these fat piggies. In every level, you must build some kind of moveable hulk of wood, with a range of building materials at your disposal – like wheels, fans, bellows, springs, umbrellas and shaken-up fizzy bottles, among other attachments.
As your creation moves along, it's your duty to trigger the different propulsion tools as you go. However, as the contraptions get more and more outrageous, there's a real risk of getting stuck. Unlike in Angry Birds, I can imagine some players of this game throwing up their hands and cursing the pig-filled heavens. It really does become quite challenging.
If you're stuck, though, you still have options; you can hire a piggy mechanic. You get three of them simply by liking the "Bad Piggies" page on Facebook, but after that it'll cost you. This is a clever way for Rovio to try to earn revenue from in-app purchases, something they've never tried to do in the original Angry Birds franchise. And it's likely that some people will make the decision to buy some help, since the gameplay is more challenging than in Angry Birds.
But isn't that the point? After all, the whole idea of pigs flying is a wee bit absurd. If you're trying to prove the old adage "when pigs fly" wrong, it should be a hard. I found myself coming back to the game over and over again and I certainly think the game has staying power. Download it from Google Play here.