Infectonator Hot Chase - Flesh-eating, pixelated Zombie Attack!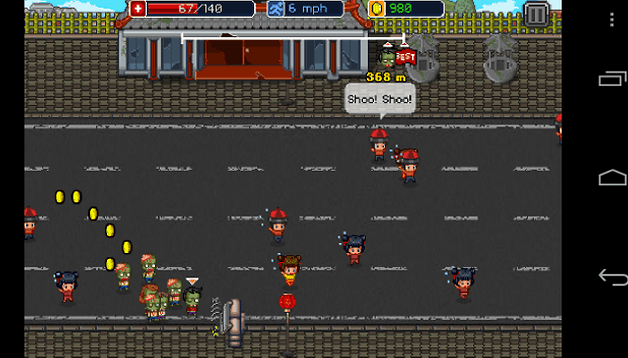 Flash games, some love 'em, some hate 'em! How can you not love those sweet pixelated graphics and ridiculously simple gameplay which often lead to serious addiction problems, causing major withdrawal when all levels are over? Today we've got a new one for you Flash lovers: it's called Infectonator Hot Chase. We're going to check it out and see whether it meets these few points mentioned above, and if it's enough to captivate players and make the pixel junkies happy. Let's find out!
Good
✓

Great-looking pixelated flash graphics

✓

Simple but very fun game concept
Bad
✕

One or two occasions of speed problems
| | | | | | |
| --- | --- | --- | --- | --- | --- |
| Reviewed on | Android version | Root | Modifications | Reviewed version | Latest version |
| Google Galaxy Nexus | 4.3 | No | | 1.3 | 1.3.7 |
Features & Use
Zombies, the unholy, evil and blood-thirsty creatures of the undead have a mean real-life following, just take a look at the numerous Zombie Walks organized around the globe, sometimes with even two a year! No matter where you look, they are everywhere, and not even just during Halloween anymore. You've got those flesh-eating monsters in movies, cartoons, comics and now for smartphones too, which are overrun by zombie games to occupy you for ages. Can our new pixelated arrival find its spot in this man-eating world?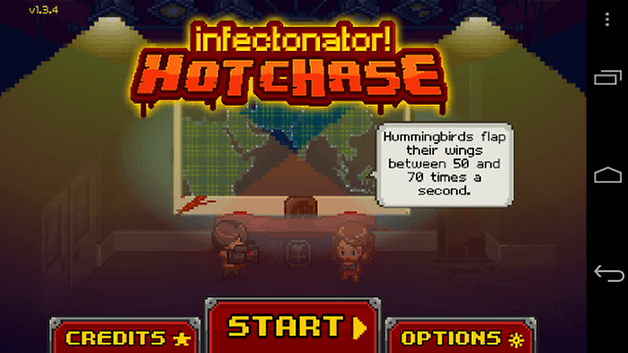 From the get-go, the app starts off by presenting the user with an info window requesting access permission to the player's Google+ account. The user can either accept or reject this, though the second choice really just means ''ignoring'' the question, as it will repeatedly ask you every time the app is launched. If you choose to give in to this, your results and experiences with this game will be shared over Google+, much like what you're used to with Facebook.
You might have guessed it from the title that Infectonator Hot Chase is a kind of jump & run game, a life or death chase to be exact. In the opening credits, two nameless protagonists flee a mob of brainless zombies and they manage to escape just in time with a helicopter, which also shows up now and again during the game. This is when you, the player, take control of your zombie back on the ground. Oh Snap! You are a zombie, not a survivor! The aim of the game is to cover the greatest distance possible by pouncing on the poor victims being chased and infecting them. Here is your chance to show your macabre side, inspired by the zombie movies and series that many love. The newly changed zombies try to attack people themselves, thus expanding the domain of the living dead. While the player replenishes their own constantly dwindling life energy by tirelessly infecting humans, the horde gets larger, making it easier to catch the preyed-upon folk.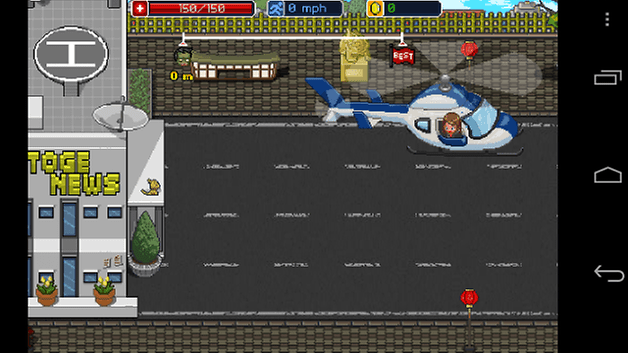 If your life energy drops too low, you lose your zombie strength and start to slow down. To avoid being left behind, the player is able to use a boost to acquire new zombie momentum which allows you to continue limping and dragging their rotting corpses along on the manhunt. There is only a limited amount of these boosts, so you'll really need to ration these out for emergencies only.
During the race, the player gets opportunities to collect coins, which can then be used to improve their zombie. Various properties, such as health, speed or mutations can be improved. When a sufficient amount of tokens has been collected, the player can buy new soldiers of the undead, many of which have special zombie skills.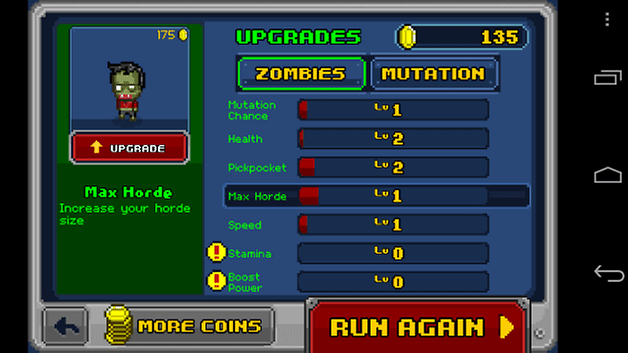 These zombie mutations, as mentioned above, are triggered by collecting a certain amount of coins during the race. The morphed zombie can become incredibly fast, poison-spewing or extra strong. All of these properties will turn out to be very helpful during the chase, for instance when trying to break through police barriers.
That being said, the point of the game doesn't just consist of running as far as possible, but also fulfilling the missions provided, which can be viewed in the results window after each chase. From this window, the player can also access the sections for buying or improving zombies as well as settings, statistics and achievements. Of course, game results can also be shared via your usual social channels.
Screen & Controls
The zombie game Infectonator Hot Chase is set apart by its pixelated graphics. Whether you personally like it or not, it is still a super popular type of game, loved by many. The controls are easy to understand because they are explained one-by-one during the first chase, like a type of tutorial. The other areas of the app are also easy to find and I also thought that upgrading zombies was a simple task. All in all, Infectonator Hot Chase did well in this category.
Speed & Stability
Infectonator Hot Chase ran smoothly and without problems most of the time. There were one or two times where the game was a little jittery, however this problem didn't occur again after that.
Price/Performance Ratio
Infectonator Hot Chase is available for free in our App Center. The app is funded by advertising, which isn't displayed during the race, only in the menus. The player can purchase additional coins, which is by no means necessary to be successful and have some blood-thirsty, zombilicious fun.
Final verdict
Infectonator Hot Chase was a great game all around. Though it will make for some awesome man-eating fun where you can explore the inner-evil and macabre side found in each and everyone of us, it probably won't entertain you for hours on end. Infectonator Hot Chase is a great game to pass the time like when waiting for the bus. The game's graphics might not tickle everyone's fancy, however avid fans of the block-fashioned Flash games are bound to get hooked immediately. All in all, Infectonator Hot Chase gets four bloody stars.