[Infographic] How Long Does Your Android's Battery Last?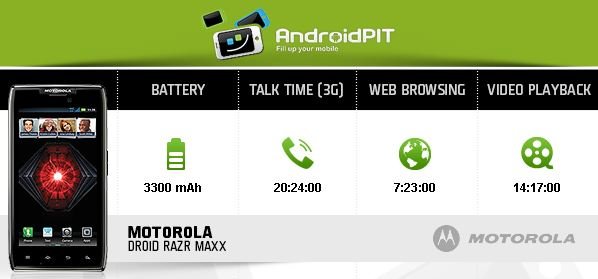 If you're in the market for a new smartphone and battery life is important to you, you're going to want to read on. We've found the top 15 longest-lasting Androids on the market, as calculated by the geniuses over at GSM Arena, and put them all in a handy infographic. You probably won't be surprised by a few of the inclusions (Droid Razr Maxx *cough*), but others (Phillips??) came as quite a shock to us.
We calculated the list by averaging the scores across talk time, web browsing and video playback. Often, the manufacturer's maximum talk time amount proved false in tests by GSM, so this is representative of how the phones actually perform in day-to-day situations.
As you can see, the Droid RAZR Maxx took the first prize, followed by Philips W732, Samsung Galaxy S3, the Galaxy Note and the Sony Xperia S. Most of the new HTC phones – including the One S, One V and One X – ranked near the middle, Sony models were scattered throughout and LG ranking near the bottom.
I, for one, was surprised to see that the Galaxy Note is able to keep its massive screen lit for a full 8.5 hours of video playback! The massive handset also ranked well in terms of talk time but came in far below the Galaxy S3 in terms of web browsing.
The Galaxy S3, meanwhile, is probably your best bet if you'd like to have a stellar smartphone with a kick ass battery. It averaged 10 hours of talk time, web browsing and video playback, which is all quite impressive.
Sadly, the Galaxy Nexus just doesn't cut it anymore. The phone managed a puny 3 hours of web browsing, 6 hours of video playback and 8 hours of talk time. As a Gnex owner, I can confirm the battery on this device is not ideal. The HTC One X came ahead in terms of talk time, but video playback is an issue at a mere 5 hours 45 minutes.
If your phone isn't listed here (or is listed near the bottom), have hope! You can still increase the battery life on your phone by following a few steps. Get rid of white wallpapers, turn off vibrate, keep your apps updated and disable Adobe Flash.