VIDEO: Instagram and Google Glasses Mocked by John Stewart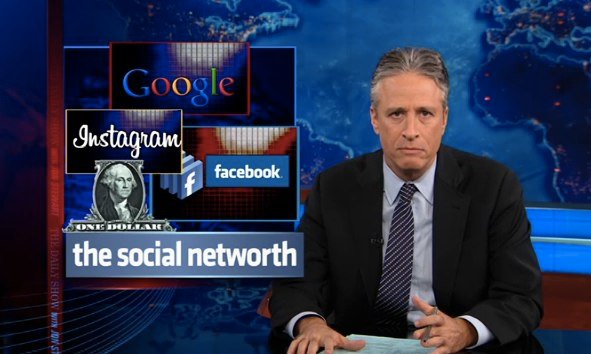 Facebook's purchase of Instagram for a whopping 1 Billion dollars and the announcement of Google's Glasses have certainly made a lot of headlines lately and while we've heard thoughts from professional writers, bloggers, and analysts on these subjects, the most entertaining thoughts definetely came from comedian John Stewart of the Daily Show. In the video below, he not only takes a hilarious jab at Google on how their new glasses would work in real life, but makes some seriously comedic comments about Instagram.
The full video (around 7 minutes) is a very entertaining watch and can be viewed below for your enjoyment. Some of the more memorable lines:
After learning Instagrams purchase price was 1 Billion, he shockingly replied: "A billion dollars of money? For a thing that kind of ruins your pictures"?
After seeing the Google Glasses video, he replied: ""In New York City, that mother****** is going to get hit by a car", along with stating that ,Google is, after all, the "world's biggest database of people whizzing in public." With these glasses, it will be as if these people "are peeing right in your eye."
If you're a fan of John Stewart like me, you'll probably find this video pretty funny. Let us know what you think about it in the comments below or in the forums!
Picture credits: marketingland.com