 Instapaper vs. Pocket: Which App is Best for Offline Reading?

Instapaper for Android is out! But the Android platform already has an app that allows users to save webpages for offline reading, and its name is Pocket. Today we're putting these two apps in the wrestling ring; read on for our blow-by-blow analysis.
The Verge's cover story about the launch of Instapaper for Android makes it sound as if the entire Android community has been peeing their pants with excitement over the launch of this offline reading app. Of course, us Android owners have nothing to do but envy iOS owners. The life of an Android owner: wake up, wish we had an iPhone, poop, repeat, die. Right?
Actually, Android has apps that do EXACTLY what their iOS counterparts do, just with less fanfare. Exhibit A: Pocket. How does it stack up to Instapaper? Let's take a look:
Ease of Use
Unlike Instapaper, Pocket actually tells you how it works. Upon opening the app, you're given a short run down on how to save webpages for offline reading, and gives a tour of all the app's features. Instapaper simply shows a screen displaying "read later," "liked," and "archive." While you could argue that both apps are easy to use, Pocket is much better at explaining itself to new users who might have no idea what the hell they're doing.
WINNER: Pocket
Aesthetics
Both Instapaper and Pocket are fairly minimalist apps that serve basic functions. But for me there's no question: Pocket is the more beautiful app. From the cool rainbow-colored band that adorns the top of the app, to the pleasing homescreen layout which includes a small teaser image, to the easy-to-read font, this app beats Instapaper on almost every level. Instapaper's black background and white lettering is boring and fugly.
WINNER: Pocket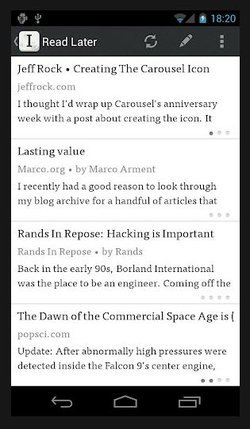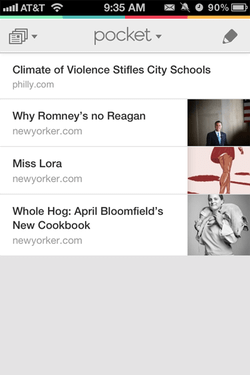 (Instapaper on right vs. Pocket on left)
Features
Both Instapaper and Pocket allow the user to adjust font size, brightness and text layout. Both apps also have a "dark mode," allowing users to see their text as white font on a black background; helpful for reading in bed at night. Pocket goes a step further and also offers a beautiful sepia mode which makes the text appear as if it has been written in an old book. Both apps allow users to choose from multiple fonts; Instapaper offers more fonts, but I'm not sure if this is a dealbreaker. One last bonus for Pocket owners: the ability to "lock" an article in landscape or portrait mode so that when you turn your phone, the app ignores the gyroscope's request and keeps it in the format you want.
WINNER: Pocket
Price
Is there a single reason to pay $3 for Instapaper when you can snag Pocket for free? Hell to the no.
WINNER: Pocket