International Women's Day: it's worth celebrating! The world of technology hasn't only been the world of men for a very long time, more and more women are becoming more predominant and are landing power positions as CEO's, co-founders and developers. When thinking about what I would discuss in an article about Women's Day, I decided to stay away from the apps that are targeted for women (which were only about tracking pregnancy or losing weight) and turn towards those women who are forging a new path in a world, stereotypically occupied by men. Sorry boys, bear with me with this story, it might be a good opportunity (for both girls and boys) to learn a thing or two.
Through the years there has been a gender gap in the world of Science, Technology, Engineering and Math, like they are saying on High-Tech High Heels. Most of the inventors from the past have been men, like Alexander Graham Bell who invented the first practical telephone. To celebrate this day, even Google is taking part and is hosting a 24 hour event in this day's honour. Key-note speakers who were present at the event were Deanna Kosaraju, founder of Global Tech Women, an organisation that aims to provide women with the support they need to reach their career objectives, mostly in the technology community.
Another interesting woman that I stumbled across, is Leila Janah, founder and CEO of Samasource, a non-profit that offers employment in digital work to people in impoverished communities. Her innovations has helps thousands of people through her mentality that ''handouts are not going to end global poverty, but work – real work – just might''. Leila isn't just an tech entrepreneur, she is also a model.
You've also got Marissa Mayer, a much bigger name, who was a Google executive for 13 years before moving over to Yahoo as its new CEO. 20 years ago, something like this would be unfathomable. She is part of very small group of women who hold executive positions in the tech universe.
Another woman, who has made her way to the top of the totem pole, is Cher Wang, the Co-founder and Chairperson of HTC. For all of those fans, who are hoping to get their hands on the HTC ONE, this could be of interest to you, to see what people, or should I say, what women, are behind some of the cool Android devices that are being created by this company.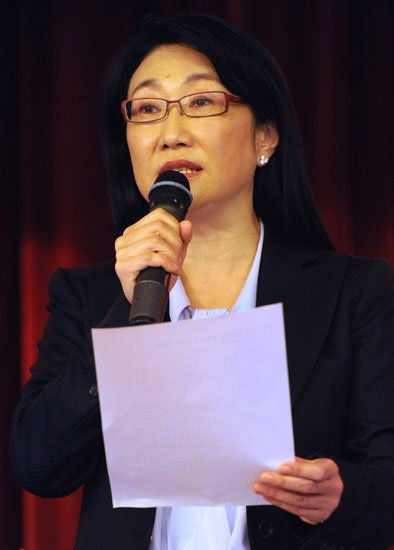 Cher Wang, head-honcho over at HTC
These three women are just some of the interesting woman who have made a stand in the tech world, but there are many more out there who are developers, creators of apps, writers, editors (like lots of us at our international-oriented AndroidPIT) and the list goes on.
Another thing I was thinking: how many people are interested in the International Women's Day compared to how many are more interested in the unveiling of the new Samsung Galaxy S4? What do you think?
What do you think about women in technology? Do you think that there could be more, or do you think that women already hold an important part?