Introducing Supersonic, the 'Audiosurf' for Android For quite some time now, I've been searching for a game that matches Audiosurf's innovation. Sure, there are many games like it. Some examples include Beat Hazard and The Polynomial; however, they don't feature the same high speed racing gameplay.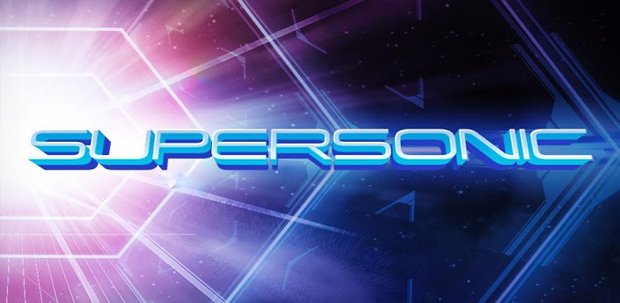 For those of you that have never heard of Audiosurf before, I'll give you a brief description. The game essentially has you racing down a virtual track, tasked with avoiding various obstacles called "cars".
Audiosurf plays like a racing game in that you move down the track with the intention to complete various objectives. There is a wide assortment of characters for you to play and each one has their own set of racing oriented goals. A character called "Pointman" for example must collect colored cars, while avoiding all of the grey ones that crop up.
The innovation, in Audiosurf, comes in to play with the specific media that the game uses. You can scan music tracks stored locally on your computer and race to any song imaginable. I have plenty of fond memories, of times that I rushed down a track, all the while avoiding obstacles to the hard hitting beats and harmonious rhythms of Metallica's "Enter Sandman".
Basically, the game scans the audio patterns of each track before you play, and then creates a different level to compliment changes in the song. If the pace of the music speeds up, so does the race track, and so does the appearance of cars. Audiosurf is set up so that during more intense sections of the music you're weaving and dodging more, as well as moving faster through the level. It makes for some truly entertaining gameplay that you genuinely can't find anywhere else.
Unfortunately, I have been unable to find a game quite like it, expressly for Android or any platform for that matter. Until now, that is.
Supersonic is just like Audiosurf, in that you can race to custom music tracks. Of course, it's a different game altogether, and that's why it deserves this honorable mention.
Supersonic for Android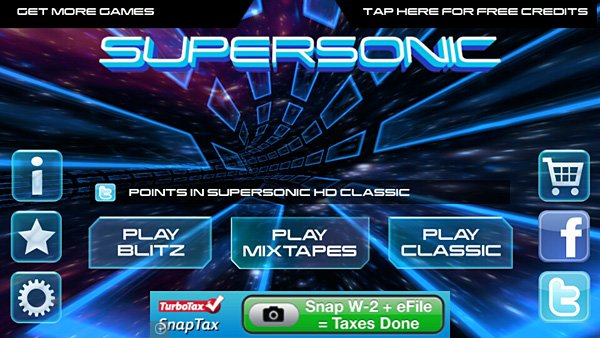 It's relevant to note right away that the custom music feature is disabled for the free version of the game. When I tried to use the feature, there were no warnings or labels that told me this up front. So if, you intend on playing your custom tracks with this game, you'll have to dish out $0.99 for the paid version. That's not a serious setback, especially when you realize that the paid version is also devoid of advertisements, and I hate advertisements in my games.
It's also relevant to note that Supersonic is set up like a freemium game. While playing, you earn credits that can be spent on various unlocks. As you would expect from a freemium game, you can buy more in-game credits with real money. The credits can then be used for consumables and powerups, and unlocking additional features. It also costs credits to create a mixtape, or custom track using locally stored music.
So, in hindsight, you're going to have to pay a little money in order to play your own music tracks.
Don't worry though, if you don't want to spend the money, or you just don't have any tracks stored locally on your Android, there's a perfectly capable soundtrack to go with the game. I have to admit, even though I'm not a fan of techno beats or electronic music, the soundtrack for Supersonic is pretty damn good.
Supersonic Gameplay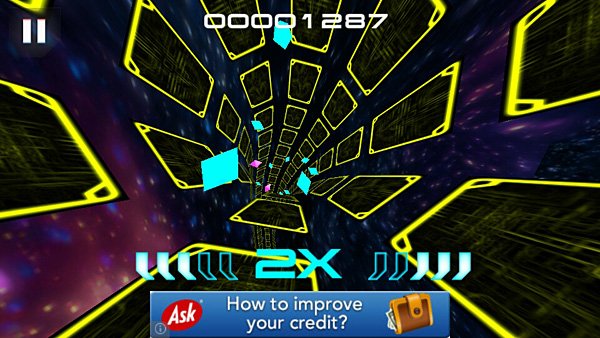 Now that I've made it past all of the essential stuff, let's get to the actual gameplay. Your main goal is to collect various diamonds scattered throughout the track. To do this, you hold your phone, or tablet, much like you would a steering wheel. To navigate the tubular course you just tilt your device to the right or the left. While racing, you must also avoid various obstacles including the occasional wall, which usually obstructs most of the path. Depending on the game mode that you have chosen, the game is pretty much over once you run into one of these walls.
By collecting more diamonds during your run, you increase your overall score. The idea is to get the highest score possible for each level.
The visuals remind me of a mashup between Audiosurf and Wipeout. The vibrant colors and sounds that playback, as you rush through each track, are phenomenal. I suggest playing the game with a nice set of headphones so that you can truly appreciate the audio. However, the audio even sounds fantastic when played through external speakers too if you're not privy to wearing a headset.
There are two gameplay modes: Blitz and Classic.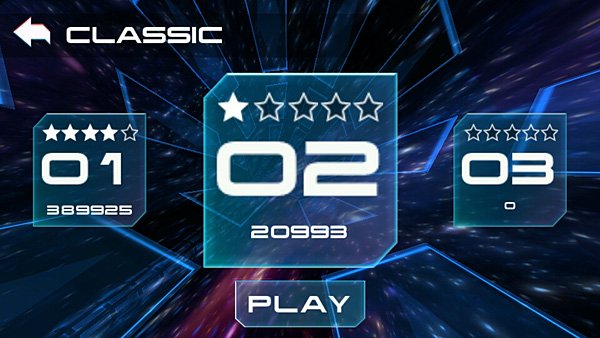 In Classic mode, you just race through the course avoiding walls and mines, in an attempt to collect as many diamonds as possible. As you collect diamonds a score multiplier increases, allotting you more points over time.
In Blitz mode, you acquire diamonds to fill up a power bar. Once the power bar has filled up, you launch into "Supersonic mode," which essentially gives you better scores, but makes the game a little more difficult as you move faster through the level. There are also power-ups to obtain that make the game a little easier in the form of time capsules, score multiplier increases, and in-game credits.
That's it actually. There's not much to the game, and yet it's a lot of fun to play. I suggest you give it a try, even if you do hate freemium games.
You can find Supersonic and Supersonic HD in the Google Play store.