iPhone 5 Ranked Fifth in User Satisfaction, Trailing Behind 4 Androids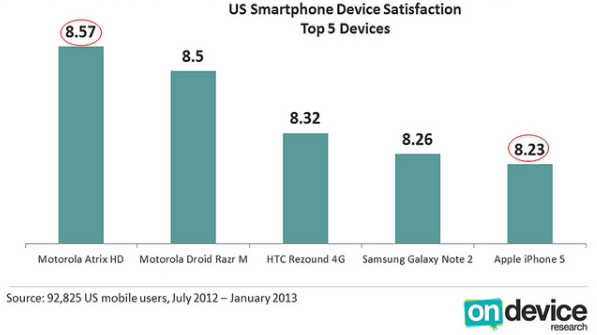 According to a new report released yesterday, Apple's iPhone ranks fifth in user satisfaction in the U.S., trailing behind four Android phones, including the Motorola Atrix HD, the Motorola Droid RAZR M, the HTC Rezound 4G and the Samsung Galaxy Note 2.
The report, which was conducted by the mobile research firm OnDevice Research, asked 320,000 smartphone owners how satisfied they were with their devices. Users were surveyed via their mobile web browser and the company's software was able to detect the user's device.
In the U.S., 93,825 people participated in the survey. Apple's iPhone did a bit better in the U.K. where, it took second place, after the HTC One X. The survey also reached mobile users in the U.S., U.K., France, Germany, Japan and Indonesia.
Curiously, even though the iPhone 5 was ranked below Android devices, Apple still was ranked number one in terms of overall device satisfaction, followed by Motorola, HTC, Nokia, and Sony Ericsson. Samsung was ranked at the very bottom, which doesn't really surprise me given the huge number of budget phones they manufacture that barely last a year.
Where is the Galaxy S3? How did Motorola make it to the top? I mean, I know the Motorola Atrix HD was well liked but I didn't realize it was this well liked. Are you surprised by these results?