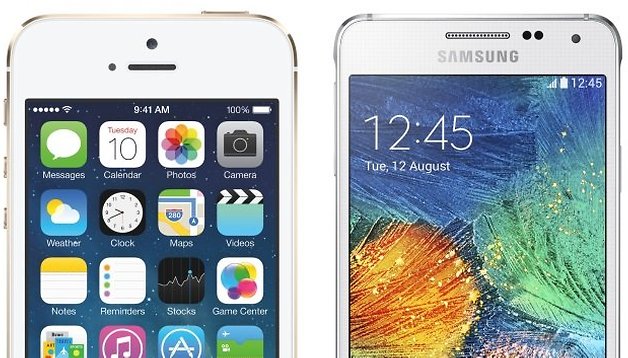 iPhone 5s vs. Galaxy Alpha: There can be only one
Since it was announced last week, there's been a lot of buzz in regards to the Galaxy Alpha from Samsung. Our first comparison was within the same family and concentrated on looking at the Galaxy S5 side by side the new Galaxy Alpha. However, the more we look at it, the more we realize that the Galaxy Alpha more closely resembles that iPhone 5s. For this reason, today we're taking a closer look between the iPhone 5s and the Galaxy Alpha.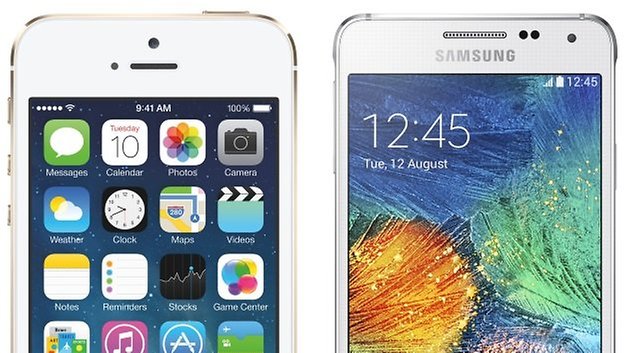 Design
Samsung is using the Galaxy Alpha as a chance to move away from the original design choices of the Galaxy series and to try and position themselves in a different space. In the press release for the Galaxy, Samsung used such terms as "extravagant", "elegant", and "chic" when talking about the device. Unfortunately, there is really only one big detail that distinguishes this phone from the other Galaxy devices out there and that is the metal frame. So in turn, it moves away from looking like a standard Galaxy device and more like an iPhone. Of course, the back of the Alpha is a bit more delicate and elegant than the others, but at the end of the day, it's still the same dotted plastic backing as found on the Galaxy S5.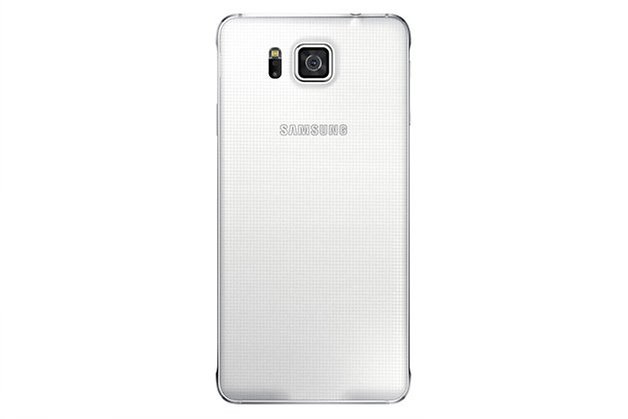 With the Galaxy Alpha, Samsung has decided to embrace metal, at least a little bit, by choosing aluminum beveled edges. It does indeed make the device heavier and it loses a bit of its ergonomic edge due to this, but it does feel to be a much better build quality than that of the rest of the Galaxy series.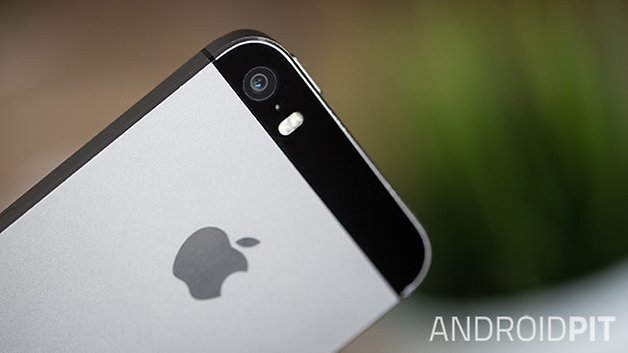 When you compare the bevels on both devices, the Galaxy Alpha wins in this department it has a much narrower bevel. As well, the Alpha is thinner than that of the iPhone while still coming in with longer and larger dimensions.
Display
Samsung has decided to equip the Galaxy Alpha with smaller screen that comes in at 4.7 inches. Whether this is a positive or a negative really depends on your stance on what the size of displays should be. Compared to the iPhone 5s, which comes in at Apple's standard 4 inch size, it does seem much larger. The Galaxy Alpha has a Super AMOLED display and the iPhone 5s sports a LCD Retina display. If you're looking for a little more in-depth explanation between the two, have a look at our comparison article.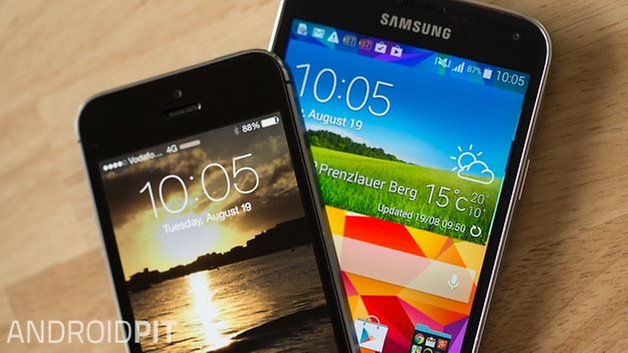 Since the Galaxy Alpha hasn't really hit the market, we're not really in a position to be able to directly compare the two displays based on resolution and contrast. What we do know is that when it comes down to it, the iPhone 5s resolution comes in at 1,136 x 640 pixels for a ppi of 326 while the Galaxy Alpha has a resolution of 1,280 x 720 with a ppi of 312. While we're just making guesses at this point, it is very likely that the Galaxy Alpha will provide richer colors and much brighter display just due to the technology behind it.
Operating System
The question of which is the better operating system will fall back upon the age old battle between iOS and Android: a closed system compared to an open system. While everyone will have their own opinions in the matter, we obviously prefer Android here at ANDROIDPIT due to the vast options of customization and custom ROM choices.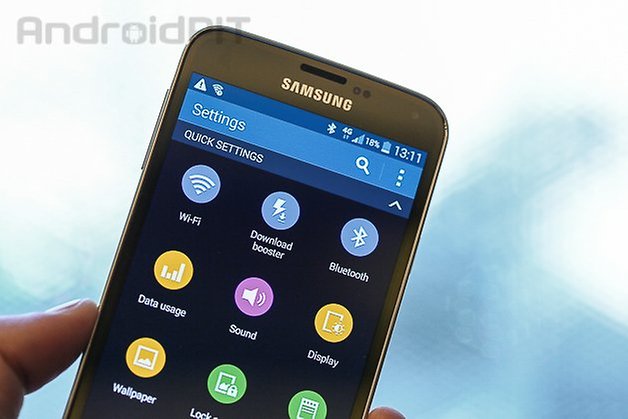 Special Features
Both devices come with a fingerprint scanner that is built into the home buttons. We assume that the sensor found in the Galaxy Alpha will be similar to that of the Galaxy S5, but this will need to be confirmed once we get a device in house to physically test. We do, however, hope that Samsung has fixed some of the errors found in their original iteration of their fingerprint scanner and that the Galaxy Alpha will start with a clean slate.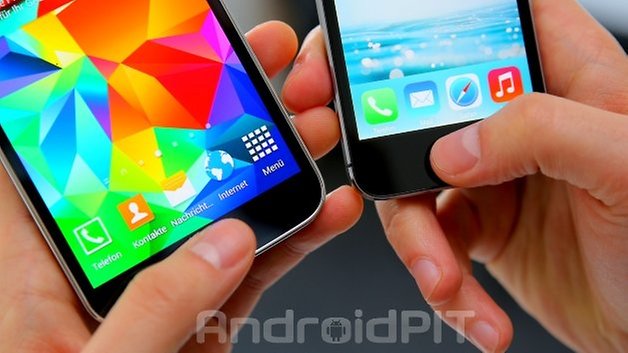 While the iPhone only really has the fingerprint scanner as its distinctive special features, the Galaxy Alpha is said to be also coming with a heart rate monitor which will be located near the LED flash.
Specifications
In regards to technical data, we can really only provide a comparison chart at this point and time. Again, since we don't have a device in-hands, camera comparisons and battery tests will need to be updated at which time we do.
Samsung Galaxy Alpha vs iPhone 5s
| | | |
| --- | --- | --- |
| | Samsung Galaxy Alpha | iPhone 5s |
| System | Android 4.4.4 TouchWiz | iOS 7 |
| Display | 4.7 inch Super AMOLED, 1280 x 720 | 4 inch Retina, 1136 x 640 |
| Processor | Octa-Core, Quad 1.8 QHZ + Quad 1.3 GHz | Apple A7 64bit + M7 Dual-Core 1.3 GHz a |
| RAM | 2 GB | 1GB |
| Internal memory | 32 GB not expandable | 16/32 / 64GB, not expandable |
| Accumulator | 1,860 mAh | 1,560 mAh |
| Camera | 12 MP (rear), 2.1MP (front) | 8 MP (rear), 1.2 MP (front) |
| Connectivity | GSM / HSDPA / LTE, Wi-Fi 802.11 b / g / n / ac, Bluetooth 4.0, NFC, USB 2.0 | HSPA, LTE, Bluetooth 4.0 |
| Dimensions | 132.4 x 65.5 x 6.7 mm | 123.8 x 58.6 x 7.6 mm |
| Weight | 115 g | 112g |
Conclusion
For the moment, it is difficult to form a conclusive judgment on both devices. Both brands have put their energy and time into these devices with Apple continuing down the tried and tested path that it's paved since they first introduced the iPhone and with Samsung going with a new design route. When compared technically on paper, the iPhone 5s is a bit weaker and more expensive, but that can be deceiving when put to true tests. What is Samsung hoping to accomplish with their Galaxy Alpha? Do you think the new Samsung smartphone will have a place in the market?