iPhone 5s vs HTC One (M8): the duel of the design elite
The era during which Apple held a complete design monopoly in the mobile electronics market is over. More and more, users are finding that it isn't just enough to have a performing smartphone, they also need to be attractive and have a certain appearance of value. Looking back at most Android devices, it really isn't hard to see that the iPhone is a leader and common point of reference in what looks good for mobile devices. Now with the HTC One (M8) and its predecessor, along with other great looking phones like the possible metal LG G3, Android is gaining ground.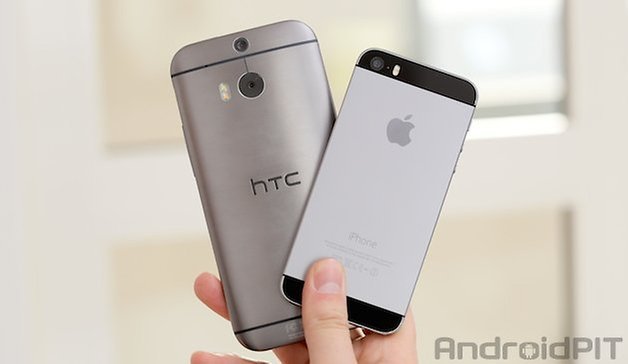 Beauty is in the eye of the beholder, however, it's pretty widely known that iPhones are outstandingly precise and painstakingly crafted devices with a focus on design, something that isn't seen that often in the Android universe. HTC has changed this though, the HTC One (M7) was even crowned best smartphone for 2013 at the 2014 MWC.
Hardware
At the moment, top smartphones are very similar because they often contain identical tech components, meaning that software and looks have become a lot more important. Comparing features and the operating system (basically iOS 7 and Sense 6) would be too detailed at this point, so we will put software aside in this case. First, lets take a quick look at the technical specifications for either device:
| | iPhone 5s | HTC One (M8) |
| --- | --- | --- |
| System | iOS 7 | Android 4.4.2 KitKat + Sense 6 |
| Display | 4-inch, LCD, 1,136 x 640 Pixel, 326 ppi | 5-inch, LCD, 1,920 x 1,080 Pixel, 441 ppi |
| Processor | A7 64-bit, M7 | Snapdragon 801, Quad-Core, 2.3 GHz |
| RAM | 1 GB | 2 GB |
| Internal storage | 16/32/64 GB | 16 GB + microSD |
| Camera | 8 MP, Dual LED | 4 MP |
| Front camera | 1.2 MP | 5 MP |
| NFC | No | Yes |
| Fingerprint sensor | Yes | No |
| Battery | 1,570 mAh | 2,600 mAh |
| Dimensions | 123.8 x 58.6 x 7.6 mm | 146.4 x 70.6 x 9.4 mm |
| Weight | 112 g | 160 g |
| Price | 697 USD (16GB)/ 809 USD (32GB) on Amazon | 696 USD (32 GB) on Amazon |
Design
The HTC One (M8) has a real unibody, just like the iPhone 5s, and it's a slimmer and sleeker than its predecessor. The aluminium gives off a valuable look and feel, which in my opinion is something missing in the case of most Android devices. While the device is made of a hard metal, it has a super soft and smooth look. The effect is striking, and feels much more comfortable in the hand than any iPhone ever has. The iPhone 5s feels harder, more angular, which seems to constantly remind the user ''don't forget I'm here!''. The M8 simply melts into the palm of your hand.
Manageability
Those who think five inches is too big for a smartphone would likely reach for the iPhone in the case of this comparison. The M8 is significantly bigger, making one-handed operation for most users a lot harder, and even impossible for some. Unfortunately, HTC wasted precious space on the front side of the device because of the logo placement, and I think this was an unforgivable move. When comes down to handling a device, the iPhone with only four inches really can't be beat either way. But again, it doesn't fit that ergonomically in the hand. That being said, the HTC One (M8) could have appeared smaller even with its big display, like LG was able to achieve with the 5.2 inch LG G2.

Final verdict
Like mentioned earlier on in the article, the iPhone 5s finally has a worthy opponent, especially in terms of looks and quality. The new HTC One on the other hand still hasn't reached the same reference level, since it hasn't come close to making the same impact on the market, though in my opinion, HTC deserves the acclaim. Both devices aren't cheap but the price for the iPhone 5s is much higher. For those who aren't fans of iOS, but consider elegant and high end designs to be important and don't mind a larger device as well as investing a bit more money, they will find that the HTC One (M8) is currently the best option on the market.