The Samsung Galaxy Alpha was introduced a few weeks ago and drew initial criticism or praise from reviewers based on how similar it was to an iOS device in terms of design. Beyond the clear design similarities, we decided to take a closer look to see just how similar the Galaxy Alpha and the latest iPhone 6 were and how they are different.
Do you prefer driving or action-adventure games?
Choose Driving or Action-adventure.
Oops! Seems like something went wrong. Reloading might help.

Oops! Seems like something went wrong. Reloading might help.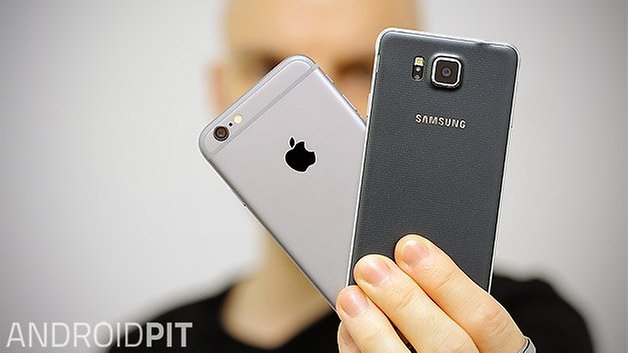 Design
From a design standpoint, the Galaxy Alpha has decided to stray away from the standard Samsung design practices and is one of the first smartphones from this company to sport a metal frame instead of a fully polycarbonate housing. It draws quite a bit of "inspiration" from the last generation iPhone, the iPhone 5s.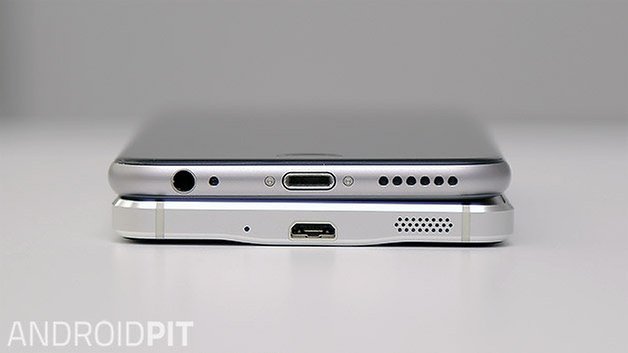 The iPhone 6 has a similar structure to the iPhone 5s: front glass with an aluminum frame and backing. However, the corners are more rounded than previous versions of the iPhone.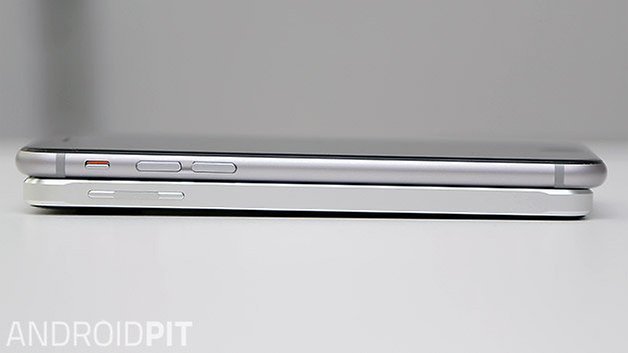 Both smartphones has a 4.7 inch diagonal display, however, the Galaxy Alpha comes in a little bit narrower, shorter, and slightly thinner than the iPhone 6. Both devices have a physical volume and power button. As well, both devices have a physical home button that is centered at the bottom of the device and both of these home buttons incorporate a fingerprint scanner for additional security.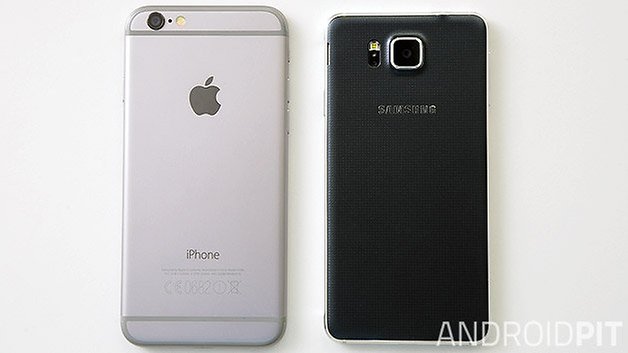 Display
The Samsung Galaxy Alpha has a 1280 x 720 super AMOLED display that has a resolution of 312 ppi. Thanks to the super AMOLED display, the Alpha offers a display that is very bright and has vivid contrasts. The display on the iPhone 6 has the standard Apple Retina Display offering a 1334 x 750 display that provides a resolution of 326 ppi.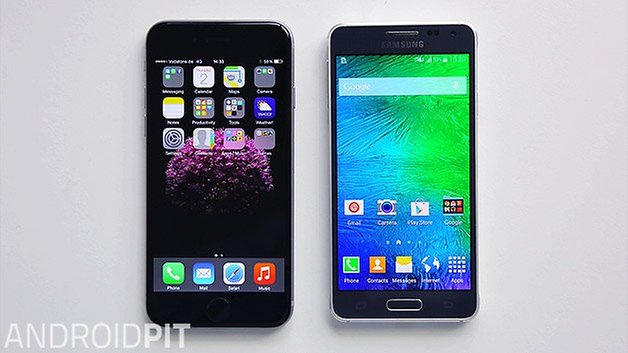 Both smartphones offer similar quality when it comes to their displays. The details are very sharp on both screens: the super AMOLED display on the Galaxy Alpha is very saturated and has a very high contrast that provides a pleasant viewing experience. With the iPhone 6, the Retina Display offers a more natural feel to the display.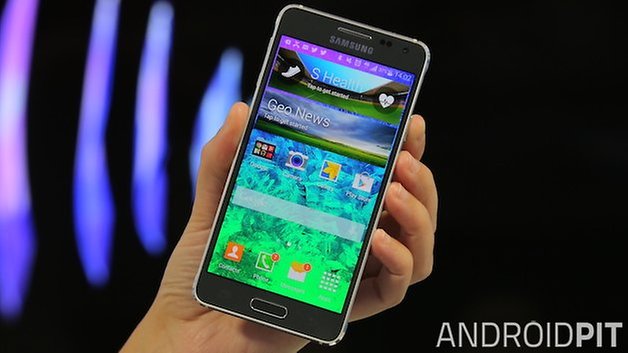 System
Both smartphones run the latest versions of their respective operating systems: Android 4.4.4 on the Galaxy Alpha and iOS 8 on the iPhone 6. We won't dwell on the differences between Android and iOS here, but you're more than welcome to check out some of our other comparisons:
Performance
It's hard to compare both of these devices side by side based on performance. On paper, the differences are emerging all the same, with the iPhone 6 having a 64 bit architecture, unlike the Galaxy Alpha. The latter has an octa-core Exynos 1.8 GHz processor and has 2 GB of RAM. The iPhone 6 implements the new Apple A8 processor that comes in at 1 GB of RAM. Usage on both devices has left us impressed: there was no slowdown or lag in our tests.
Camera
On paper, the iPhone 6 has a less efficient sensor, but traditionally, the iPhones have been noted to take better quality images with lower end hardware. The interface of the camera app is simple an uncluttered. The camera on the Galaxy Alpha integrates numerous settings and Samsung modes.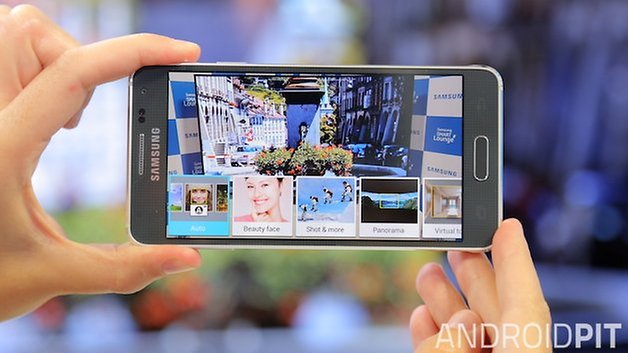 Battery
During our tests, the Samsung Galaxy Alpha wasn't really anything spectacular when it came to its battery. However, if and when the Galaxy Alpha gets the anticipated Android L rolled out to it with it's Project Volta, we should see an improvement in the battery life of the device. The iPhone 6 , in normal use (playing games, making calls, surfing the web, etc) has no issue with handling a day without a charge. However, GPS seems to be a particularly battery hogging process, so if you're using that throughout the day, it may be a good idea to lug around your charger and cord with you.
Technical Specifications
| | Samsung Galaxy Alpha | iPhone 6 |
| --- | --- | --- |
| Operating System | Android 4.4, TouchWiz | iOS 8 |
| Screen | 4.7 inches, Super AMOLED, 1080 x 720 pixels, 312 dpi | 4.7 inches, 1334 x 750 pixels, 326 dpi |
| Dimensions | 132.4 x 65.5 x 6.7 mm | 138.1 x 67 x 6.9 mm |
| Weight | 115 gr. | 129 gr. |
| Battery | 1860 mAh | N/A |
| Camera | 12 MP (rear), 2.1 MP (front) | 8 MP (rear) / 1.2 MP (front) |
| Processor | Exynos Octa Core (Quad 1.8 GHz + 1.3 GHz Quad) | Apple A8 with 64 bit architecture, Dual Core |
| RAM | 2 GB | 1 GB |
| Connectivity | 4G LTE, WiFi, Bluetooth 4.0, NFC | 4G LTE, HSPA +, WiFi 802.11ac, NFC |
| Internal memory | 32 GB + microSD expansion | 16/64/128 GB |
Conclusion
If Samsung was looking at bringing an iPhone competitor to the table, it definitely succeeded with the Galaxy Alpha. For the first time, we can't detract by saying that Samsung solely relies on the same design formula time and time again. The two devices perform superbly when put to the test and the big question comes down to the choice of the operating system: the openness and customization of Android or the polished and closed environment of iOS.
(originally by Quentin Ducreux of AndroidPIT.fr)