Is Asus On To Something Big With Transformer Book Trio? Asus has announced the new Transformer Book Trio which is a tablet/laptop/desktop device that runs both Windows and Android. The device can be used as an Andorid tablet, it can also be plugged into a keyboard dock turning it into a laptop and can also be plugged into a computer dock which transforms it into a desktop as well.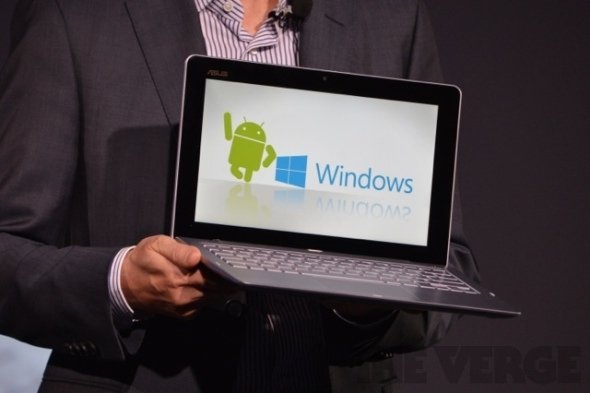 One of the biggest announcements, in my opinion, at the recent Computex event in Taiwan was the Transformer book trio from Asus. We knew Asus would unveil some new tablets at Computex and personally I am really looking forward to this device as it's the world' first desktop, laptop and tablet.
The Tablet
The transformer book starts out as an 11.6 inch tablet computer. In this mode the device can only run Android Jelly Bean. The device can then be transformed into a laptop computer by using the detachable keyboard. The tablet itself features a 2Ghz Intel Atom processor, full HD resolution and 64 GB storage.
The Laptop
When plugged inside the dock the device will be able to run Windows 8. Unlike most people I actually like using Windows 8 and I think this is a pretty cool feature. When plugged in the keyboard dock, the user will be able to use a hotkey to switch between the Android Jelly Bean OS and the Windows 8 OS.
What's inside the dock is really impressive. The dock boasts 1 TB HDD and a fourth generation Core i7 - 4500U Processor. This is what Windows 8 will have access to. There are also seperate batteries for the Windows 8 system and the Android OS.
The Desktop
There will also be an option to turn the device into a desktop computer as the tablet can be plugged into a PC docking station. The PC dock has its own 750 GB hard drive and another processor too, along with its own keyboard.
This certainly makes for an exciting device as it removed the need to have a laptop, a tablet and a desktop PC as seperate devices.
What do you think of the new Asus Transformer Book trio and will you be getting one yourself?