Tips & Tricks: How To Enable PC Keyboard Layout In Jelly Bean 4.2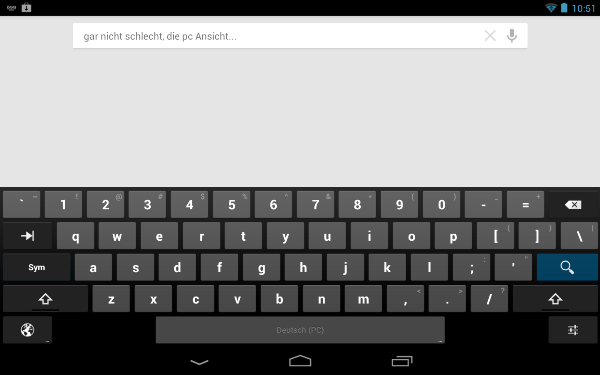 I have been using the new Android 4.2 keyboard (and camera) on my Galaxy Note 2 for 2 days now, and it is nothing short of awesome. I love the way that it looks, the improved responsiveness, and the fact that you can even "swype" with it. As with many Android releases, Google has a tendency to hide features, and this latest hidden treasure is a very nice feature for tablet owners. What feature am I referring to? PC Keyboard layout. Let's have a quick look at it, and learn how to enable it!
The PC keyboard layout naturally has more keys than the standard Android keyboard layout, with both numbers and symbols being faster and easier to access (this came standard on the Note 2, and I'm glad to see it coming to stock Android). It doesn't work too well for standard sized smartphones, as it's simply too small for anything smaller than a 5 inch screen (great for the Note and Note 2). It works well on the Nexus 7 (and 10 inch tablets), as shown in the pics below (screenshots are from a German device, but you get the point):
( PC layout above and standard layout on the bottom):


The option to enable this PC layout can be found in Settings - Language & Input - Android Keyboard Settings - Advanced Settings - User input styles.
First, simply click on "Add style" (bottom right), select your language, and then select PC. Now that the layout is activated, you will need to follow the same steps under "System Language" (check on your language with "PC"). Then simply press the globe on your keyboard to change layouts and choose the PC layout you have just set up.
You're all set! Pretty nice right?
Picture credits: Michael Maier / AndroidPIT