JuiceDefender Ultimate – Power to the People! No way—my battery can't possibly be dead again? I couldn't count the number of times I've uttered that sentence in disbelief and frustration. Luckily, I soon became wise to smart applications that help maximise battery life using personalised settings. JuiceDefender Ultimate is said kind of application, and according to its Market description it is both easy and intuitive to use and extremely efficient when it comes to power saving. Let's take a closer look then, shall we?
| | |
| --- | --- |
| Reviewed version | Latest version |
| 3.9.0 | Varies with device |
Features & Use
Test device: Samsung Nexus S
Android version: 4.0.3

There are four different versions of JuiceDefender, two of which – stabile and beta-version – are free of charge and two of which – JuiceDefender Plus and JuiceDefender Ultimate, the latter of which I am testing for you today – are pro versions. The main differences between the available versions are the features they harbour—and the version I am testing for you today really provides everything a power-conscious smartphone heart might desire.
In a nutshell: JuiceDefender extends the battery life of your Android device by automatically managing components that suck up a lot of juice.
For users who are looking to install the app and then let it do its job without undertaking 101 changes to settings: default / standard settings are pre-selected. This setting ensures that internet connection is severed whenever your device goes into stand-by mode. The device will then reconnect to the internet in 15 minute intervals to update email, Facebook, Twitter and other data.
Two further pre-settings: 'aggressive' and 'extreme', the first of which allows you use your phone for as long as possible, despite the nearly dead battery, and the second deactivates all data connections, which allows the battery to run longer, but it also turns your smartphone into a dumbphone.
The most interesting aspect to JuiceDefender Ultimate is that you can really set the app to suit your own preferences, thanks to the extensive settings options. Just hit the 'Settings' button and you can get cracking. For instance, you can opt to switch WiFi on/off and select how WiFi and WiFi networks are to be managed. JuiceDefender Ultimate will actually learn which networks you tend to access and will activate them automatically whenever you're in proximity. That is to say that in the beginning you will have to select your network of choice manually, and with time JuiceDefender Ultimate catches on. You can also set a time table for syncing background data for emails, etc. (5, 15 or 30 minutes / 1 or 2 hours).

You can also opt to have your device switch off during the night, as well as define when 'night time' starts and when it ends. You can also make settings as far as your other applications are concerned, such as determining whether certain applications should have priority over others. The screen can also be switched off, which is especially convenient whenever you're streaming radio programmes or because you want to continue receiving WhatsApp messages.

Now let's take a look at some of the 'fine-tuning' options, accessible via the button in the status bar. This is where you can get down to the nitty gritty when it comes to mobile data, WiFi, Bluetooth, AutoSync and more. There is a certain amount of redundancy, seeing as some of these options are already available, though the additional features will be of interest to those users really looking to regulate functions in great detail. You can also set up timetables that programme the device to behave in a certain way at certain times, e.g. airplane mode at night, peak times during which connection remains enabled, alternative time tables for weekends…

Check out the 'Trigger' tab which lets you decide when the application should shut down all connections and time tables. Again, you can opt to have the app deal with data traffic so that JuiceDefender Ultimate won't switch off as long as any data is being transmitted. This is also where you will find an overview of WiFi networks and the training status for frequently used networks.

We simply cannot go into every singly feature provided by JuiceDefender Ultimate - that would take too long - but let me finish with one final feature. Hit 'Device tracking apps' in order to set up a password with which you will be able to deactivate JuiceDefender Ultimate via SMS. This is especially useful if you are using a tracking app in order to help recover a lost or stolen device.

Here's an overview of the different features offered by the three different versions of JuiceDefender, to help you choose the one that makes the most sense for you:
I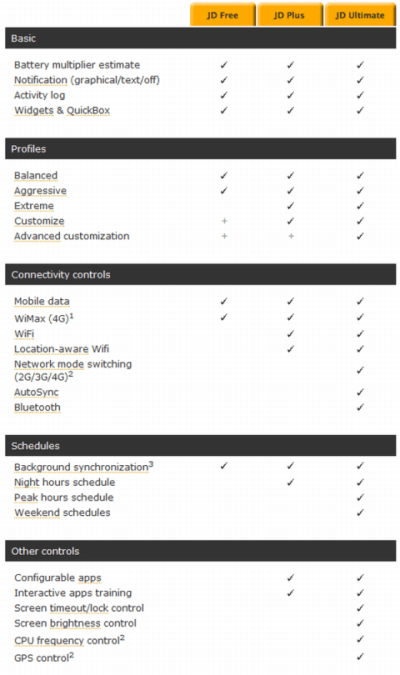 Bottom line:
I did a thorough test of Green Power Premium a while back, but I was still on the lookout for an application that provided a few more features, such as recognising and remembering frequently used WiFi networks and set up exceptions for specific applications. Overall, I'm very satisfied with what JuiceDefender Ultimate has to offer: it harbours a surreal amount of settings options. Whether it's the right application for you will depend on how you tend to use your Android device—it has really helped stretch out my device's battery life.
Screen & Controls
A clear, uncluttered design set up is absolutely essential when an application harbours as many functions as JuiceDefender Ultimate does, and today's featured application scores top marks in this department. Every settings option and every feature is labeled with a clear and concise explanation, making it easy to use the application and get the most out of it. The graphics further aid the application's easy intelligibility.

Another bonus: two small widgets that enable fast access to the application's main functions. An approximate indication of how much longer your battery will run is also given, though I would take it with a grain of salt as the calculation isn't super precise. Mine is x1,89 at the moment.

Speed & Stability
Reliability is a big factor when it comes to an application that is meant to run in the background seamlessly. JuiceDefender Ultimate has not me let down in that regard—it has been running very fluidly since I first started using it.
Price/Performance Ratio
JuiceDefender Ultimate is available for EUR4,99, which isn't exactly small potatoes, especially considering that a free version and a plus version for EUR1,99 are also available. While we don't quite understand why Ultimate's normal price is more than double as much as what the plus version costs, we're happy to report at least that it is currently available for EUR2,49—but only this week, so be quick!