Android Market Under Fire For Game Aimed At "Killing Homeless People"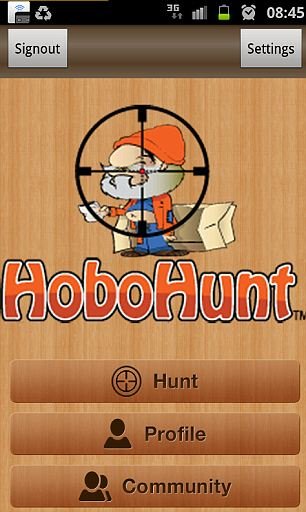 Theres a fine line between funny, and just plain stupid, and sometimes applications come out in the marketplace that are built on such a stupid and cruel idea that I really wonder how they ever get approval to be in the market in the first place. U.S developer Synventus has invented an Android app titled "HoboHunt" (for our non US readers, "Hobo" is a term used to describe a homeless person), in which users take phototgraphs of homeless people and "hunt" them. The application was rejected 3 times by Apple, and it's presence in the Android market has come under fiece criticism.
Seriously? This is just plain DUMB. Apparently, the idea for the application came from a friend of the CEO of Synventus (Joel Usher) who used to joke about "hunting hobos". Usher stated that:
"The "Hobo" part [of the title] came about as a friend of mine, who commutes through Washington DC, was constantly sending me camera phone pictures of hobos along his route, and making jokes about "hunting" them as he drove. 'He also told me that a group of attorneys - at a prestigious firm I won't name - all do the same, and that really triggered the idea behind the app."
This is just getting more and more unreal. If you head to the games website, it explains how to take part in the game:
"Point your camera at a goofy hobo. Click Shoot. That's it. Hunt real hobos, your friends, family, teachers, bosses, anyone! Sweet crosshairs and real weapons sound effects bring the hunt to life. Badges sweeten the pot and reward you for your awesome hunting abilities! Sharing lets you post your hunts on Facebook and Twitter!"
The idea for the app is already stupid enough, but why the facination with hurting the homeless? And to make matters worse, you can purchase multiple weapons to inflict more and more damage on the "hobos". The app has been heavily criticized as "appalling" and "sick", and I for one don't find it very funny.
The makers of the game have re-submitted their app to Apple under the name "Photoslap", and Google is currently investigating the app.
A game where you slap someone you don't like vs a game where you destroy homeless people with weapons are 2 entirely different things. In the description, they claim you can do it with friends, workmates, ect as well, but with "Hobos" being mentioned first. Just the fact that the IDEA for the app came from hurting the homeless is disgusting enough. I guess some people simply don't think before they release a product based on a concept that could be potentially harmless and somewhat comedic (such as slapping someone who's nerving you). For developers too stupid to realize this, ala Synventus, I'll break it down for ya: An app where I could slap my landlord for not fixing the washing machine and then uploading it to Twitter is more or less harmless. One where I choose which gun to purchase to obliterate the guy who sleeps around the corner on the sidewalk every night in the cold isn't. I actually in a way even hate writing this article about such a truly inhumane concept, as I don't want to give an inch of promotion to the stupid company that puts out such trash. But I'm hoping people will use their voice to get your garbage thrown out of the Android Market.
Idiots.....