 Android Jelly Bean ROM Now Available For The Kindle Fire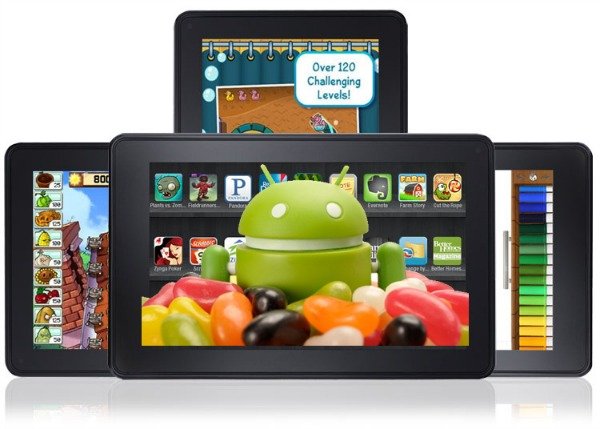 The Amazon Kindle Fire is bar none of the most well known Android tablets, and with Amazon's muscle behind it, it's no surprise that the device has been so successful. But my biggest pet peeve with the device is how stripped down it is, as Amazon has "forked" it to fit their needs, and in doing that removed the majority of what I call "the Android touch" from the device. But the good news is that a member of XDA developers named "Hashcode" has done something about that, and has successfully created an Android Jelly Bean port for the Amazon Kindle Fire.
This is more or less an alpha build, so don't expect 100% perfection just yet. Feedback from the ROM has been good so far, and known issues include the following:
-Wifi location is partially fixed, but I'm still hunting for the 2nd part.
-When running benchmarks, I notice slower I/O. Not sure what's causing this. ROM is super smooth anyway.
-SD card mounting is defaulted to mass_storage. I'm not sure if that's the right setting or not, and I will probably sit down and go back through the USB mode settings to make sure they match up w/ ICS and stock (they obviously don't at the moment).
The ROM gives you access to the Google Play Store, but be aware that rooting and flashing this ROM is pretty much a violation of Amazon's terms of service. That means if you brick your device, don't expect Amazon to fix it for no cost.
That being said, Jelly Bean on the Kindle Fire gives the device a whole new feeling, and if you're already running a rooted Kindle Fire or are considering rooting it, why not check it out? The ROM can be downloaded here, and be sure to follow the developers exact instructions (AND MAKE A NANDROID BACKUP BEFORE) when flashing it. If you haven't rooted your Kindle Fire and have interest in doing so, instructions can be found on XDA here.
Happy flashing, and a big thanks to XDA members Hashcode and Jcase for the ROM and the rooting method!
Picture credits:www.ijailbreak.com