Kingsoft Office 5.8 (Free) - Good counterpart to Microsoft Office
Tablets are not exactly the ideal tool for editing documents, spreadsheets and PowerPoint presentations due to their not-so-perfect touch controls when compared to a PC, keyboard and mouse combo. Every now and then though, many users will nevertheless need a tool on their mobile device to allow them to quickly edit or customize a document on the fly. Kingsoft Office 5.8 (Free) is yet another contender in the mobile platform office suite arena, but how it stacks up against the others out there you will find out shortly.
Good
✓

Cloud connectivity

✓

Supports many file formats

✓

Free without advertising

✓

Quick and easy operation
Bad
✕

Formula function in tables has only limited use

✕

No support for OpenOffice and LibreOffice
| | | | | | |
| --- | --- | --- | --- | --- | --- |
| Reviewed on | Android version | Root | Modifications | Reviewed version | Latest version |
| Google Nexus 7 | 4.3 | No | | 5.11 | ? |
Features & Use
Kingsoft Office 5.8 (Free) is a good counterpart to most Office programs for Android. After starting the app, you will be asked to agree with sending anonymous usage statistics - but never fear, you do not need to in order to use the app.

The first time the app is opened, the task bar at the top will be hidden, so you will prompted to tap on it to display the various menus and options. Clicking on the "All Documents" button at the top will show all the documents stored on your mobile device. The app supports a variety of different formats, including DOC, DOCX, TXT, XLS, XLSX, PPT, PPTX and PDF. One small downer right at the beginning though: ODT files (OpenOffice and LibreOffice) are not recognized. To read these documents with Kingsoft Office, you'll first need to save them as DOC or DOCX files.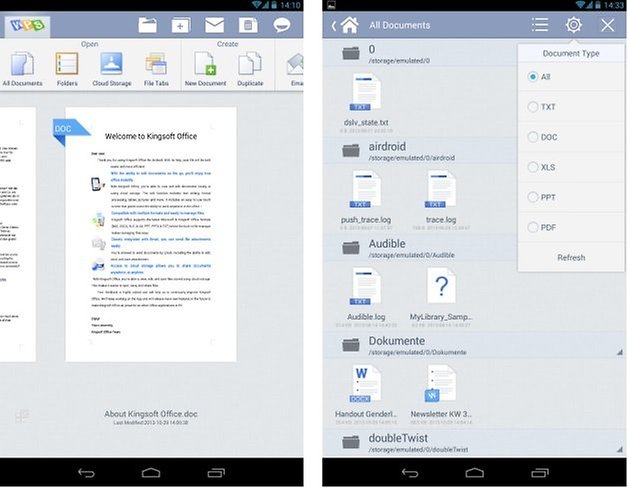 PDF files can also be opened easily. But other than viewing or bookmarking there's nothing else you can do with them. Zoom works flawlessly with a two-finger gesture, if that's any consolation. In the supported text files you can get started right away though. The presentation of special characters also works quite well by the way.

The usual functions such as select, copy, cut and paste are quickly accessible with a double tap on the text and are fast and easy to use. Even when typing the app causes no problems, but, as always, the processing of documents using an app is still not as comfortable as on the laptop or PC. But this is a complaint common to all mobile platform editors. Anyone needing to regularly edit on the move would be well advised to invest in a physical keyboard. With this in hand though, Kingsoft Office may be used quite comfortably and, at the very least, will save on the weight of a laptop.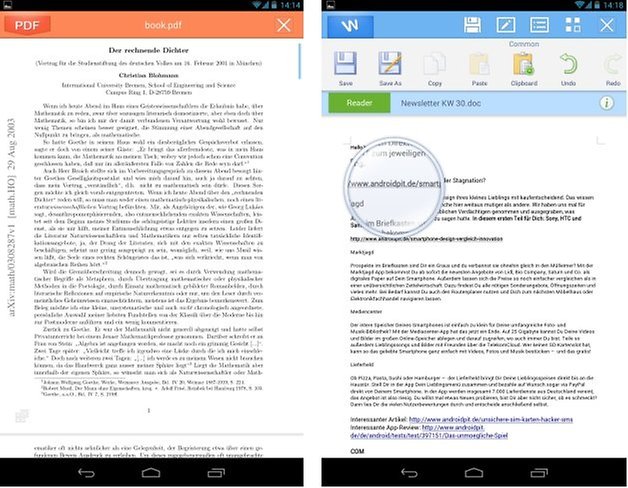 The top tool bar plays host to many useful tools. You can search your document for content, make a spell check or change the font. However, on this note something must be mentioned: in the app you can't select different font sizes, you can simply enlarge or decrease the size of the text. Meanwhile, a handful of fonts are available, but without preview in the selection window. Bold and italics are also available, as well as various formatting and editing options (underline, strikethrough, highlight etc). Comments can be added to the document and so can bookmarks.

You can switch between the standard view you would know from your desktop or you can enter full screen mode which makes reading and editing on your phone a little easier. Documents can be shared directly in the cloud or via Evernote and sent via email. You can also set passwords for documents. If you need to handle multiple documents simultaneously, you can simply use the File Tabs and easily jump back and forth between different documents. When saving, you can change the file format and at the same time create new folders. You'll also have access to cloud services such as Google Drive, Dropbox or Skydrive.

When browsing your documents you can also search specifically for file formats. Using the menu option "Folders" you can set the default access location to the SD card or internal memory and find more options as well.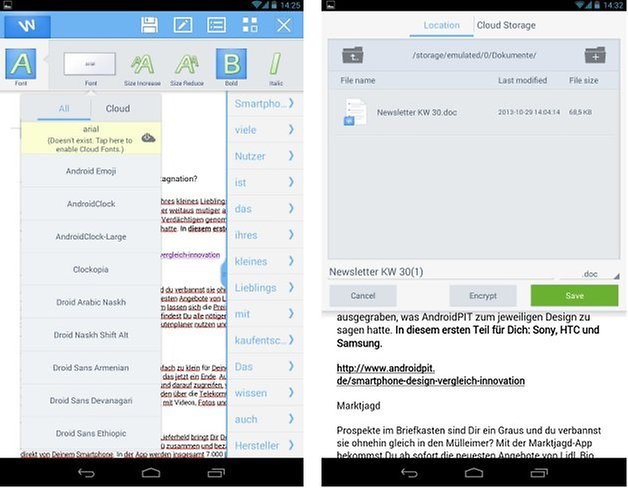 Kingsoft Office also handles tables and spreadsheets well - if you have created them with Microsoft Word Excel. If you have extensive formulas, however, these are sometimes messed up in the tables the app displays. The same goes for your own tables created using the app. As long as you only use the most rudimentary formulas, for example, simple additions, everything works out wonderfully. But for more complicated formulas, the app unfortunately doesn't seem to be able to handle them so well. So while the app handles the simple stuff very well, for me personally, the whole thing is still too cumbersome and limited on a tablet.

PowerPoint presentations can also be edited very quickly and easily. There are different layouts available and the presentation can be individualized and adjusted easily. Using Wi-Fi, you can share the finished work with with other seminar participants via the share option, for example. The preview function also provides various options and runs with no problems.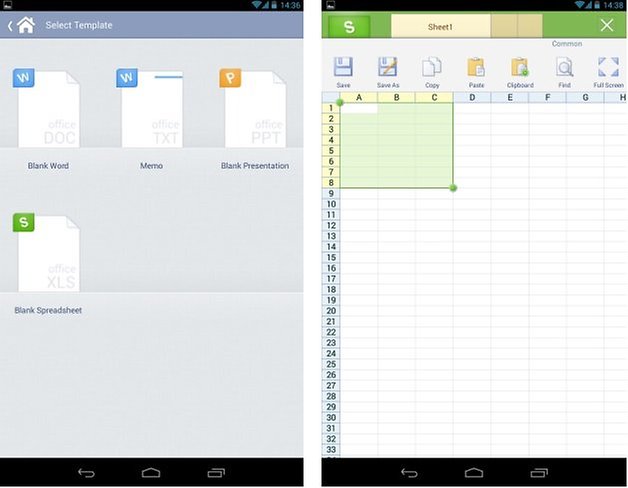 Pictures stored in the internal memory or the SD card can be inserted into presentations along with text boxes, charts, and notes. So if you ever forget a presentation, you could quickly prepare a PowerPoint with Kingsoft Office on the way to university or work and then access it from your computer when you get there or just run it from your phone. Kingsoft Office is quite capable of this.
Screen & Controls
Despite hosting many functions, Kingsoft Office 5.8 (Free) does not overload you with information. The menu at the top of the screen is very intuitive and all major options are within range. The working surface in the text box is free of interfering tools and opens a small context menu to copy or cut only when necessary. The whole user interface can be described as intuitive. On a tablet, the handling and management of text documents could hardly be easier. It may not be as good as a desktop, but it's about as good as it gets on a tablet.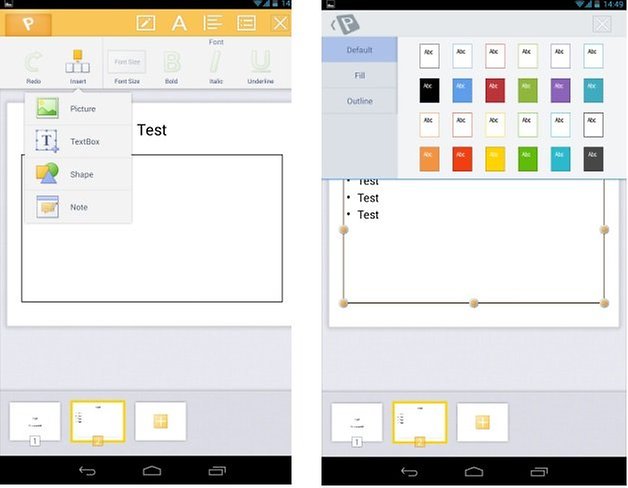 Speed & Stability
Kingsoft Office 5.8 (Free) was always reliable and stable during the trial period. Every now and then there were small lags and delays during the selection of tools, however, the app never seems to crash and it opens documents and files very quickly.
Price/Performance Ratio
Kingsoft Office 5.8 (Free) is free and contains no advertising.
Final verdict
Kingsoft Office 5.8 (Free) is a good multi-function tool when it comes to quickly writing or editing a document or creating a PowerPoint presentation on a tablet. The spreadsheets functionality has a bit of room for improvement for power users but are fine for the average user with limited need for formulas. But on the whole, the app delivers and is almost equal to the PC-based word processing software.

As an OpenOffice user, I'm not at all a fan that the ODT format is not supported. So if I need a document from the PC, I have to convert it to a supported file format first. That's not great in terms of usability but it's bearable in view of the scope of what Kingsoft offers. Tablet-based touch controls and mobile device editing on the go are, for me, an emergency option. Even though Kingsoft Office delivers in terms of performance and operation – there's still no beating a desktop for creating and editing office documents. But as far as mobile editing goes, Kingsoft Office is hard to beat.