 New LagFix App Vows to Fix Unwarranted Lag on Select Android Devices
With the standard Linux operating system, users get a tool called Fstrim that helps the system allocate memory during use. Essentially, Fstrim scans memory blocks and tells the system beforehand which blocks are free. Then when the system is under a load, it can quickly allocate memory as needed without any perceived "lag" or slowdown.

This lag usually happens when the system attempts to access memory blocks, yet hangs while the memory controller alerts it as to what blocks are available. Of course, the general purpose of random access memory is a little more complicated than what I've just described, but at least you get the gist of the concept if you didn't already.
LagFix essentially makes use of the Fstrim utility within the Android OS. Thus, purportedly speeding up various devices and eliminating excessive slowdown. While we can't say whether or not the app is perfectly safe, it's based on a system utility so it probably won't cause any serious harm to your devices. However, use the app at your own risk.
If you want to give LagFix a try, you can find it at the Google Play store.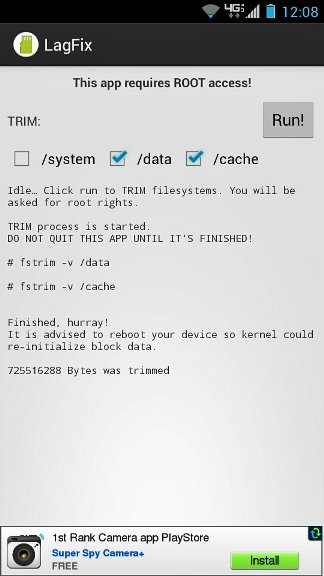 During my own testing, I can genuinely say that it helped to speed up my device. To be perfectly honest, I wasn't expecting much from LagFix, especially considering lots of similar apps promise a significant performance boost and rarely deliver. While the difference in performance before and after use of the app was apparent, it certainly wasn't a massive change.
That being said, this app will certainly benefit Android users with devices that have been used extensively and need a little boost. I'm willing to bet this app will have the biggest impact on older Android devices that have been in commission for a while.
In order to use LagFix, you will need to have root access on your device, so if your Android is not rooted then you're out of luck. Seeing as the root process is pretty easy to complete on most devices, this requirement shouldn't be too much of an obstacle. It is also highly recommended that you reboot your phone after running the optimization process.
For reference, my daily driver is a Droid Bionic. Before running LagFix, my performance when playing Wild Blood was spotty. Sometimes the game would lockup or experience excessive lag. Now, the game runs as smooth as a knife cuts through butter.
Again, the actual benefits of running the app will vary from device to device. This is also not recommended for casual users, simply due to the root requirements and the questionable long term effects. Again, if you decide to try out the app then you do so at your own risk.
If you do see a performance increase on your device, be sure to share your experience with the rest of the community in the comments below!