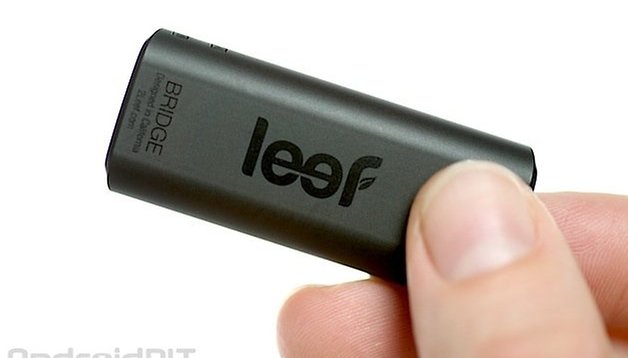 Leef Bridge: USB Flash Drive for Android Devices, PCs and Macs
Leef Technology out of California have just released the Leef Bridge, a funky new USB Flash Drive for sharing between Android phones and tablets, PCs and Macs – a first. It's a devastatingly simple idea: carry around the tiny lighter-sized, slidable flash drive in your pocket and transfer files between devices without cables, batteries, Wi-Fi, Bluetooth or cloud services. You can also play music and video direct from the flash memory meaning transferring from one device to another isn't even essential.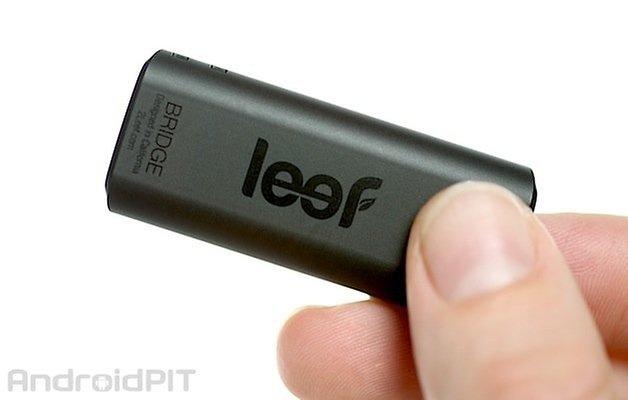 Functionality
The device we tested performed exactly as expected, although the transfer speeds were less than remarkable. Transferring to and from devices was very easy (simply copy and pasting), and playback from flash memory was seamless. The fact that the one device can be used to copy pictures, music, video and documents from any of your devices and transferred or played back on any other device is beautiful in its simplicity. Cameras, smartphones, tablets, desktops, easy.
Design
Like most slidable USB drives, the Leef Bridge is a little larger than most other flash drives, but considering it houses a USB and micro-USB connection that's still pretty impressive. The main body is the size of a stack of postage stamps with a lockable sliding cover that exposes one connection or the other, or protects them both. It's simple, functional and it works.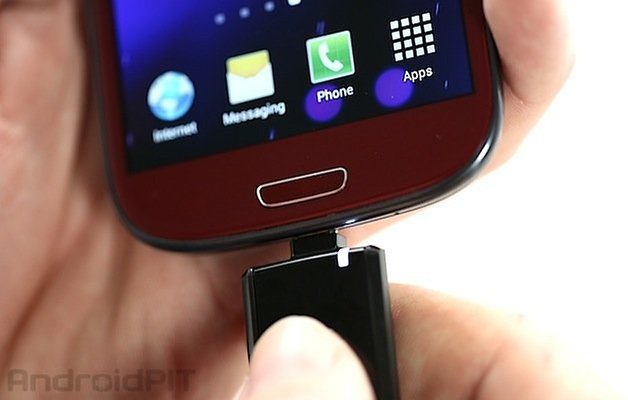 Ease of Use
I tried the Leef Bridge with a Samsung Galaxy S3 straight out of the box and it worked perfectly. The included instructions recommended downloading the Astro File Manager app to your mobile device but this wasn't necessary for me. Once it's plugged in the file manager is launched automatically. You can easily transfer files to the device and then either plug and play direct from the shared flash memory to your tablet, laptop or desktop, or transfer the loaded files as you normally would with a standard USB flash drive.
Compatibility
Leef Bridge requires Android Jelly Bean OS 4.1 or later for smartphones and Android tablets, it also works on Win 8 tablets and is of course Mac and PC compatible as a standard USB flash drive. The company's website features a full list of compatible devices that also includes Samsung Galaxy cameras, meaning you could pull photos direct from your camera without having to remove memory cards. The website also claims compatibility with the Samsung Galaxy S4 running Android 5.0? The Leef Bridge currently comes in 16GB and 32GB, and in the near future 64GB.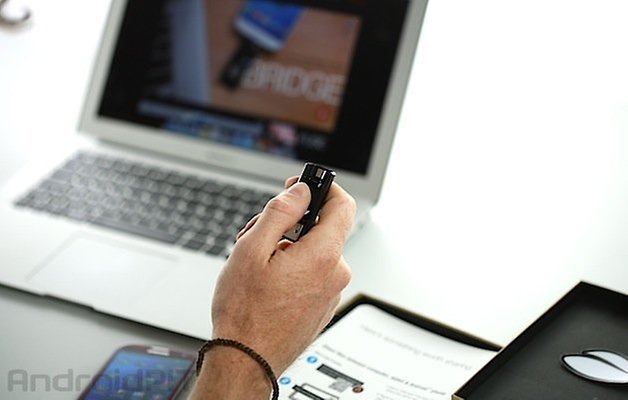 Tech Specs
| | |
| --- | --- |
| Device | Leef Technology Bridge (USB flash drive) |
| Capacities | 16GB, 32GB, 64GB (in coming months) |
| USB | 2.0 (Full Size and Micro-USB) |
| OS | Android 4.1 or later |
| System Requirements | Supports Windows® 8, Windows® 7, Windows® XP (SP3), Windows Vista® (SP1, SP2), Windows 2000®, Linux Kernal 2.6 or later, Apple® Mac OS X or later |
| Color | Black |
| Dimensions | 23.8 x 56.2 x 9.6 mm |
Conclusion
While the USB 2.0 transfer speeds are far from blistering (in my tests between 4.1 – 5.1 MB/s) – a short 225 MB video took between 44-55 seconds to transfer – there were no lags in playback when video or music was run direct from the flash memory. The device quite simply does what it claims to do and as long as you don't need to transfer files at high speed, this little gadget simplifies what otherwise can be a fidgety, occasionally irritating task. And that suits me just fine.