Lenddo Grants Loans Based on Facebook Connections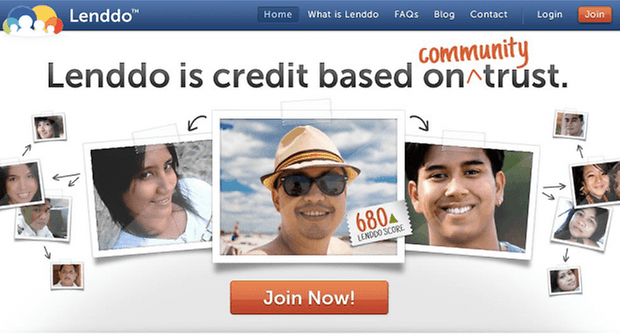 Can you judge the trustworthiness of a person based on their Facebook connections? One loan company thinks so.
Lenddo provides small loans to people based on the kind of connections they have on Facebook. The company's algorithm evaluates an applicant's "trusted network" or the people in the applicant's social network that are closest to them and can vouch for their character, in order to decide who gets a loan. Then those people who are friends with the loan-receiver are kept informed about the person's payment history
Wait, what?
Yes, Lenddo uses the power of shame to encourage people to pay back loans. Being in debt is bad enough without your closest friends and relatives knowing about it and hounding you to pay back your loan, but Lenddo thinks that will motivate people to actually pay off their loans on time. It sounds demeaning to me, but it probably works.
Lenddo at least has an honorable mission. Loan amounts can be up to around one month's salary, to be paid back within three to 12 months. " Loans must be taken for the purposes of life improvement–borrowers have sought to move closer to a job, send relatives to school and help their families with medical treatments," according to the Wall Street Journal.
Micro-financing works, and folks who take out small loans tend to pay them back at a much higher rate than larger loans. In one study, the payback rate was 98%. Lenddo plans on making their services available first in the Phillipines and Colombia, but plans to expand the services in the future.
But do you think verifying loan-seekers through facebook is a sound idea? And how much would it suck for your best friends to hound you about paying back a loan? Sounds like hell to me.