[Update]Lens G: Sony officially presents the lenses DSC-QX100 and QX10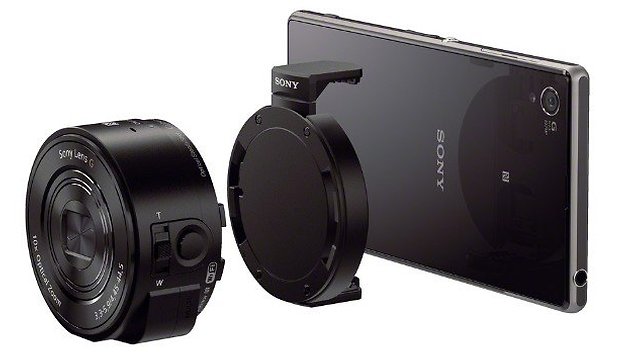 Many have been waiting for this after hearing rumors about this cool new innovation and Samsung has now presented the attachable camera lenses we thought were called ''Lens G''. They actually turned out to be called the Cyber-shot DSC-QX100 and DSC-QX10. Both of these ''lens-style cameras'' were presented as perfect accessories to the Sony Xperia Z1 and even as stand-alone devices, and the are really quite impressive.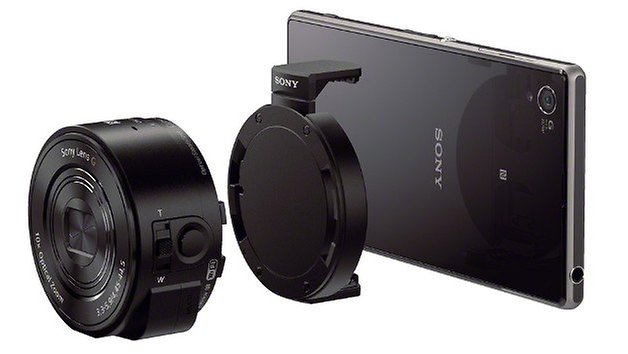 The presentation of both cameras came as not much of a big surprise, since a few pictures and details had been disclosed prior to the official announcement. A few hours before the official event we were able to check over a complete list of technical details as well as tentative prices for both devices. All that we saw there turned out to be true.
Sony innovates smartphone photography
Despite having known everything in advance, Sony really did revolutionize smartphone photography: with this new Cyber-shot series, Sony is going in the right direction. The camera lenses can be paired with the smartphone via Bluetooth and attached like a clip to the handset. Not only that, these can also be used independently of the phone. When connected, the smartphone display is used as the viewfinder image which provides us with many new photo possibilities: you can take pics around the corner, over your head, behind your back or even capture a new and improved quality for selfies.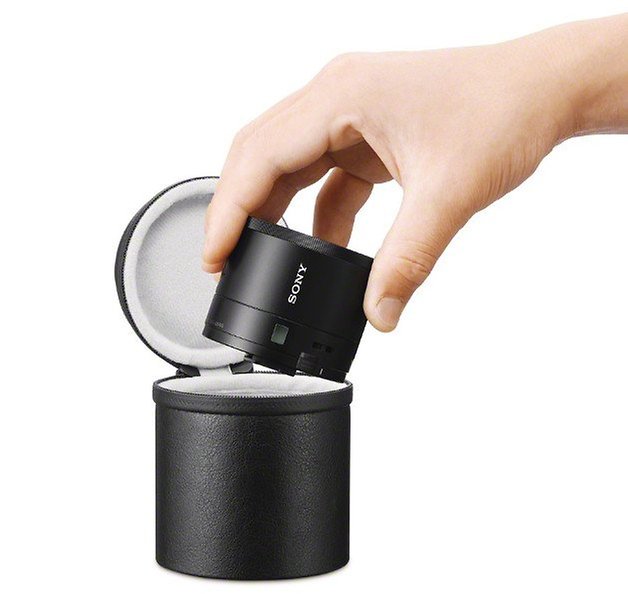 Both cameras offer a lot of the same thing: they can save pictures and videos onto the microSD (up to 64 GB) or on Sony's Format Memory stick (up to 16 GB). Both have NFC and WiFi support on board as well as a micro USB port and a tripod socket. Capturing video is recorded with stereo sound. It seems like quick snapshots will be a little difficult to do, since the start time takes about 6.9 seconds.
The DSC-QX10 has a battery capacity of 630 mAh, while the units for the QX100 have yet to be announced. Both should be able to take around 220 pictures or 55 minutes of video.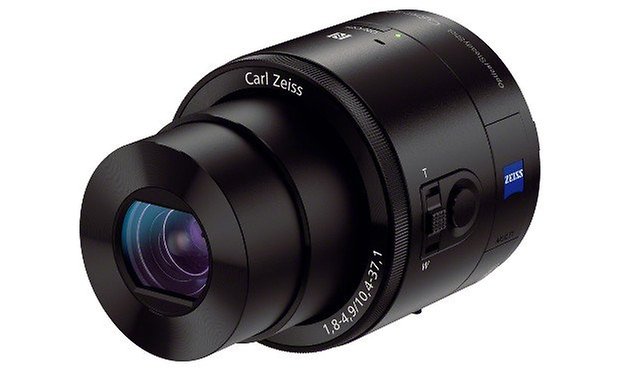 QX100: a large sensor, Carl Zeiss lens, manual focus
The more expensive DSC-QX100 has a 1-inch sensor and a resolution of about 20 MP. The maximum aperture for the Carl Zeiss ''Vario Sonnar T'' lens is at f/1.8-4.9, while the smallest at f/11.
The focus range for pictures is set at a 3:2 format and reaches from 28 to 100 mm. The focus can be set manually or by using the Touch focus on the smartphone display, the ISO sensitivity can reach from 16 to 25,600 depending on the mode. The shutter time can go from 1 to 1/200 seconds and whether time exposure is possible is not yet known.
The QX100 has 5 modes, next to the three automatic modes and a video mode, as well as aperture mode which allows one to set the aperture to one's liking. Videos can be recorded in MP4 format and with a resolution of 1,440 x 1,080 pixels as well as 30 pictures per second. Pictures will be saved as JPEG files on to the camera, though decompressed RAW files aren't supported.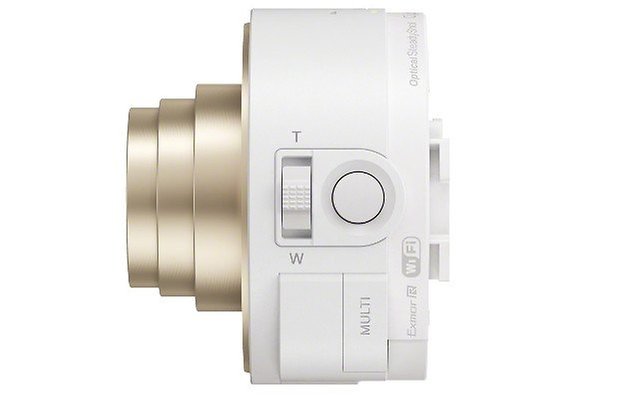 QX10: Cheaper version with 10x zoom
The DSC-QX10 is the slightly cheaper model with a small sensor (½.3 inch) as well as a lower resolution (18 MP), however it also offers more in the way of focus range. The Sony G lens take pictures at 4:3 format in a zoom range from 25-250 mm. Not only that the QX10 is the trimmed down version of the QX100. The maximum aperture is set at f/3.3-5.9 while manual focus is missing, the ISO sensitivity reaches from 100 to 12,800, the shutter speed from 1 to 1/1600 seconds. This lens will only takes pictures in 4:3 or 16:9 format. The resolution and frame rate for the video is the same as the more expensive version.
The price, as we had expected, is high. The QX100 should cost around 500 USD, while the QX10 about 250 USD. As mentioned in previous articles, Lens G doesn't need to be attached to Sony devices only, they will work with all Android and iOS smartphones.
​
An official promo video for the Lens G has also been released which show nice pictures which can be captured thanks to these multifaceted camera lenses.
| | DSC-QX100 | DSC-QX10 |
| --- | --- | --- |
| Sensor | 1,0 inch, Exmor R(R) CMOS | 1/2,3 inch, Exmor R(R) CMOS |
| Resolution | Max. 20 Megapixel | Max. 18 Megapixel |
| Aperture | f/1.8-4.9 | f/3.3-5.9 |
| Focal Distance | 28-100 mm (3:2), 30-108 mm (4:3) | 25-250 mm (4:3) |
| ISO | 160-25.600 (mode-dependent) | 100.12.800 (mode-dependent) |
| Shutter speed | 1-1/2000 sec. | 1-1/1600 sec. |
| Data Format | JPEG (Fotos), MP4 (Videos) | JPEG (Fotos), MP4 (Videos) |
| Connectivity | WiFi, NFC, microUSB | WiFi, NFC, microUSB |
| Memory Format | microSD, Memory Stick | microSD, Memory Stick |
| Battery | Unconfirmed (probably 630 mAh) | 630 mAh |
| Dimensions | 62.5 x 62.5 x 55.5 mm | 62.4 x 61.8 x 33.3 mm |
| Weight | approx. 179 g (with battery and memory card) | approx. 105 g (with battery and memory card) |
| Price | 500 USD | 250 USD |
What do you think of this new innovation? Will this revolutionize smartphone photography?
[Update: 20:30 Berlin time 04.09.2013]
Andreas' first impressions
If you put the lens onto the smartphone, the weight is almost tripled, especially with the QX100 with its 179 grams. With this addition you no longer feel like you're shooting with a smartphone, but with a real camera. The focus is mounted very far to the front, which is initially unfamiliar and probably would require some practice.

The lenses can be stuck (with the adapter) onto any touchscreen smartphone, which is very easy to work out. I just tried it with the Galaxy S4 and it worked fine. Both items are made of slick plastic, which gives a very sophisticated look. The picture quality we unfortunately can not test, but we will hopefully get to try that tomorrow, so stay tuned.