LG Enact available on Verizon for $20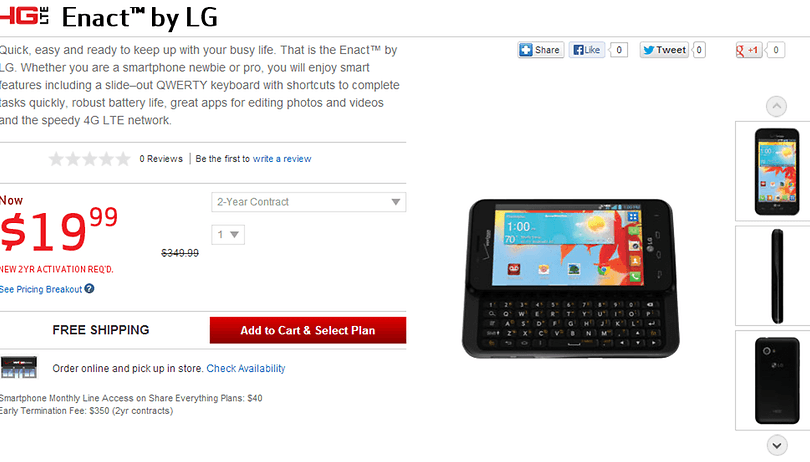 You know what I miss some times? The feel of a physical QWERTY keyboard on the phone that I'm using. I've since gotten used to the lack of one and embraced the feel (or lack of feel) of the touchscreen keyboard however I still long for the days of long past. Fortunately, while the QWERTY-equipped smartphone is becoming rarer and rarer, the LG Enact has dropped on Verizon and brings it back in LTE glory.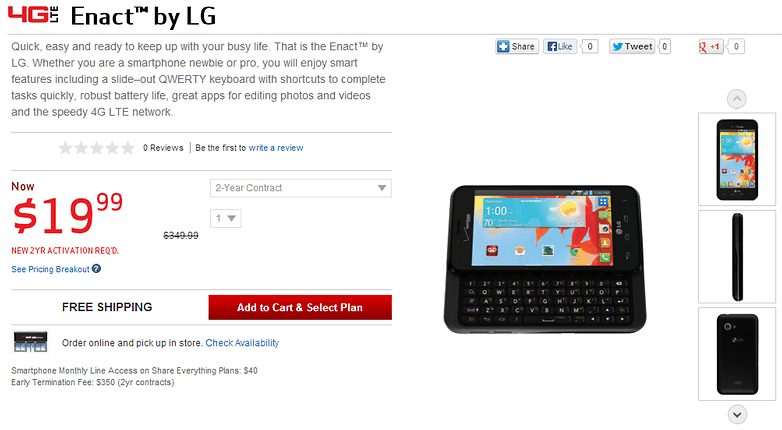 For 20 bucks you get an Android equipped sliders phone on a two-year contract or $349.99 without a contract. While nothing to gawk about in the specification side of things, this is definitely a low-cost phone that can at least perform the majority of the tasks that you need a phone to do in this day and age.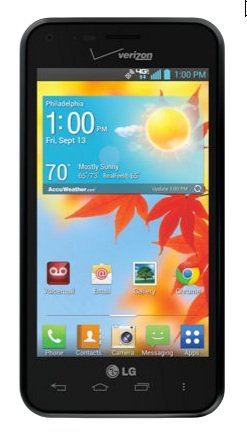 Specifications
| | |
| --- | --- |
| | LG Enact |
| Display: | 4-inch, 800x480 LCD screen |
| CPU: | 1.2 Ghz dual-core Snapdragon 400 |
| Camera: | 5 MP (Rear Camera) |
| LTE/4G: | Yes |
| Storage: | 8 GB internal (microSD expandable) |
| OS: | Android 4.1 |
| Battery: | 2460 mAh |
| Dimensions: | 110 x 52.3 x 15.7 mm |
One of the biggest draws for this? The battery. Not only is it large for the phone this size, but with the Qualcomm power management, you can most likely expect this bad boy to last for a few days of use.
It's available now on Verizon. And while I may long for a day of QWERTY enabled phone, this doesn't quite fit into what I want out of a phone right now. However, for the price it's a great addition for a family plan or for a simple phone for, y'know, making calls?