LG G3 Prime officially announced as LG G3 Cat.6 [updated]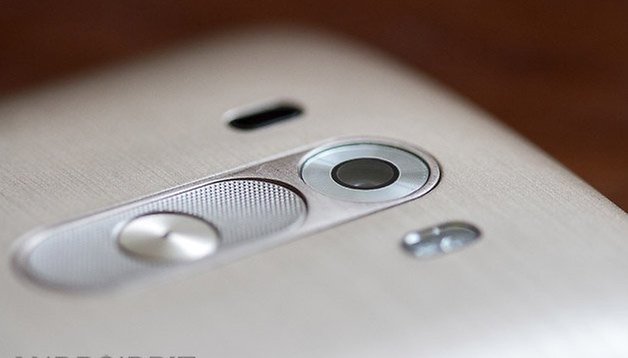 Right on schedule the LG G3 Prime has today been officially announced in South Korea under the name LG G3 Cat.6. We dropped the news last week with some inside specs revealed (see original text below) but now our leaked information has been confirmed by the official announcement of the device. Basically a stock LG G3 with better processors (Snapdragon 805 clocked at 2.7 GHz and Adreno 420 GPU) and LTE speeds 50% faster than traditional LTE-A, the G3 Cat.6 will initially be restricted to a South Korean launch at a price of 940,500 KRW, the equivalent of 915 USD, and will go on sale on July 25th.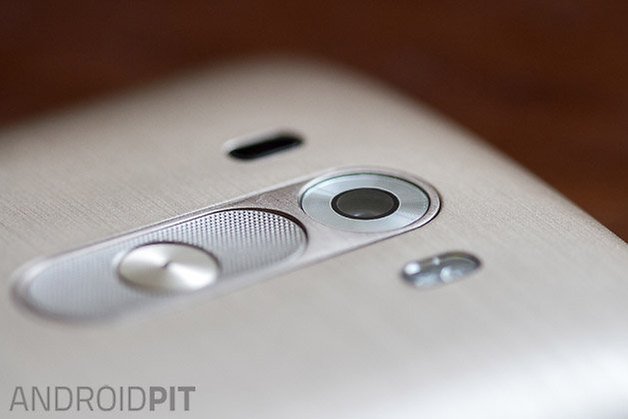 Original post [July 14th, 2014 5:16 PM]:
Our source tells us that the LG G3 Cat.6 will be announced in South Korea next week. The new LG G3 variant will feature a Category 6 modem, meaning LTE-A speeds of up to 300 Mbps and will be a serious contender to Samsung's Galaxy S5 LTE-A, with Cat. 6 LTE-A being claimed to be 50% faster than traditional LTE-A. This is the device that until now we've been calling the LG G3 Prime, although a separate Prime device may still be in the works...
Tech Specs
| | |
| --- | --- |
| System | Android 4.4.2 KitKat, Optimus UI |
| Display | 5.5-inch IPS LCD, QHD (2,560 x 1,440 pixels, 538 ppi) |
| Processor | Quad-core Qualcomm Snapdragon 805, 2.7 GHz, Adreno 420 GPU |
| RAM | 3 GB |
| Internal storage | 32 GB (+ microSD up to 128 GB) |
| Battery | 3,000 mAh (removable) |
| Camera | 13 MP, OIS+ with Laser-Autofocus (back), 2.1 MP (front), 4K video |
| Connectivity | GSM/HSDPA/LTE, WLAN 802.11 a/b/g/n/ac, MIMO, Bluetooth 4.0, NFC, USB 2.0, A-GPS/Glonass |
| Dimensions | 146.3 x 74.6 x 9.1mm |
| Weight/Colors | 154 grams, silk white, shine gold, metallic black |
The G3 Cat.6 will feature all of the same specs as the existing LG G3 but will come with an updated Snapdragon 805 chipset on top of the new Cat 6 modem. As you probably already know, Cat 6 LTE is not exactly supported in many places outside South Korea, so the device will be restricted to a South Korean launch until the proper infrastructure is more widespread. Which might just happen somewhere, anywhere, by the time the LG G5 is announced - if we cross our fingers and eat all our vegetables.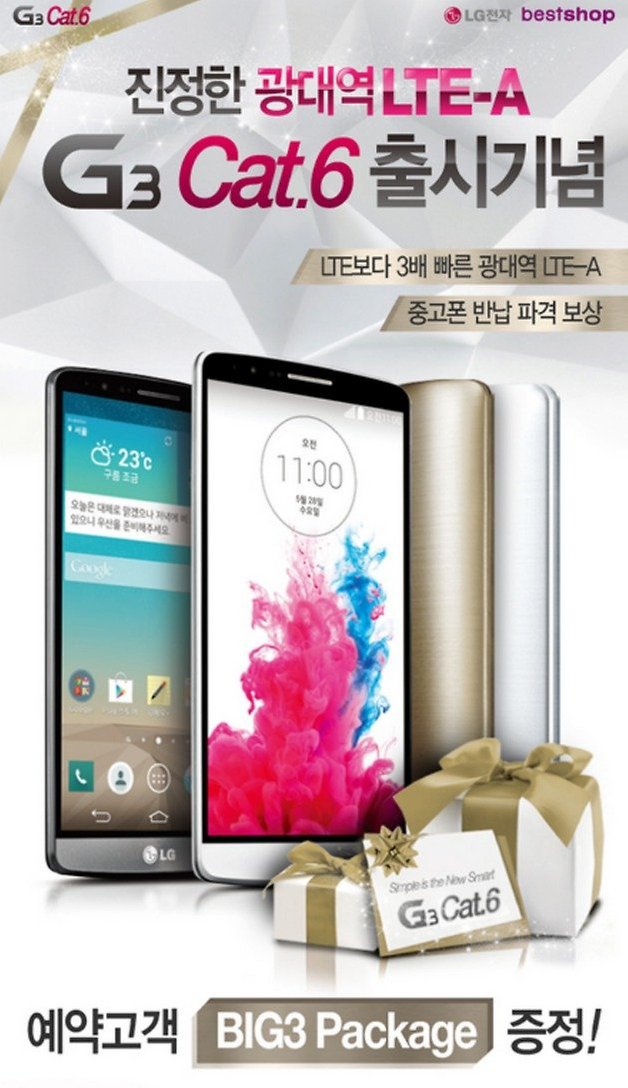 We can also expect to see the announcement of the LG G3 Beat internationally this week as well. Again, we've been calling this device the LG G3 Mini for a little while, but with a 5-inch display diagonal, the mini moniker doesn't exactly fit. It will be announced for North America, Europe and Asia. We'll update this article as we get more info and should have prices for you shortly, but we're expecting something around the Korean equivalent of 900 USD for the G3 Cat.6. Knowing LG, both devices will hit the market very soon after the announcements are made.
[Update: the unofficial Korean price for the LG G3 Cat.6 is 940,500 KRW, the equivalent of 915 USD, and will go on sale in Korea on July 25th.]
[Update 2: based on new information we can confirm that the LG G3 Cat.6 will have the same modem as the Galaxy S5 LTE-A but the G3 Cat.6 will have a Snapdragon 805 SoC clocked at 2.7 GHz. The device has the same footprint as the exisitng LG G3 but will be marginally thicker. Other specs remain the same as the existing G3.]
Would you pay this much for Cat 6 LTE (if you could even get it)? Who do you think will win the LTE-A race?