Why LG Is The WORST Nexus Partner EVER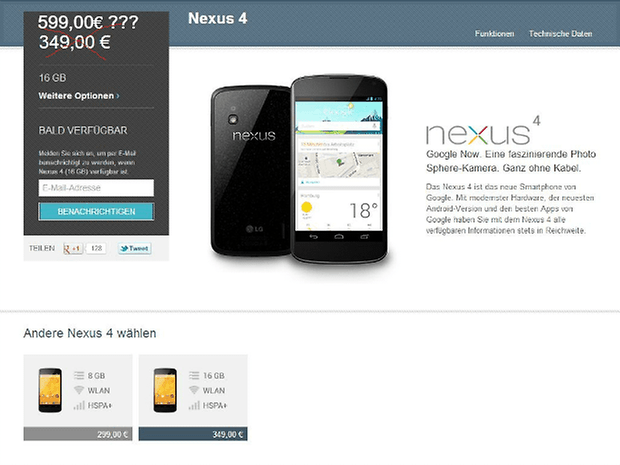 I am so very very glad that the awesomeness of my Galaxy Note 2 has kept me from wanting the LG Nexus 4. Now don't get me wrong...the LG Nexus 4 is certainly one hell of a hardware powerhouse, and at $299, you won't get a better Android phone at that price point. But LG has..how do I put this nicely...There's actually no other way to do so, so I'll word it but bluntly: they might have just f**ked it all up for themselves, for Google's hopes for the new Nexus lineup, and most importantly, for lots of consumers that actually planned to buy the phone.
Several EU countries have apparently ditched their plans of selling the Nexus 4 due to reports that LG later plans to sell the phone at a much higher price than Google does. Reports coming in from Italy, Austria, and Denmark are indicating that LG plans to sell the phone for 600 Euros, which is around $768. A Spanish retailer has already announced that they have dropped their plans to sell the device, and Phone House has also suspended its plans after learning of LGs plans. Phone House went on to state that the jacked up price made it impossible to honor their low price guarantee to customers, which makes a lot of sense when you think about how much cheaper Google is directly selling the same device for.
Customers in Italy have taken to LG's Facebook plans to protest the pricing, and I can certainly understand why. What the hell is going on in LG's sales department? LG brings out an amazing phone at an amazing price point, along with a chance of gaining some consumer confidence back, and then what do they do? They pull this ridiculously dumb stunt.
What's the logic behind this move? What are they hoping it will accomplish? Is there actually ANY way that this makes sense? Taking advantage of customers that can't use Google Play to order the Nexus 4 by forcing them to order it at damn near DOUBLE the price? Pretty freakin low/dirty/stupid LG.
LG has failed to issue any statement on the issue up to now, and considering how many companies are reporting this information, it would appear that it's accurate (PhoneArena isn't reporting it as any type of a rumor, and I find the reports too consistent to be a rumor). I had my reservations about an LG Nexus device from the beginning, but now I am more than sure that Google is probably facepalming themselves for going with this OEM.
If LG wants to sell the Optimus G, which is pretty much their skinned version of the Nexus 4, for more money, then so be it. But how stupid do you have to be to blow this chance with Google and with consumers?
Some might argue that phones with this type of hardware normally sell at the 500 and 600 dollar price point, but that's not what Google is trying to do here.They are trying to reform the Nexus brand, and all this action does is slap them in the face. LGs stunt not only hurts the Nexus brand, it makes Google, and Android, look pretty damn stupid (and pretty unorganized) if you ask me. It's also really messed up for consumers living in countries that can't buy the device from Google Play.
Unbefreakinlievable.
I sincerely hope that this is all just one big misunderstanding (which I would natrually apologize for if it is), but something in my gut tells me that it's not. I really hope that LG stops taking whatever drugs they're on, and that they right this wrong before it gets completely out of hand. I also hope that Google just doesn't sit on the sidelines, and that they give LG a good dose of "WTF are you doing???" during their next phone call.
What do you guys think? Am I overreacting here, or is this a pretty dumb thing to do?
Let me know what you think in the comments below!
Picture credits: Google Play (edited by myself)