LG Optimus G Pro Spotted With Specifications List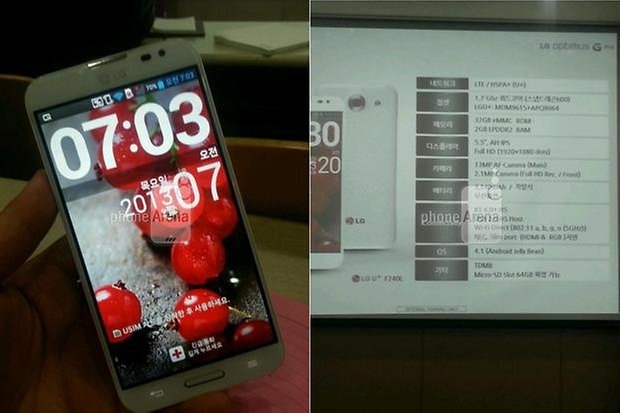 You know what they say, the old must go before the new will come. Having said that, the current flagship device from LG, the Optimus G, will soon be usurped by the LG Optimus G Pro that has been spotted in full, along with a slew of hardware specifications that is sure to place the LG Optimus G Pro on par with other flagship models from different smartphone manufacturers.
Folks living in the Land of the Rising Sun (Japan) would be on the receiving end of the LG Optimus G Pro from NTT DoCoMo, where it came fully equipped with a 5" Full HD display, powered by a massive 3,000 mAh battery to boot, with whispers of a different variant being in the works.
Well, those whispers have proven to be true, as what you see above is the 5.5" model of the LG Optimus G Pro in the flesh, and it is tipped to be announced officially at MWC 2013 later this month. Expect the LG Optimus G Pro to go toe-to-toe with the likes of the Sony Xperia Z, HTC M7 and the Samsung Galaxy S4, where it does seem as though it will be able to hold its own without batting an eyelid.
Sure, it might lack the toughness of the Sony Xperia Z, but it will still come with nigh untouchable specifications such as a 5.5" Full HD IPS LCD display, running on a quad-core 1.7GHz Snapdragon processor with LTE support, carry 2GB RAM, sport a 13-megapixel rear camera and a 2-megapixel camera in front that does Full HD recording, 32GB of internal storage which can be further augmented via a microSD memory card slot, and a massive 3,140mAh battery that ought to see it last the distance, even in a busy day. Obviously, Android 4.1 Jelly Bean would be the least to be expected for a smartphone of such stature.
Other connectivity options include HDMI and RGB, and we do hope to see this flagship smartphone from LG hit the rest of the global market real soon, too. How do you see it stack up against the rest of the competition?