LG: This Is Why You Should Stick To Making Refrigerators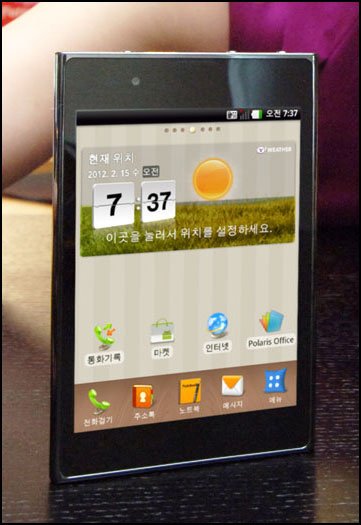 (picture from Brighthand)
Whoaaaaaaaaaaaaaaaaaaaaa....stop right there! I know what you're thinking already, and it's not like that. Before I get into this...well yeah...rant...I should firstly say that I'm a BIG fan of LG products ok? I have two 40 inch flatscreen HD TV's in my apartment that are both from LG, and my refrigerator is also from LG. Happy with those products? DEFINITELY. Love my TV's and LOVE my fridge. LG has been around for a long time, and they make some GREAT product's that you can really rely on. With that being said, whoever's idea it was to draw, design, invest time and money in, and present this monstrosity of a device a week before MWC kicks off should probably quit his job, pack up his desk, exit the building, walk next door to the bank, take out a buisness loan, and invest in a newly formed company that manufactures digital picture frames.
Yes, that is a damn fine looking picture frame, and one of the ugliest mobile devices I have EVER seen. Really. And for the record, that's a pretty hard title to achieve, as I've seen A LOT of ugly phones. What you are looking at is the newly announced LG Optimus VU Tabletphone, and was apparently designed solely to compete with the Samsung Galaxy Note. I'm going to go and quickly giggle silently in the corner for a few minutes until tears pour out of my eyes from laughter. Be right back.
…......................................................................................
Back. Laughter really is good for the soul. Lets continue.
So as I was saying, this device was created to compete with the Samsung Galaxy Note. Now, what I would like to quickly bring to your attention is that we have a few Galaxy Note users here at AndroidPIT, and it is a BEAUTIFUL device, and its success doesn't surprise me at all. It's fast, it's powerful, has a beautiful display, and is quite simply a really fun device to use. If anyone wanted to make an attempt to compete with the device, the first thing they need to focus on for a device this size is DESIGN. The Galaxy Note is a BIG phone, and to get consumers buying something that's actually a bit big to be a phone, yet too small to be a tablet, design is critical. I'm not going to comment on how ugly the interface on the screen in the picture is, as that's an entirely different topic all together. But the design of this phone is an apololyptic disaster. I know that design is a matter of opinion, but this phone is WAY too square. Let's have a quick glance at the Galaxy Note: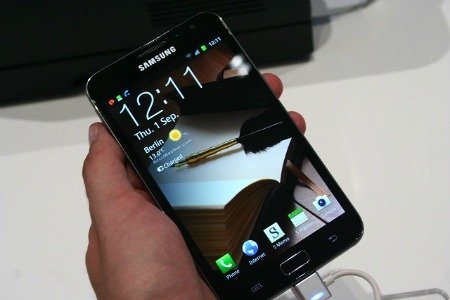 (picture from laptoping.com)
And look up at the top of the article to the Frankenstein creation from LG.........Do NOT try to tell me that these look the same, cause they don't. You can tell that Samsung took the time to make this massive 5.3 inch screen look stylish and smart, while LG..well...took a big ass 5 inch digital picture frame, ripped its insides out, inserted mobile hardware, glued it back together, and called it a tablet phone. Notice how Samsung rounded the edges on the screen? Apparently not. The edges are so sharp on this thing that I'm confident you could literally chop wood with it. If I ever came home drunk and fell on it while taking it out of my pocket, there's a high possibility that I would die from the stab wound. Notice how Samsung's device, although big, looks like what it is (that being a big phone). Notice how the LG device looks like a way too wide, way to big, bulky, impossible to hold and look like a human being at the same time type of....object?
It seems there was an obvious lack of creative minds at LG when this thing made it past product mockup meeting. There is just NOTHING nice looking about this thing at all. In its defense, hardware wise it is looking good, as its sporting a dual core 1.5ghz processor, 1 gig of RAM, and 32GB internal storeage. It has an 8 megapixel rear camera, a 1.3MP front facing cam, and an HDMI video out port. It's shipping with Gingerbread, but an update to ICS is expected soon.
Hardware wise, these are the specs I would expect to see in such a device, especially if they hoped to compete with the Galaxy Note. But I would be willing to bet money that it will be a disappointment right out of the door.
In all honesty, this is just one in a handful of unimpressive LG devices released lately, and with sales already very weak, maybe it's time to just let it be with the smartphones. Sure, every now and then a decent LG phone would pop up, but those times have been few and far in between, and when they did come, they were certainly nothing groundbreaking.
So LG, please do us all a favor, and stick with what your good at. Comparing this product to a Samsung Galaxy Note only demonstrates your clear lack of creativity and an even more pronounced cluelessness when it comes to designing a sexy-looking mobile device.