Update: LG V30 pricing in the US and the UK revealed
LG just presented the LG V30 at IFA. It's this year's top smartphone from the manufacturer, and with high end specs and a certain something special, it's sure to be a winner. We got the chance to test out a pre-production model in advance so we could share our impressions of the most important features with you. Plus, we now have more information on its release in the following section.
LG V30 release date and price
The V30 is available in South Korea and will ship soon to North America, Europe and other key markets. The LG V30 will come in four colors: black, silver, blue and violet. In Korea, the V30 will cost 949,300 KRW, which is equivalent to $840.
Although the exact release date is still unknown, stores and carriers in the US and the UK have finally displayed prices for LG's new flagship.
LG V30 prices in the US
AT&T will stock V30 units in stores from October 6 (next Friday) with pre-orders starting the day before. A 30-month plan costs $27 a month, so that works out to $810 total.

T-Mobile will be taking pre-orders from October 5 (next Thursday) and online sales start on October 13. T-Mobile's Equipment Installment Plan will cost $80 up front and $30 per month. Only the Silver version is available. T-Mobile's 600MHz band is supported.

Verizon will also carry the V30 starting from October 5. Pricing is yet to be announced.
In addition to the standard V30, there will also be a V30+, which will come with 128 GB of internal storage (rather than 64 GB). In the US, the V30+ will be carried exclusively by Sprint.
LG V30 prices in the UK
In the UK, Carphone Warehouse has exclusivity on the LG V30, charging £800 for a SIM-free phone.

Vodafone offers the cheapest contract – pay £80 up front and then £34 a month. That works out to a total of £896 with 24 months of unlimited calls and texts and 1GB of 4G data a month.
Delivery in the UK is free and the phone should arrive on November 1 if you choose to order one. Both color options are available - Cloud Silver, Moroccan Blue (V30+ is unavailable).
LG V30 design and build quality
LG already made a big change with the G6 by opting for glass on both the front and back along with a prominent metal frame. The V-series adopts this appealing design, which recalls the Galaxy S8 - the edges are curved, but LG's new device retains more of a metal frame. The corners are there to protect the device from falls. The front and back aren't quite as dramatically curved as the S8. At at 158 grams, it's even a bit lighter than the G6.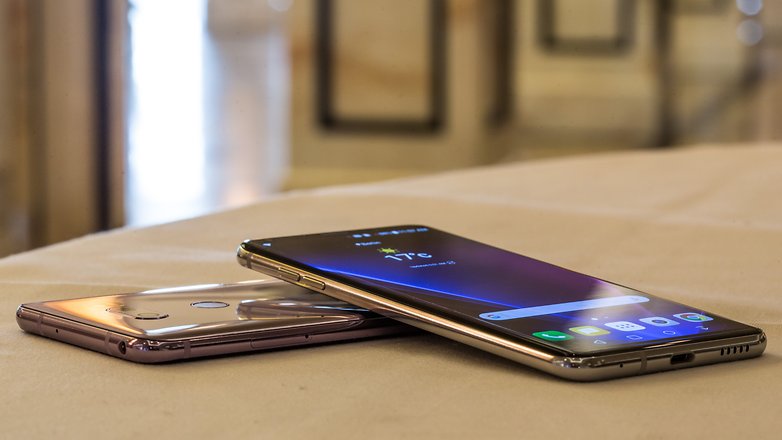 The bezels of the V30 have been reduced above and below the display to match those of the G6, and despite the large display, it's easy to fit in the hand.
Overall, the LG V30 is very easy on the eyes and you can sense the great build quality. Some of the things the LG G6 was criticized for have been fixed here, like the gap between the glass and metal parts of the frame. The V30 is IP68 certified against water and dust.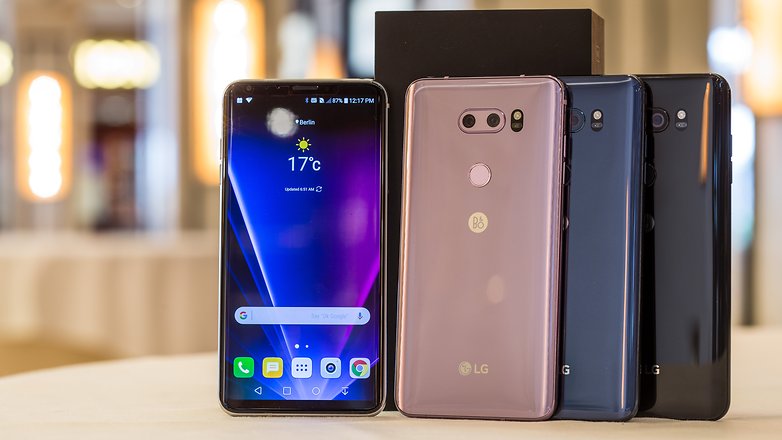 LG V30 display
The V series used to be known for a secondary display that was mounted above the main one. LG has now done away with it, and instead, it uses a software solution in place of it. More on this later.
The 6-inch display of the V30 marks the first time in generations that LG has used an OLED display. It has a 2:1 aspect ratio and a 2,880 x 1,440 resolution. It left us with a very good first impression of its quality. We've yet to examine the HDR10 support.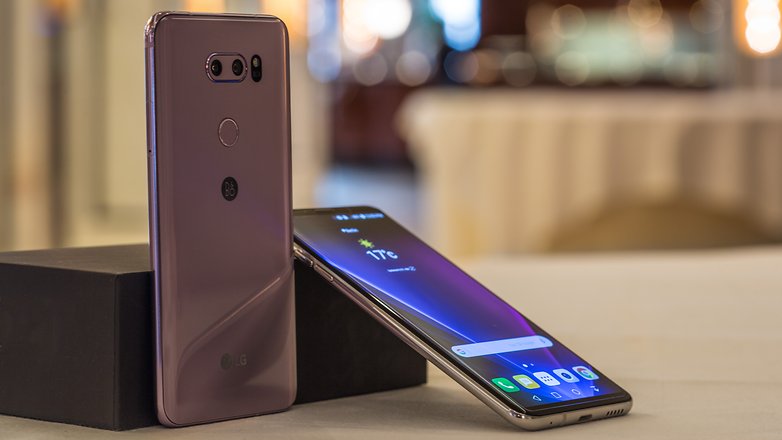 LG V30 software
It ships from the factory with Android 7.1.2 Nougat, and an update to Oreo will follow. As usual, LG uses its own UI - LG UX version 6.0. It's much the same as previous versions, but adds some interesting features that aren't necessarily immediately obvious.
Here it's necessary to mention the lack of a second display, as it's been replaced by a Floating Bar. It's used for quick access to frequently used functions, or you can deactivate it if you prefer. In our brief time with the device, we thought it seemed practical - but we'll see for sure in a more full review if it's really useful in everyday life.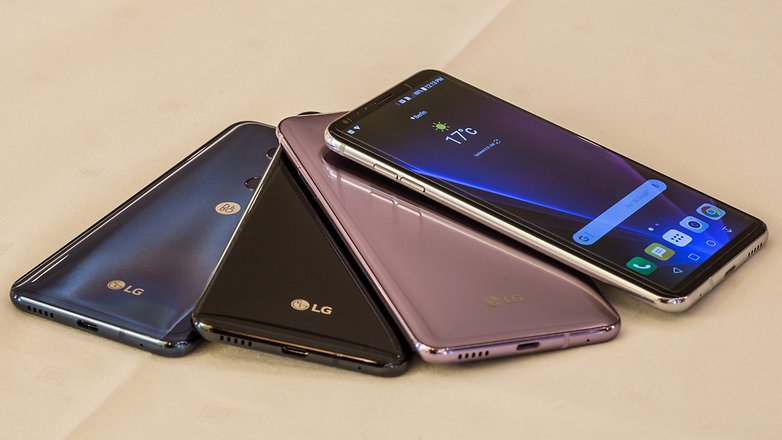 LG V30 performance
For the G6, LG used a processor from the previous year, but the V30 is hitting the shelves with the current Snapdragon 835. This SoC has proven itself already in several smartphones, so it should provide more than satisfactory performance. In our hands-on test, the software seemed nimble and fluid.
In terms of memory, LG leaves it at a standard 4 GB. The competition seems to be concerned with providing 6 or even 8 GB of RAM, but they've yet to prove that amount is strictly necessary. Multitasking was quick in our testing of the device, and there was never any delay in changing between apps.
LG V30 audio
There is no surprise here in the audio department: LG had already announced that the Quad DAC we're familiar with from the G6 would be used. A headphone jack is located on the top of the smartphone. LG not only emphasizes the excellent sound reproduction, but also wants to ensure that sound recordings are of particularly high quality. Even in noisy environments, the V30 should deliver high-quality recordings.
Headphones are supplied by LG from Bang & Olufsen - but these aren't available in every country.
LG V30 camera
As usual, LG has chosen a dual camera, and it uses one normal and one wide angle lens. The former has an f / 1.6 aperture, which can be used in low light conditions. It has 16 MP, while the wide angle lens has 13 MP and an f / 1.9 aperture. LG has significantly reduced distortions from the wide angle camera, and it's immediately noticeable in a direct comparison.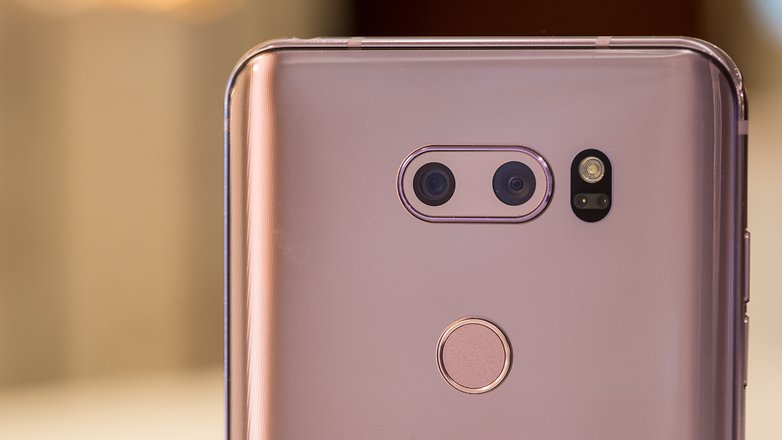 The camera is now covered with Crystal Clear Glass, designed to provide more consistent color. In addition, LG wants to reduce distortions with the wide angle camera. The V30 is equipped with both electronic and optical image stabilization, as well as laser autofocus.
While we weren't able to test it extensively in this preliminary review, the initial results of our first test photos left a positive impression. The improvements to the wide angle lens are immediately apparent, and you can switch between the two lenses as usual.
LG V30 battery
One cannot tell much about a battery from a brief hands on test, but it has a capacity of 3,300 mAh, which probably won't provide sufficient power to the large display and Snapdragon 835 past the one day mark. There's a USB Type-C port with Quick Charge 3.0 support, and wireless charging.
LG V30 technical specifications
| | |
| --- | --- |
| Dimensions: | 151.7 x 75.4 x 7.3 mm |
| Weight: | 158 g |
| Battery size: | 3300 mAh |
| Screen size: | 6 in |
| Display technology: | POLED |
| Screen: | 2880 x 1440 pixels (537 ppi) |
| Front camera: | 5 megapixels |
| Rear camera: | 16 megapixels |
| Flashlight: | LED |
| Android version: | 7.1.2 - Nougat |
| User interface: | LG UX |
| RAM: | 4 GB |
| Internal storage: | 64 GB |
| Removable storage: | microSD |
| Chipset: | Qualcomm Snapdragon 835 |
| Number of cores: | 8 |
| Max. clock speed: | 2.45 GHz |
| Connectivity: | HSPA, LTE, NFC, Bluetooth 5.0 |
Early Verdict
The LG V30 is a smartphone with amazing looks. And while it's not the most innovative thing out there in terms of features, it's on the whole very compelling.
There are some improvements, like the Floating Bar, which is a seemingly practical and logically intuitive way of perpetuating the second screen idea further. The display and camera also got some attention from LG. The OLED display may be huge, but the device is still comfortable in-hand. LG keeps to having two focal lengths for its dual camera, and that's enormously practical in day-to-day life.
There's often a bitter aftertaste with LG smartphones, but for now, we were absolutely convinced by our first impressions of the device.