Malicious Apple Apps Surface in Google Play Store Some questionable apps popped up in the Google Play store earlier tonight, which were supposedly developed by "Apple Inc". Not long after the apps showed up, tech news sites blew up with warnings regarding their content. There were six apps altogether, aptly named after real Apple programs including (keep in mind some of these are spelled improperly) Garage Band, iPhoto, Keynote, Numbers, iMovie and Pages.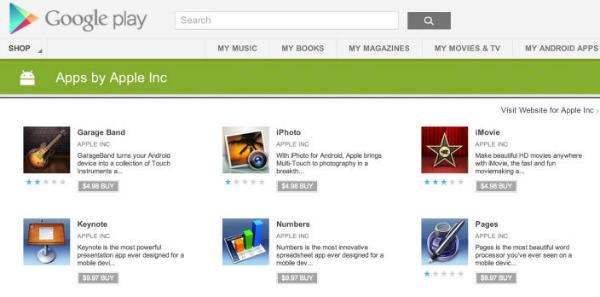 Links for the related Apple Inc developer would redirect to the Apple website, but whoever uploaded these apps also included an invalid email address which most certainly does not belong to Apple, android@apple.com.
I shouldn't have to tell you that these apps were probably not actually released by Apple. They were likely uploaded by a third party, who deviously planned to prey on unsuspecting victims that don't know any better. Considering each app is priced at $4.99, it's also likely that the developer was hoping to make money off a few naive folks, as well.
If I wasn't trying to be entirely serious, I might accuse Apple of trying to attack Android users for not using their products like the rest of the iSheep out there. Considering the circumstances though, that statement isn't really all that comical.
The corresponding market pages have since been taken down as I can no longer find them when I perform a search via Google Play. This, in turn, means that Google was relatively quick to respond to the problem.
Google is trying hard to cut down on the amount of malware and malicious software being released in the Play store. They've even included a new "verify apps" security feature in Android 4.2. The new feature will examine apk files and compare them to the files available in Google Play, and if the install package is deemed harmful in any way the program will not install. This feature will be extremely useful for anyone who installs apps in other ways than Google Play, like from an external SD card for instance.
Still, a situation like this just proves that Google needs to come up with some kind of filter program to prevent malicious apps from even entering the market.
Even if, these apps are only available for a short period of time, there could still be lots of people hurt by them in a bad, bad way.
I'm advising you to stay as far away from these apps as humanly possible.