Mark Zuckerberg Gets Yelled at By a Goat in New HTC First Ad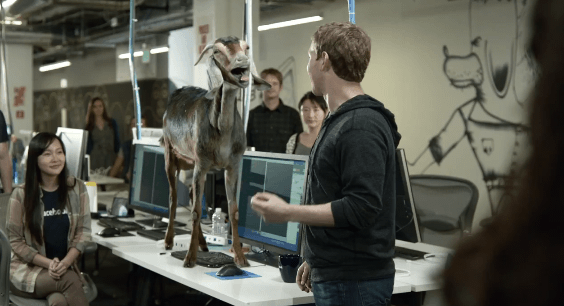 Facebook's Home has been racking up two star reviews from almost everyone who's downloaded it, but I'm not writing another blog post to decry the app's invasive approach to social networking. No, no, I just wanted to pass on this very clever and funny launch video Zuck and co. recorded prior to the launch. It just might be the best launch video I've seen in recent memory. I don't want to give too much away, so just watch it here:
Have you ever seen Facebook take itself less seriously? I mean, remember this ad for chrissake? I'm glad that Zuckerberg has realized that it doesn't need to evoke the wonders of the universe to sell a new feature.
Okay, now that you've seen the clip, I'm wondering: did it actually make you want to download Facebook Home? What about buying the HTC First? What do you think Facebook could do to make it more appealing? I don't have Home installed, but I did download the update to Facebook Messenger and am loving this new Chatting Heads feature. What about you? Let us know below!