Matches Puzzle Game: a puzzle game with fiery animations!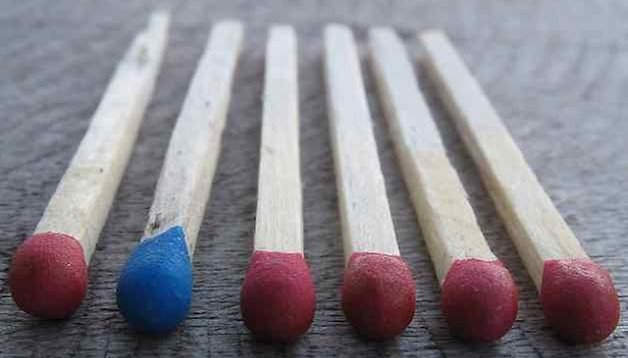 Who remembers spending hours trying to figure out classic matchstick puzzles on a table? Did you know you can now digitally strain your brain with the same puzzles on your smartphone? Today we're taking a look at what Matches Puzzle Game has to offer in comparison to the original. Stick with us for the result in today's app review!
Good
✓

Attractive graphics with animations

✓

Relaxing game sounds

✓

Many puzzles available

✓

Connection to Google Play Services
| | | | | | |
| --- | --- | --- | --- | --- | --- |
| Reviewed on | Android version | Root | Modifications | Reviewed version | Latest version |
| Google Nexus 5 | 4.4.2 | No | | 1.02 | 1.15 |
Features & Use
Matches Puzzle Game comes with ten different worlds, each featuring 100 levels. That makes for 1000 matchstick puzzles to keep you perplexed. The puzzles are well mixed in difficulty too, but at the beginning the tasks are still quite easy and quick progress is possible with a little concentration.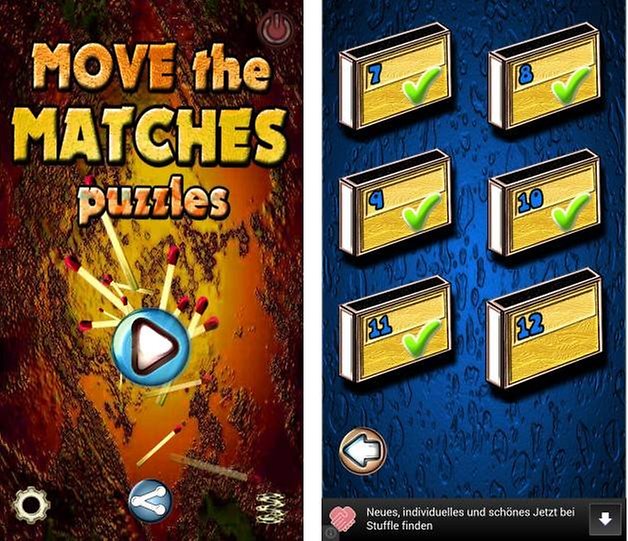 The aim is to remove, for example, two matches from one image to turn four squares at the beginning into two squares at the end. It sounds easy, but believe me, it isn't always! It works the same way with triangles (and other shapes) or number puzzles. In the latter case, an incorrect calculation (as in the image below on the left) is displayed, which must be corrected with the proper placement of one or more sticks. The solutions are very precisely formulated and have to be carried out exactly to proceed. Indeed, the next puzzle cannot be opened until the current one is solved. The game is perfect for filling in short waiting times in the subway or at the doctor and they can be picked up and continued anytime.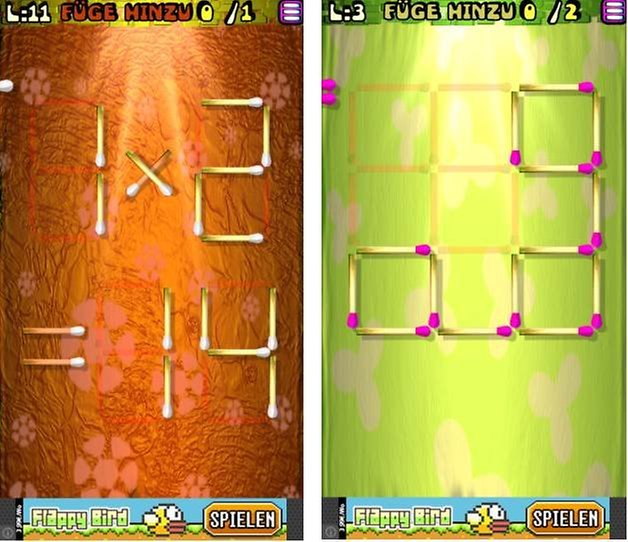 When a riddle is solved correctly, the matches burn in a cool fire animation. If no solution is found, no matter how hard you scratch your head, you can use one of five solution suggestions. You can earn another tip simply for Facebook-liking the app. If you are still stuck, never fear, after a few hours down time you will be gifted some more clues, free of charge.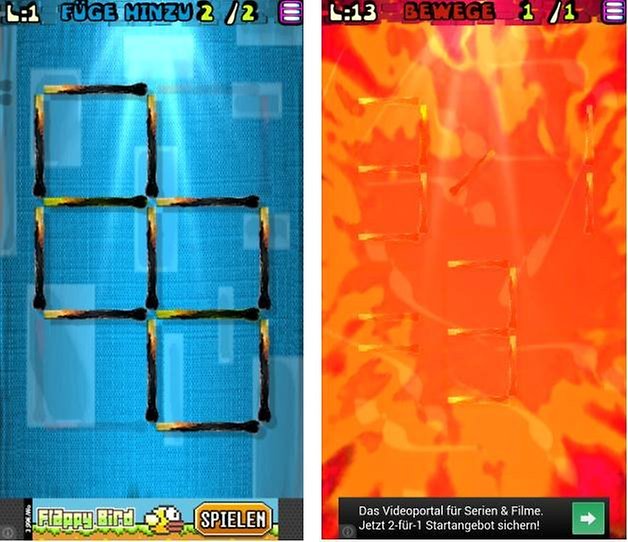 Matches Puzzle Game can also connect with Google Play Services, where different rewards await and you can compete with your friends in leaderboards. The puzzle game is accompanied by really nice and relaxing game music that can also be turned off if so desired. Alternatively, vibration effects can be used if you really want to get into the spirit of things.
Screen & Controls
Matches Puzzle Game offers a pleasant and intuitive user interface. Matches can be moved by dragging and dropping or inserted into the picture easily from the matchbox by pointing a finger. Colors in the game can be pretty full on, but they bring a certain dynamic to the game that is only heightened by the combustion animations. Instructions and rules can always be displayed during a game simply by switching to the menu.
Speed & Stability
During the test period the puzzle app was stable, there were no crashes or other instability.
Price/Performance Ratio
Matches Puzzle Game is free to download. There are no additional in-app purchases. At the bottom of the screen there is a small advertising bar that does not affect the flow of the game.
Final verdict
Matches Puzzle Game is a solid and simple puzzle game which shines thanks to nicely done acoustic and visual effects. The sheer variety of available puzzles can also be seen as another plus point. If you have used up all of your clues the tips will automatically replenish themselves after a few hours, meaning you are not forced to pay to proceed. With the link to Google Play Services you can also synchronize across multiple devices and compare your results with other players in the top spots. If you want to enliven the old gray matter with a simple, light and engaging game, then Matches Puzzle Game is a great choice.