 May 1st Sees Debut Of LG Optimus G Pro In NYC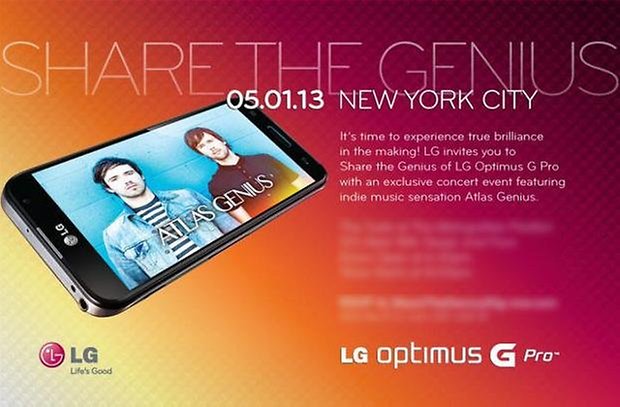 New York City seems to be quite the hotbed for product releases, as we have seen the Samsung Galaxy S4 being introduced at New York City in the middle of the month of March this year, and this time around, brace yourselves for May 1st as New York City will once again play host to the debut of a new smartphone, although it will not be something from Samsung this time around, but rather, Samsung's South Korean counterpart, that is, LG - with the LG Optimus G Pro.
It was just last week when LG sent out an invite for their upcoming event that will take place in New York City this coming May 1st. There were initial speculation going around that this particular event would be the springboard for the debut of the LG Optimus G Pro in the US market, and LG has further confirmed this speculation with a totally new media event invitation that you can see in the image above.
The invite mentioned, "LG invites you to Share the Genius of LG Optimus G Pro", and this particular event will promise to deliver an exclusive concert at the event from Atlas Genius. LG has also stepped forward to put up an image of the smartphone in addition to its logo on the invitation for that added touch of solid, no-nonsense confirmation.
Well, it seems that the flagship smartphone market in the Android segment is clearly heating up, so what will it be for you? The Samsung Galaxy S4, the HTC One or the LG Optimus G Pro?