 Meet World's Fastest Texter: An Android Developer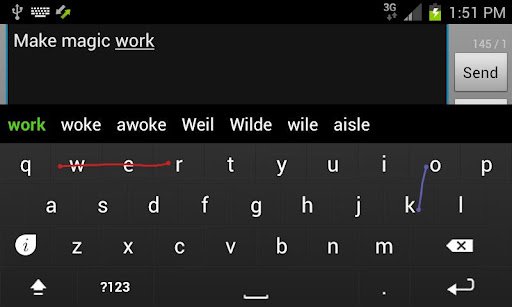 If you think you're fast at texting your friends, check out what the developer of Keymonk is able to pull off.
In this video, you can see the developer using Keymonk to send a text message at the speed of 88 words per minute. The developer claims this is a world-record-breaking speed.
Keymonk is sort of like a two-handed Swype. Best used in portrait mode, the keyboard allows you to send text messages quickly without taking your fingers off the screen. The app has received hundreds of five star reviews, but some users complain that the app doesn't yet have a user-defined dictionary yet, which could slow down text message fiends who use a lot of slang. It probably won't recognize what you're saying if you're all "hay gurl."
But for the more formal folks out there, Hipmunk is fast and aesthetically-pleasing. I downloaded the app and enjoyed using it, but it definitely took some getting used to. The keyboard makes full use of both of your thumbs and was very fast to predict words, even if the words it predicted I was trying to type were sometimes incorrect.
To download the app, click here.