MeteoEarth: Pocket-sized animated world weather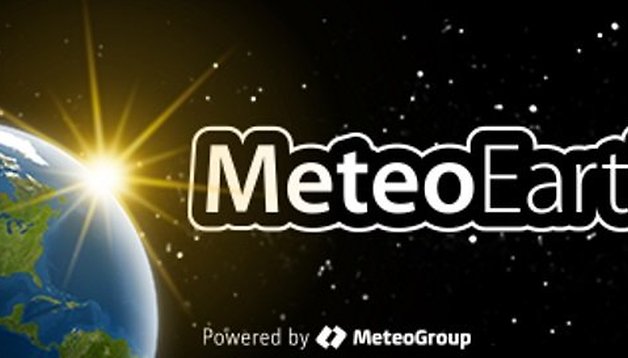 For those who have tried out WeatherPro, MeteoEarth is likely to provide the weather much more realistically on your smartphone or tablet; displaying the world's weather on a 3D globe which can be explored using a number of figure gestures. The app offers a great amount of detail, and continuous zoom, as well as various prediction options- enough to impress even the most fanatic of weather aficionados. The app can currently be purchased at a special price of £0.99 in the Google Play Store (normal price £3,99). Whether you should spend 99p on MeteoEarth will be explored in detail in this app review.
Good
✓

Can be used on more than one device

✓

Great graphic representations and weather animations

✓

Many weather layers and combination possibilities
| | | | | | |
| --- | --- | --- | --- | --- | --- |
| Reviewed on | Android version | Root | Modifications | Reviewed version | Latest version |
| Google Nexus 5 | 4.4.4 | No | | 1.6 | 2.2.4 |
Features & Use
First and foremost, MeteoEarth offers different view options for world weather. In addition to the traditional weather map in 2D, you've also got a rotatable and zoomable 3D globe which presents the weather in an attractive way. Feel like checking the weather in Mumbai or New York, followed by your hometown? Easy! You can jump back and forth to different places around the world.
In the prediction view, there are various layers to choose from, such as temperature, precipitation, clouds, wind and air pressure. An additional feature (which is only available in the premium version) is a storm tracker. This indicates where hurricanes and typhoons are taking place around the world.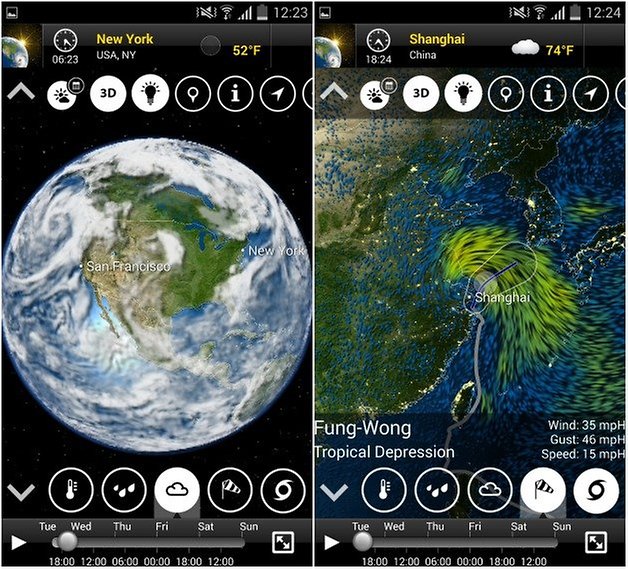 The weather prediction can be played in a neat and aesthetically-pleasing animation, with a total of five predictive days which you can unlock by buying the premium version. If you stick with the free version, you can play a video of the how the weather will pan out for the next 24 hours. The developers have done a great job graphically, which becomes apparent with the slow progression of clouds, precipitation and temperature change over a longer period. You get to see how storms build when high and low pressure areas collide.
A little bonus: by tapping the video icon, you can access webcams from different cities all over the world. The image quality is not necessarily the best, however it still provides you with a satisfactory overview of live weather in many regions of the world.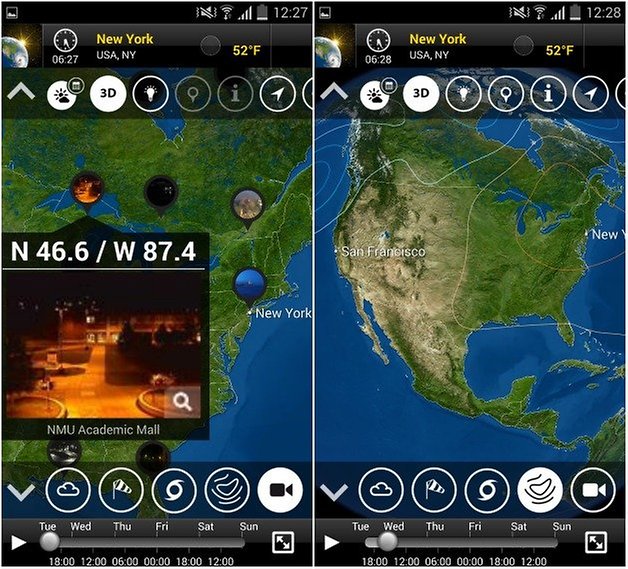 Another great feature is the climate information view. For example, you are able to play a video sequence of the temperature development throughout the year. Water surface temperature is also available in the premium feature, which can also be represented as an animation, and the same goes for precipitation. You're able to check where and when in the world certain places get the most rain, which is perfect when planning holidays. The magnifier tool icon reveals the average rainy days per month, and then a place can be pinpointed with a finger tap. To quickly access those places you often look up, there's a favourites option. Long press on one of these saved favourites or any location in the map, and this will open the respective climate diagram including water temperature information.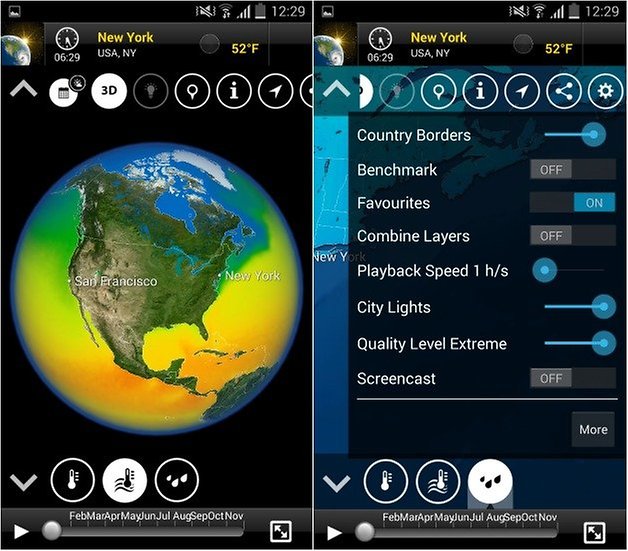 If you want to adjust the app to your liking, you are able to tweak the view and playback speed. Layers can also be combined in the premium version. For example, you can add cloud and fog to see the weather development for the next few forecasted days.
The advanced settings also permit a change in the weather units, while premium features can also be unlocked and redeemed. Struggling with copious amounts of symbols and controls? The info icon contains more details on data and various representations.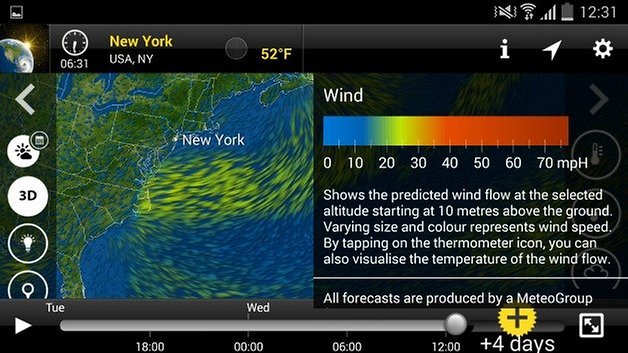 The weather data for the predictions comes from a MeteoGroup forecast model and is based on ECMWF data. Some TV stations also use this service for their weather reports, so you can place your confidence in the predictions brought by this app. A bonus of course is fact that it recently updated to version 1.6, which brought Miracast, Chrome Cast and FireTV (Amazon) support.
More information on MeteoEarth can be found on their website http://www.MeteoEarth.com/, where you'll also find a web version of this app which includes all of the functions.
Screen & Controls
MeteoEarth is easy to control on your smartphone or tablet. Since the app uses high-quality animations for the predictions, you might require a device that has hardware that can handle these demanding features. If you find the image is stuttered, laggy or unclear, definitely check the internet connection, or alternatively try clearing the cache.
At first glance MeteoEarth, is slightly overwhelming and there's a lot going on. Both the top and bottom parts of the screen have scrollable menu bars. The meaning of each individual symbol is always displayed by briefly tapping on it and the menu bars can also be hidden by tapping on the respective arrow. Full-screen mode is also a recommended feature to use in the app; it really makes the most of the 3D view of the globe.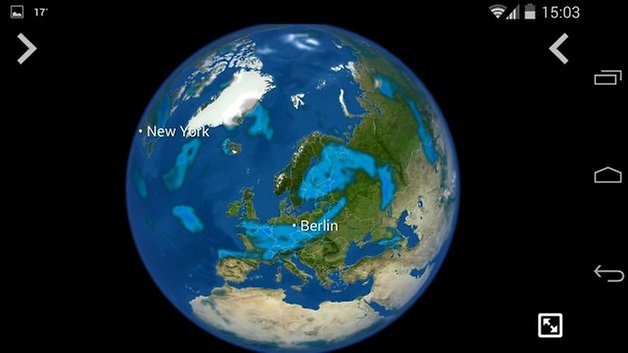 If you haven't purchased the premium option, you will repeatedly get advertising to upgrade each time you press a feature that comes with the premium version, such as the storm tracker. Though this can be annoying at times, it's bearable.
The controls within the app are particularly well done. Touch gestures allow you to pinpoint any location in the world, plus the zoom function works easily with a two-finger pinch motion. Some other great features include hiding the menu bars, the night lights and the day-to-night transition. If you also have WeatherPro installed, you can switch to a detailed forecast from your favourites (or indeed the other way around) thanks to a direct connection between the two. You can also switch to the same view in MeteoEarth from the maps in WeatherPro.
Speed & Stability
MeteoEarth was mostly stable while testing it, albeit one non-reproducible crash. Once you've loaded an animated forecast with MeteoEarth, you can call this up again even when offline
Price/Performance Ratio
MeteoEarth is currently available for a special offer of £0,99 (normal price £3.99). Although the app has to be purchased, you can get more premium features by buying a subscription. There are premium packages in two versions: one for three months at a price of £1.79 and one for 12 months for £4.99. But even without the premium package, the app will provide short-term weather forecasts with great animations.
The following premium features are enabled with the subscription:
5 day forecast
Layers can be combined
Storm Tracker
Water surface temperature
Premium features in WeatherPro and AlertsPro
Height settings for wind
Final verdict
Overall, MeteoEarth was well designed graphically, providing us with a high-quality weather app. The predictive accuracy proved not to deviate from the other weather applications when tested, however it didn't always match the actual weather situation one hundred percent of the time. That being said, you can easily get a broad picture of what the weather will be like. Price-performance ratio is debatable here. Many users want to pay a single fixed price without needing to buy any additional subscriptions for the app. Given the multiple functions, the premium version is completely justified though. MeteoEarth was able to impress with its easy-to-use interface and graphic animations for weather predictions. All in all, the app receives four out of five stars and we highly recommend installing.