Microsoft Launches Droid Rage Campaign Here's something that might boil your blood fellow Android fans. Microsoft just launched a marketing campaign which targets Android. The kicker: they're asking for disgruntled Android users to share their horror stories regarding malware.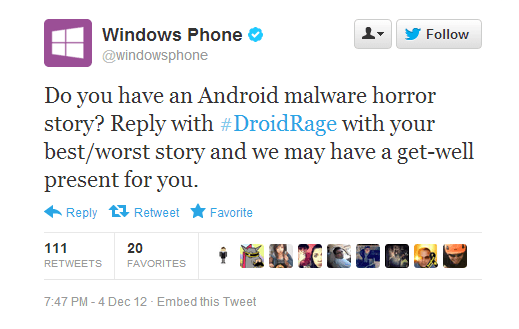 Seriously? Malware?
This is not the first time Microsoft has pulled this stunt. Right around the same time last year they launched a similar "Droid Rage" campaign to attract new customers to their Windows Phone platform. During the campaign, they called for the same thing; they wanted Android users to share their worst stories about their Android being infected with malware. Surprisingly, Microsoft had over 3,200 submissions. When you stop to think about it though, not many people would give up the opportunity to win a free phone, and that's probably why the submission count was so high.
According to Microsoft, there is an exceptionally specific set of instructions to follow when dealing with an infected Android device:
Wait for your Android phone to get infected with malware

Recover from SMS scam bill shock

Skip steps 1 & 2, buy a Windows Phone and connect with people you care about instead of some hacker plotting in a dank basement
That's real classy Microsoft. To be fair, I'm sure this was probably all Balmer's idea.
Twitter has exploded with Android fans exerting "Droid Rage," although not necessarily the kind that Microsoft is looking for. You can bet your ass I'm headed there now to give Microsoft a piece of my mind, possibly even my fist.
Feel free to share your own "Droid Rage" horror stories below. If you have one, you might as well hit up @WindowsPhone on Twitter and weave your tale with the hashtag #DroidRage. You could win a new Windows Phone for your troubles, which is clearly impervious to dastardly malware (pure sarcasm folks)!