 Microsoft's New Surface Tablet vs. iPad and Android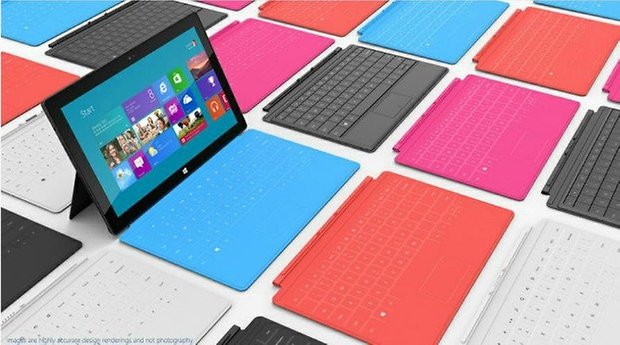 Today Microsoft made a doozy of an announcement. While there are many questions still surrounding the launch of their new Surface tablet, I think it's safe to say that it has already made a splash. There are two new tablets we're talking about; one is a Windows 8-enabled slab powered by Intel's 22nm Ivy Bridge chip (Surface for Windows Pro) and the other is powered by an ARM chipset and Windows RT (Surface for Windows RT). Microsoft unveiled both today, along with a glitzy new advertisement you can check out below.
Form Factor
The new Surface Tablet RT is just 9.3mm thick, which is .1 mm thinner than the iPad 3 but about 1 mm thicker than the Transformer Prime (without the keyboard attached). The tablet also comes with a built-in kickstand that is said to be quite sturdy. No other Android tablet out there comes with a built-in kickstand, although you can always adjust the Transformer Prime to stand on its own when the keyboard is attached. At 10.6 inches (diagonal), the screen is .5 inches longer than the Eee Pad Transformer and almost a full inch longer than the iPad 3. The keyboard / cover looks like it's made of a silicon-based material. The Surface for Windows RT is 1.5lbs while the Surface for Windows 8 Pro is 1.99lbs. Both are heavier than the iPad and Transformer Prime.
Performance
Intel's Ivy Bridge chipset is no slouch, but we obviously can't test the performance of this until we get our hands on one of these. Internal storage is ample, coming in at 32GB and 64GB on the Surface for Windows RT and 64GB and 128GB on the Surface for Windows 8 PRO, more storage than any Android tablet out there.
Operating System
We've already talked at length about why Windows 8 poses a great threat to both Android tablets and the iPad. The reason is because Windows 8 merges a touch-friendly tablet UI with the power and functionality of a Windows desktop. This is the kind of versatility that has been missing on both Android and Apple tablets. Windows is also pioneering a tabular aesthetic where all the information you need is viewable on a single screen. It's like having a series of widgets baked into your UI, although it's arguably better organized. It is also quite a lot easier to multi-task on Windows 8: you can scroll through your e-mail while watching YouTube clips, for example, without having to leave either screen.
Forecast
Overall, this new tablet poses a potentially great threat to both Android and the iPad. But the key here is pricing and timing. Microsoft will need to price this tablet competitively (probably under $700) in order to appeal to folks looking for a mid-range laptop / tablet. They're also going to need to work harder to tell the buying public why the Windows 8 operating system is superior. I'm betting the real loser in this competition is Android; Microsoft will likely steal even more potential customers away from the Android platform. Google better hit the Nexus tablet out of the park in order to compete with Surface and all the other Windows 8 tablets coming out over the next year.