Mixed reality times 5: The difference lies in the detail
Windows Mixed Reality will be the third VR platform for PCs. In the first part of this article, we'll cover all the basics about software and handling of these headsets. In the second part, we'll take a deeper look into hardware. How good are the headsets? How comfortable are they? Has Windows usurped both Vive and Oculus? Read on to find out!
Mixed reality headsets: what's inside?
We've been trying out a few MR headsets so that we can bring you a fair comparison of each headset. Leading the pack are devices from Acer, Lenovo, Asus however Dell and HP have also brought some interesting devices to the table. These five MR headsets differ primarily in their design. In terms of technical specs, they all have displays with a 1440 x 1400 pixel per eye resolution and all the headsets contain a mechanism that allows the VR headset to be strapped onto your head.
They also use Inside Out tracking from HoloLens. This allows them to map the room around you without any external sensors - the in-built cameras alone can register your surroundings. The setup for this is quick and uncomplicated: simply insert the cable into the PC, start up the software and off you go!
The motion controllers are very similar for each headset and connected via Bluetooth. While in use, LEDs will light up on the controller and these are tracked by cameras on the headset.
Differences in market strategy
At the IFA tech trade show in Berlin, we met the French Marketing Manager of Acer Fabrice Massin. He showed us the headset and told us a little about Acer's approach: "Our goal has always been to democratize technology." Acer's focus is on affordable technology, not necessarily on having the all-time best. When we tested the Acer headset, it proved to be very comfortable to wear. However, there were instances where I would distinctly be reminded that this headset isn't very expensive - for example, the device doesn't quite sit perfectly over your eyes and nose.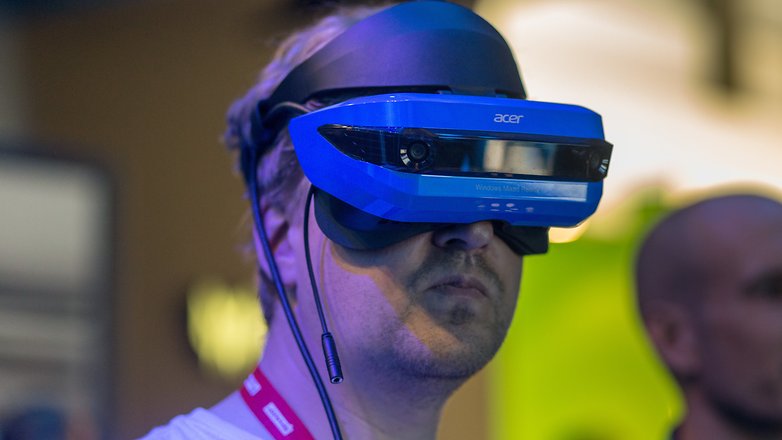 Lenovo on the other hand, has big ambitions. Its goal is to become market leader in the field of new technologies like augmented and virtual reality. This ambition doesn't just underpin Lenovo's Star Wars AR game - the Lenovo Explorer headset itself is a component of this goal.
The build quality of the Lenovo Explorer is pretty good, and the headset also feels comfortable. Even the hinge mechanism for pulling the display down feels more robust than other MR headsets.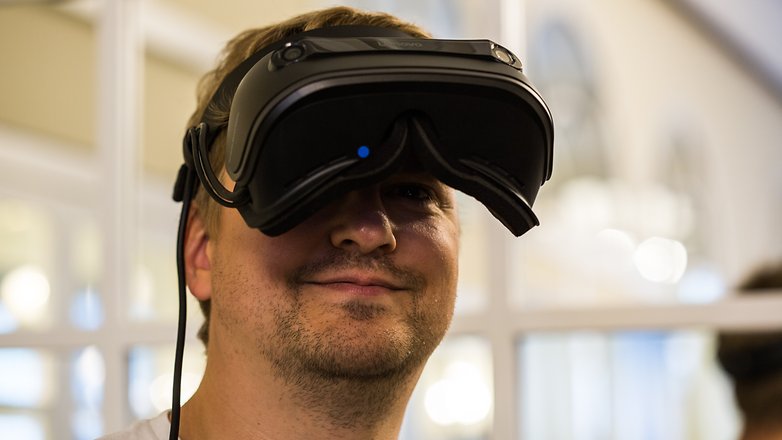 Nevertheless, this mechanism is still a weak point of the headset, and in fact on all headsets we saw this too. On the one hand, the head strap must sit tightly to feel safe. On the other hand, this mechanism is somewhat awkward on all the headsets we've tried. It's rare that you'll use a Vive or Oculus for only short periods at a time. But the device was also designed with multiplayers in mind. If you've built something in VR and want to quickly switch between players, a simple hand movement will pull you back into reality.
Windows mixed reality: Should gamers get on board?
Despite the higher resolution per eye, it's worth noting that all the MR headsets tend to have a fly-screen effect. This is when narrow black lines between the individual sub-pixels are visible. This effect is especially prominent on bright surfaces during static scenes. But in our tests, we only seldom noticed this. These usually appear in moments of high contrast, especially black on white, and are very pronounced on Oculus. But for the MR headsets, the higher pixel density contributes to a more immersive experience, although the graphics are not perfect yet.
In light of upcoming SteamVR Support, do Oculus and Vive now have five strong contenders or do the former two still stand above the rest? Although the quality of MR headsets is certainly higher than what's currently available on the market, gamers will be better off with Vive and Oculus. This is primarily because of the motion tracking. With MR, motion controllers must remain in sight of the cameras to be effective.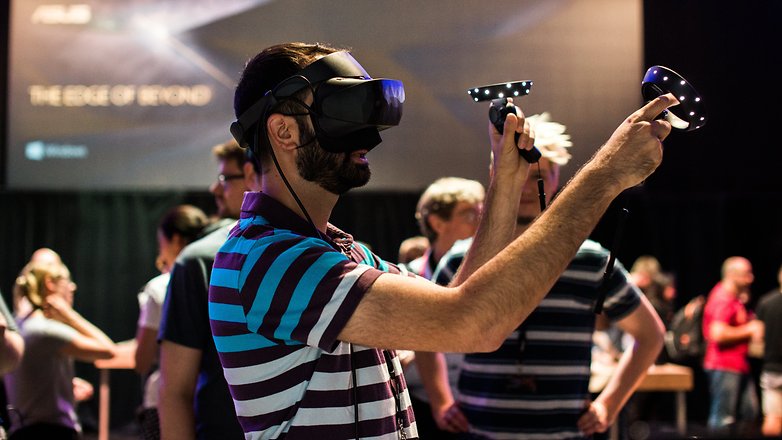 In many fast and active VR games like Holopoint or Racket NX, the controllers can't always be seen because you often need to move your hands behind your body. We tried the game SuperHot VR on the different systems and noticed that the tracking did fall short.
The tracking wasn't as fluent it could have been in the demo games. Sometimes the tracking stopped altogether, which never happens with Oculus Rift or Vive. The controllers are comfortable to wear and hold and rank among the best in the market, after the Oculus Touch.
Requirements and launch
The Fall Creators update for Windows 10 will arrive on October 17. This software is essential to run MR headsets however SteamVR support will be released later. The launch dates of VR headsets will depend on individual manufacturers - Asus for example has postponed the release of its headset to early 2018.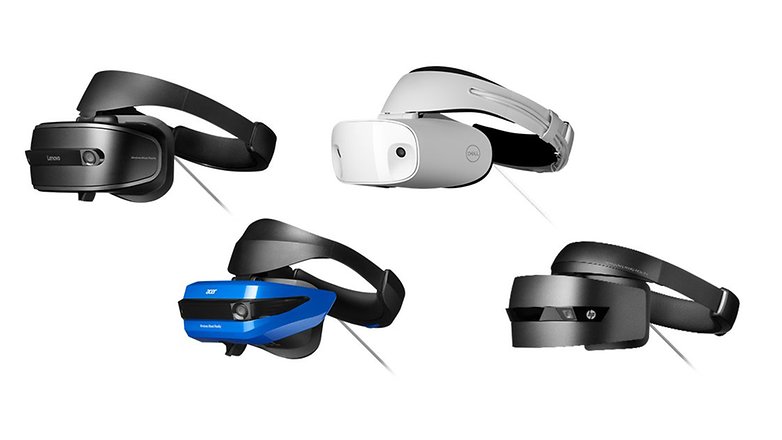 The prices of the headsets vary from one to another. They begin at around $350. This is without the motion controllers which come at a $100 premium. Some manufacturers may even charge more.
Microsoft mixed reality: A platform with potential
Mixed reality headsets don't appear ready for the market. Above all, the tracking function is creating problems. Microsoft must refine its software.
For VR gamers, the question is whether a higher display resolution provides a decisive advantage over both Vive and Oculus. The higher resolution doesn't make a huge difference. Even at this resolution, the fly-screen effect is still noticeable. The platform isn't suitable for very active games as the controllers must remain within view of the cameras.
The system is already well suited for its target applications in the education and entertainment sector. These apps demand neither full nor latency-free tracking. Here, the entry into VR with MR headsets is pleasantly inexpensive.
The launch of MR headsets will invigorate the VR market. Even though these headsets suffer from teething issues like cables or the fly-screen effect, their introduction doesn't seem to have been a failure. All platforms should pay attention to VR because more VR hardware will lead to more content.
I would buy one of Microsoft's mixed reality headsets over HTC Vive or Oculus
What do you think?
---
This article is part of a series written in collaboration with Luis Ortega (androidpit.es), Benoit Pepicq (androidpit.fr) and Hans-Georg Kluge (androidpit.de).