SellAring Takes Obnoxiousness to New Level By Placing Ads Within Calls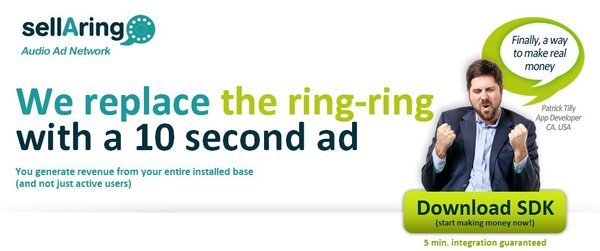 If you thought push notification ads were evil, the newest mobile advertising "innovation" called sellAring is going to make your blood boil. SellAring places ads within your calls, specifically when you are waiting for the other person to pick up. So now, instead of hearing "ring ring," you'll hear something like, "Tune Into FOX and follow the pattern: Fringe, 9/8 central."
Try not to throw your phone across the room when this happens.
The service already lists NBC, Walmart, FOX, Discovery Channel and Comcast as clients, and promises app developers over $10 in eCPMs and guaranteed monthly revenue. Developers can download the SDK right now to integrate with their app immediately. There's just one problem: users are going to uninstall these apps and then post scathing reviews on Google Play, as they should.
Mobile app developers: if you're EVER thinking of putting ads in your apps, make sure they stay confined within the app itself. If you ever install anything like this in an app, I'll make sure it gets a horrible review at AndroidPIT and I'll tell all of our users never to install your app. This is the kind of advertising that turns mobile phones into moving billboards and I HATE it.
I really, really, REALLY hope SellaRing fails.