Modern Combat 4: Zero Hour Available Now for $6.99 I told you Modern Combat 4: Zero Hour would be hitting the Google Play store soon, and I wasn't wrong. It's currently available for $6.99, and is compatible with all devices running Android 2.3 and above. There's a catch though, especially considering this hot little number has some pretty advanced graphics. You'll probably need a reasonably powerful Android tablet or smartphone to run the game at a decent framerate.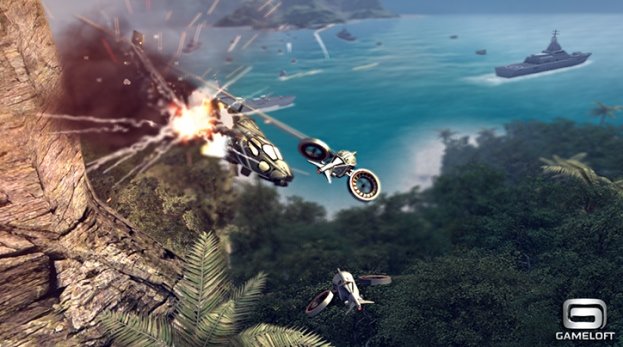 There's no official compatibility list, so you'll just have to visit Google Play to find out if your device is compatible or not. Even so, there is always the option to sideload the game, it's possible it may work on some unexpected devices. I don't recommend buying it if you're on the fence though, $7 is quite a bit to shell out when you don't know whether it will work with your device or not.
You'll also need plenty of extra space as this baby clocks in with a 2GB total requirement, which means you'll also need to download the data via Wi-Fi.
I've covered the game a couple times already, so hit up my promotion of the developer diaries and the announcement of its pending release for more information. Of course, I'll talk a little about it here too because I'm cool like that.
Everything you'd expect from a mobile Call of Duty clone is here (yes, I went there). There's the lengthy single player campaign with new squad-based combat, and there's also online multiplayer. In addition, you'll be able to play as both the good guys and the bad guys throughout the campaign. This should provide a compelling perspective on the general story elements, provided the storyline is solid.
The online multiplayer modes provide a robust collection of customization options, which is relatively new to the Modern Combat franchise. The developer claims that there are over 20,000 weapon arrangements, in addition to an exceptionally broad skill system. Of course, online leaderboards also spice things up and let you compete with others globally.
Modern Combat 4: Zero Hour is using the Havok engine, which surprisingly also powers the latest Call of Duty title (Black Ops II), as well as Assassin's Creed III. Don't expect to see next gen quality graphics like what can be found in the blockbuster titles I just mentioned, because we're still talking about a mobile game. Although, Modern Combat 4 clearly does have some pretty impressive aesthetics.
What are you still doing here reading this? Hurry up and get over to Google Play now to begin that download. Hopefully it will be done within the next couple of hours, or two, or three.
Also, let it be known that I keep my promises because, you know, I kept this one.