Tweaked Android OS Blocks Apps From Accessing Your Personal Data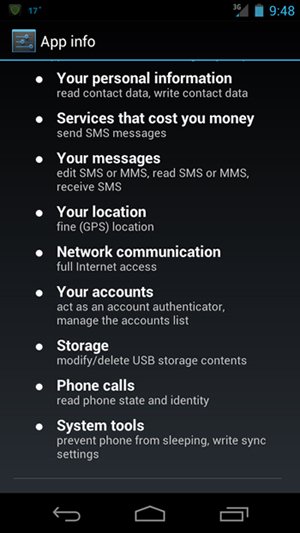 These days, navigating app permissions has never been more complicated and confusing. Why should, say, a racing game, be granted access to your phonbook and location? If you've ever hesitated over downloading an app that snoops your contact list, browser history and location data, you're not alone. That's why I was surprised and excited about the fact that a Bulgarian software developer has re-written the Android operating system so that it gives bogus data to the apps that want your personal information.
Under this radical redesign of Android, you still give apps permission to access your data, but the apps don't get to actually see any of it. Instead of, say, reading you bookmarks, the OS sends these apps the default sites that came with the device (like www.google.com). When phone logs are requested, the source sends empty ones.
All sorts of apps have found themselves in hot water over their app permissions. Dolphin Browser, for example, was found sending personal information on websites visited to servers in China. But without user data, it would be harder for many apps to stay free (or low-cost). For many companies, selling user data is their entire business model. Cerainly, an Android OS that doesn't allow this information to be used could hurt the larger app ecosystem.
But as a concept, this OS, designed by developer Plamen Kosseff, is quite fascinating. So far, it only works on the HTC Desire HD although Kosseff says simple revisions would make it work on Samsung and other Android phones. The altered OS was rejected by Cyanogenmod over concerns that app developers would modify their code so that they are inoperable on Cynogenmod builds.