The second generation of the Moto G (2014) comes packed with a bunch of features that were present in the original Moto G and also brings with it a few tricks up its sleeves. We've selected some of our most interesting tips, most frequently asked questions, and more that will help you adapt to your brand new Moto G. Here are the best Moto G (2014) tips and tricks.
Transfer your data with Motorola Migration
This app comes natively on the Moto G but can also be downloaded directly from the Google Play Store. Through it you can transfer contacts, call history, SMS messages, among other settings and preferences.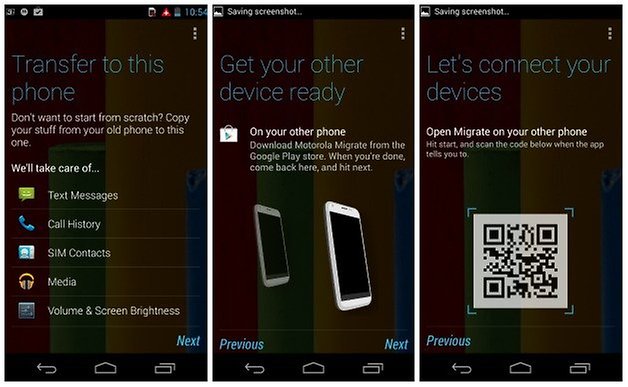 Motorola Migrate

Replace the back cover without frustration
The new Moto G has a back cover that can be swapped out with different colors to help customize your smartphone to your liking. However, this isn't the most easy thing to do because the only opening in the frame is in the micro USB port at the bottom of the device.
Use your thumb and rest it on the center of the back of the device to gain some support and then pull up from the opening in the micro USB port with your fingernail. This will pop the back cover off easily and without worry.
Save battery
Motorola has a feature that will save you on average about 30% more on your battery life. You can enable this feature by heading to Settings > Battery. Once activated, the option will optimize the use of 3G data as well as adjust the display brightness and temporarily disable location services and GPS.
As well, disabling the light sensor will help save a bit of battery as well since it will turn of the sensor from always scanning for light conditions. Heading to Settings > Display > Brightness and uncheck Automatic Brightness.
Change the wallpaper
Sure, the wallpaper on your smartphone can say a lot about you and so you should definitely make sure to customize your Moto G with someone that screams "you!"
We recommend two of the best wallpaper applications on the Play Store which showcase some extremely stunning wallpapers available for your device.
Zedge
One of the best (if not the best) apps has several categories of static and dynamic images. One of the nice things about Zedge is that is also has free ringtones that can be used for actual ringtones as well as notification sounds for events and applications.
ZEDGE™ Ringtones & Wallpapers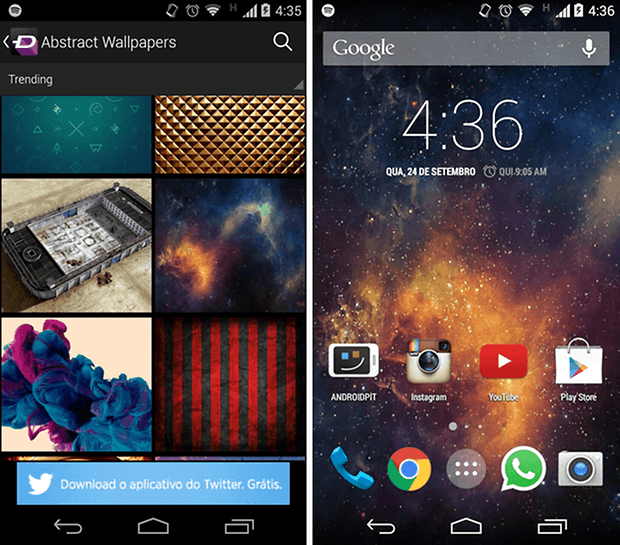 Pattrn
Looking to give yourself a little bit of a more vintage look? Pattrn features wallpapers based on different prints and designs, ranging from lines and modern shapes to flowery prints in pastels. From retro, vintage, and more.
Pattrn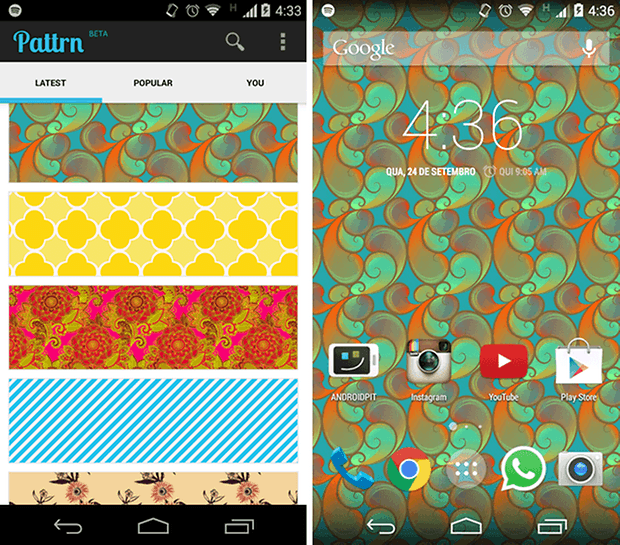 Improve the sound on headphones
The Moto G comes with a sound equalizer to improve the playback of music and videos. By default, the 3D stereo audio option isn't enabled which gives a greater amount of echoes and treble.
To turn it on, head to Settings > Sound> Audio Options and then you can disable or customize sound effects within the headphones option.
What are some of your favorite tips and tricks for the new Moto G? Be sure to share them with us in the comments below.
(originally by Bruno Salutes of AndroidPIT.com.br)
MOST POPULAR ARTICLE
| | |
| --- | --- |
| 1 | Best Android games: what you should play in 2017 |
| | |
| --- | --- |
| 2 | Samsung Galaxy S8 rumors: latest image leak shows all three colors at four angles |
| | |
| --- | --- |
| 3 | WhatsApp beta gets Gboard GIF support |
| | |
| --- | --- |
| 4 | Android 7.0 Nougat update overview for smartphones and tablets |
| | |
| --- | --- |
| 5 | Best Android camera phones: which are the top on the market? |