Moto G vs Moto E: the best budget smartphones around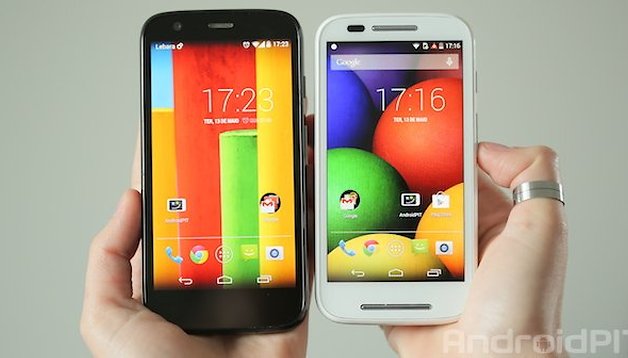 Motorola were kind enough to hand deliver a Moto E to us yesterday and we've put the budget beast through its paces. Putting it side by side with the Moto G highlights some key differences however, that may help you make your choice between the two low-cost champions. Either way you cut it though, Motorola has pretty much redefined what we can expect from a budget smartphone with these two devices.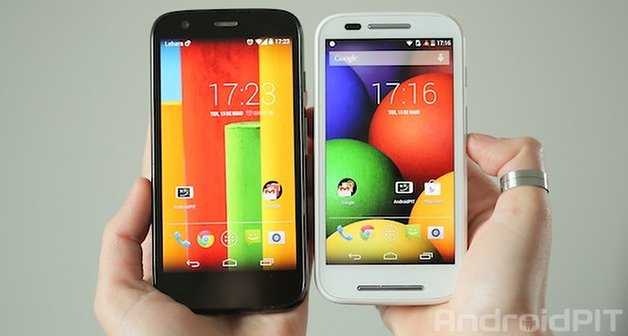 Design and Manufacture
It's tempting to say both devices have the same build quality, but this isn't entirely true. Sure, both are made of the same plastic and look pretty similar, but the battery cover of the Moto E rattles a little whereas the Moto G feels more solid. The Moto E has a microSD card slot hidden behind that cover though. Button locations are the same, but the Moto E is missing a front-facing camera and rear-mounted speaker, instead placing the speaker up front. In fact, the prominent speaker and earpiece grills on the front of the Moto E are the most visually distinctive feature between the two devices. As far as dimensions go, the Moto G has a larger footprint, but the Moto E is marginally thicker. This, combined with its smaller size generally make it feel a bit more chunky in the hand than the Moto G.

Display
The Moto G comes in with a 4.5-inch display, whereas the Moto E has a 4.3-inch screen. Both are IPS LCD. The main difference is in the quality of the screen. The Moto E has qHD resolution (960x540 pixels) and the Moto G HD (1,280x720 pixels), loading the Moto G up with 326 ppi compared to the Moto E's 256 ppi. The lower pixel density, combined with the smaller screen size and slightly less impressive graphics processor clearly make the Moto E a budget device when it comes to visuals whereas the Moto G can still scrape by.
​
Interface and software
Both devices come running Motorola's very vanilla flavored version of Android 4.4.2 although it seems likely that the Moto G will receive updates marginally longer than the Moto E. The Moto E is, however, guaranteed at least one update to Android 4.4.3, but whatever comes after that is open to debate. It seems fair to say that the Moto G will make the jump to whatever version appears at Google I/O in June. As far as Android experience goes right now though, the two devices are identical, and getting this clean and current an Android experience on such low-cost devices is a straight up blessing.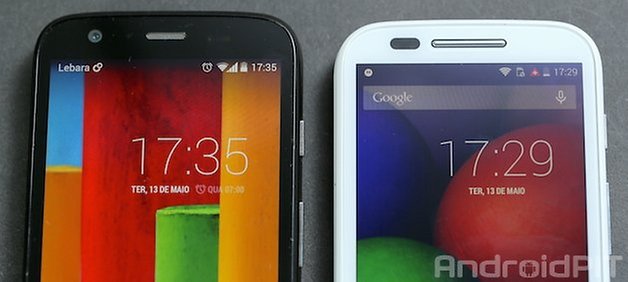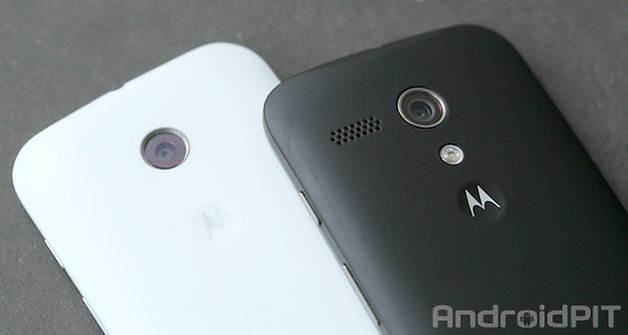 Camera
This is where things get interesting. The Moto E, like the Moto G, has a 5 MP camera on the back of the device, but no LED flash. It also doesn't have a front-facing camera at all, for selfies or video chatting. These two glaring omissions are going to be serious downsides for anyone that considers photography an important component of their smartphone. The Moto G on the other hand has a 1.3 MP front-facing camera. Both Moto G cams are entirely acceptable for the price, but not mind-blowing by any stretch. The Moto E also doesn't have touch to focus like the Moto G, so that's a big negative if you're not a fan of a fixed focus point.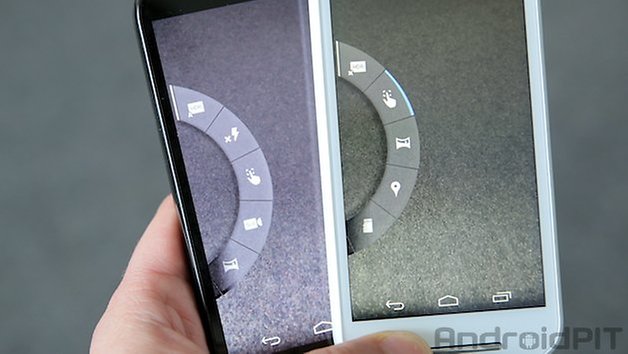 Hardware and Performance
Apart from the slightly larger screen and better resolution, the Moto G also has better processing power. The Moto G has a quad-core 1.2 GHz processor while the Moto E has the same speed processor but with only two cores. The Moto G also has slightly better graphics processor than the Moto E, an Adreno 305 versus an Adreno 302, respectively. You can notice the lags on both devices when compared to the Moto X, but for budget devices there is absolutely nothing wrong with the performance of either, made possible by Motorola's excellent optimizations. Nevertheless, the Moto G is snappier and more responsive than the Moto E, for obvious reasons. The Moto E comes in only one storage capacity, 4 GB, whereas the Moto G has 8 GB and 16 GB versions. The Moto E is now being touted as having a water-resistant coating, but as we showed in our Moto G water test, it can handle some immersion too. The Moto E has a louder speaker but it sounds worse than the Moto G.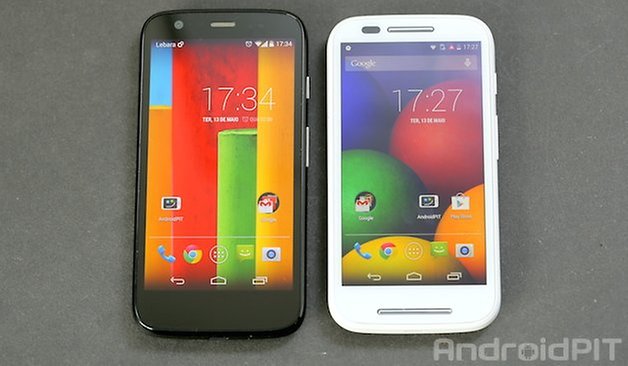 Technical specifications
| | | |
| --- | --- | --- |
| | MOTO G | MOTO E |
| Manufacturer | Motorola | Motorola |
| OS | Android 4.3/ update to 4.4 | Android 4.4.2 |
| Display | 4.5-inch, LCD (1,280 x 720), 326 ppi | 4.3-inch , LCD(960 x 540), 256 ppi |
| Processor | Quad-Core Snapdragon 400, 1.2 GHz | Dual-core Snapdragon 200, 1.2 GHz |
| RAM | 1 GB | 1 GB |
| Internal storage | 8/16 GB | 4 GB + microSD (up to 32 GB) |
| Camera | 5 MP (back), LED flash, 1.3 MP (front) | 5 MP (back) |
| Battery | 2,070 mAh | 1,980 mAh |
| Connectivity | GSM, CDMA, HSPA+, Wi-Fi, Bluetooth 4.0 | GSM, CDMA, HSPA+, Wi-Fi, Bluetooth 4.0 |
| NFC | No | No |
| Waterproof | No (unofficially water-resistant) | No (officially water-resistant) |
| Dimensions | 129.9 x 65.9 x 6-11.6 mm / 143 grams | 124.8 x 64.8 x 12.3 mm / 142 grams |
| Price | 179 USD (8 GB) / 199 USD (16 GB) | 179 CAD (4 GB) (approx 129 USD), 89 GBP, 6999 INR |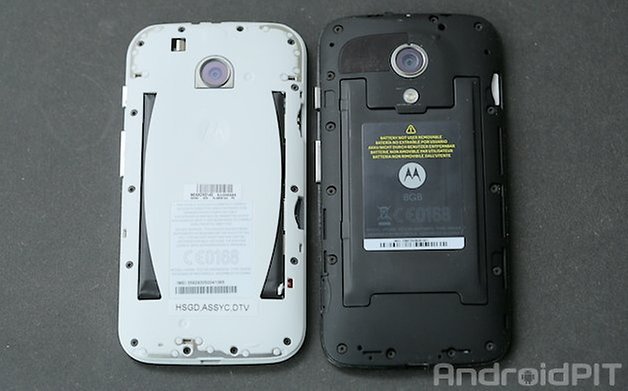 Conclusion
The Moto E is without a doubt a ground-breaking device, cementing the excellent reputation established by the Moto G. The addition of a microSD card slot will please many people, and ditching a large internal memory does away with the manufacturing component cost so customers can choose their own level of storage (and pay accordingly) post-purchase. However, some peculiar camera decisions on the Moto E are going to be a deal-breaker for many.
Other differences between the Moto G and Moto E can perhaps be forgiven (smaller screen, lower pixel density, less powerful processor, less storage) when you think about the price, but if you look at the Canadian price for the Moto E (179 CAD), all of a sudden the differences become significant: an unlocked 8 GB Moto G only costs 150 CAD. The same price differential doesn't hold for all markets though (6,999 INR, 12,999 INR in India, for example). So while the Moto E may realistically be a cheaper Moto G, in my mind, the Moto G is far and away worth the extra 50 bucks it costs to get one. If you're after a super budget smartphone though, it's impossible to pass up the Moto E.