Moto Maxx vs Nexus 6: which is the better Motorola phone?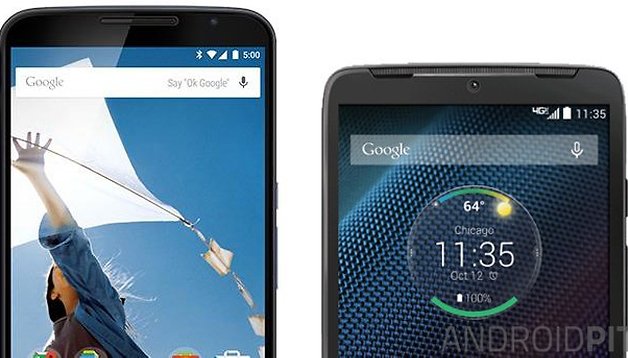 Motorola just announced a new smartphone at a press release in Brazil: the Motorola Moto Maxx. This happens to be the same phone as the Droid Turbo but of course, under a different name, seeing as the Droid brand is exclusive to US carrier Verizon. However, all other markets, including the UK will know the Droid Turbo as the Moto Maxx. Here's a quick comparison between the Moto Maxx and the Nexus 6.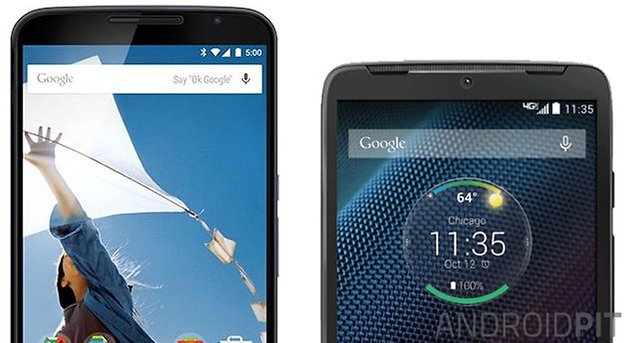 Nexus 6 vs Moto Maxx design
The Nexus 6, with its oversized dimensions, obviously takes after the Moto X, coming with an an elegant metal frame encasing an opaque rear cover with the Nexus logo and dual-LED ring flash. Flip it over to find two integrated speakers and a remarkable 5.96-inch AMOLED display. Though the design isn't amazing, it still manages to appear quite elegant.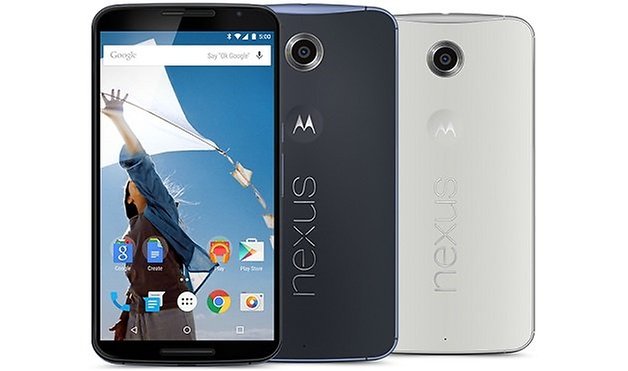 The Motorola Moto Maxx sports a design which is a bit slicker than the Nexus 6. Motorola opted for an unusual back cover featuring a DuPont Kevlar fiber material and two unusual flashes placed on either side of the lens. It's also a lot sportier looking and quite thin which likely makes it easier to handle. The AMOLED display of 5.2 inches will undoubtedly please hardcore gamers without excluding those who prefer devices on the compact side. A key difference though are the capacitative buttons on the Moto Maxx as opposed to the on screen buttons found on the Nexus 6.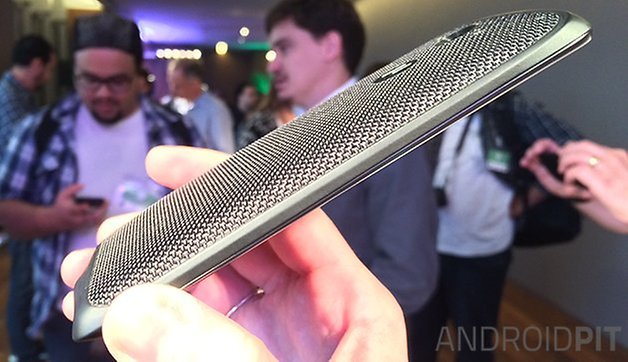 Nexus 6 vs Moto Maxx display
The display on the Nexus 6 can't go unnoticed: at 5.96 inches with a QHD resolution (2,560 x 1,440, 493 pixels per inch) and AMOLED technology, just like the Moto X. The choice to include a larger screen than its predecessor, the Nexus 5, provides an excellent gaming experience for most gamers, however, you might not be too crazy about it if you plan on sticking it in your pocket.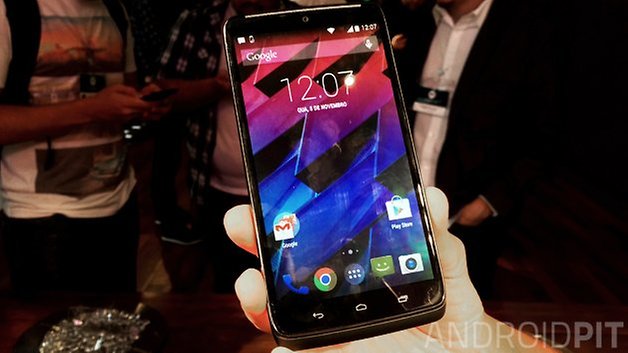 The Moto Maxx on the other hand offers a smaller QHD display of 5.2 inches with a resolution of 2,560 x1,440 pixels and 565 ppi, which in combination with this screen size ensures a better image quality than the Nexus 6. So you get a Motorola device with a smaller screen, the same technology but better pixel density: basically what we had been hoping to see on the Nexus 6.
Nexus 6 vs Moto Maxx software
The Nexus 6 comes with the latest Android update, that being Android 5.0 Lollipop, however Moto Maxx delivers a near-stock Android experience with Android 4.4.4 KitKat. We're certain that it will get the latest and greatest Android update very soon.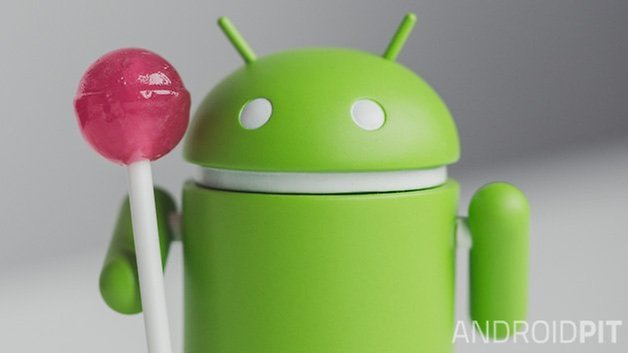 Nexus 6 vs Moto Maxx performance
It doesn't seem fair to pass judgment on the performance of these two devices without having had them on our desks, but the tech specs do speak for themselves. The Nexus 6, like the Moto Maxx, holds a Qualcomm Snapdragon 805 processor, clocked at 2.7GHz, an Adreno 420 GPU and 3 GB of RAM. All of this in addition to Android Lollipop will make the Nexus 6 and Moto Maxx real speed demons.
Nexus 6 vs Moto Maxx camera
With the Nexus 6, Google took all disillusioned photography lovers by surprise by providing the device with a 2 MP front-facing camera and a main camera of 13 MP with Optical Image Stabilization technology and new HDR+. It almost helps to forget the tragic camera they placed on the Nexus 5.
Though the Nexus 6 did manage to get better camera technology, the Motorola Moto Maxx seems to be even further ahead when it comes to the camera: plainly put, it's got a 21 MP main shooter. Numbers won't always correspond to high performance, but it's a good start. The Moto Maxx can also shoot 4K videos.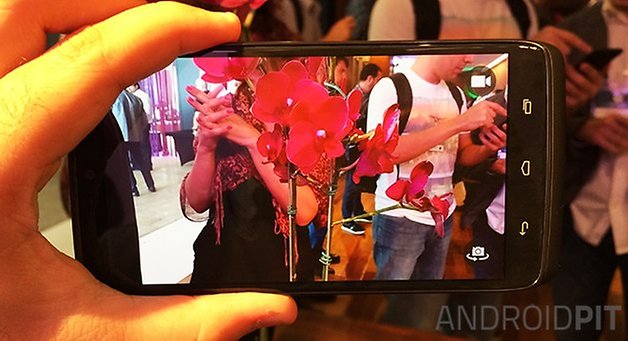 Nexus 6 vs Moto Maxx battery
That battery is also a hot topic: the Nexus 6 runs on a 3,220 mAh battery and promises more than 24 hours of usage after 6 hours of charging. The Moto Maxx on the other hand carries a 3,900 mAh battery capable of providing a full weekend without any sockets or chargers. In fact, Motorola promised 40 hours of usage.
Tech Specs
| | Google Nexus 6 | Motorola Moto Maxx |
| --- | --- | --- |
| OS | Android 5.0, stock | Android 4.4.4 KitKat, near stock |
| Display | 5.96 inches, AMOLED, 2,560 x 1,440 pixel, 493 ppi | 5.2 inches, AMOLED, 2,560 x 1,440 pixel, 565 ppi |
| Processor | Quad-core Snapdragon 805, 2.7 GHz, Adreno 420 GPU | Quad-core Snapdragon 805, 2.7 GHz, Adreno 420 GPU |
| RAM | 3 GB | 3 GB |
| Internal storage | 32 / 64 GB | 64 GB |
| Battery | 3,220 mAh | 3,900 mAh |
| Camera | 13 MP (back), 2 MP (front), dual LED | 21 MP (back), 2 MP (front), dual LED |
| Connectivity | Wi-Fi, NFC, Bluetooth 4.1, LTE | HSPA, LTE, NFC, Bluetooth 4.1 |
| Dimensions | 82.98 x 159.26 mm x 10.06 mm | 143.5 x 73.3 x 11.2 mm |
| Weight | 184 grams | 176 grams |
| Price | ~ 699 USD / ~ £550 | starting at R$2.199,00, estimated 700 USD/ 550 pounds |
Nexus 6 vs Moto Maxx release date and price
The Nexus 6 is currently out of stock on the the Play Store, but new stock should arrive soon. And it's got a mind-boggling price too: 649 USD. The Motorola Moto Maxx is also not likely to be a cheaper smartphone but may be more expensive than the Verizon Droid Turbo, which is 599 USD. Right now we only know the Brazilian dollar amount, which we think will convert to around 700 USD or 550 pounds. The Moto Maxx is available starting today in Brazil, with Mexico following in mid-November and other, unamed South American countries coming soon after.
Google Nexus 6 vs Moto Maxx early verdict
What do you think of these two smartphones? Looking over all the details again, you get the same processor, RAM, QHD AMOLED display and internal memory. The Moto Maxx therefore appears to be the slightly more economical and compact version of the Nexus 6. Both have excellent technical specifications, and if you go by tech specs alone, the Moto Maxx would win this fight thanks to its 21 MP rear camera and superior battery. We just have to wait and see them live to make a final comparison.
Which one would you get?