Motorola launched not one, but two Moto X models in 2015 – the Moto X Pure Edition (known as the Moto X Style outside of the US) and the Moto X Play. What are the differences between them and which one should you buy? That's what we're here to answer. Read on for all the details in our Moto X Pure Edition vs Moto X Play comparison.
Moto X Pure Edition vs Moto X Play: design
The Moto X Pure Edition is a premium-feeling device with metallic accents and a sturdy build. It has the same minimal elegance that previous Moto X models were known for. It's customizable too; you can choose from 18 different inlays, seven different accents, and black or white main colors for the X Pure.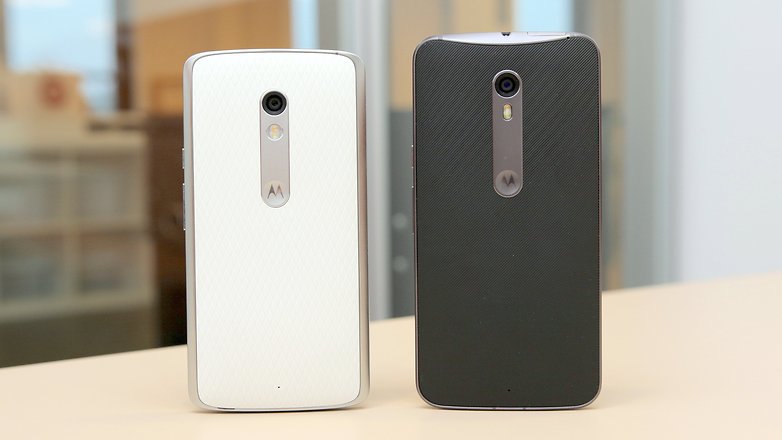 The Moto X Play has a similarly sturdy build, a textured back, metal edges and strip below the camera. It does have fewer customization options than the X Pure, with only 14 different backs and seven accent colors, but both these smartphones are attractive and carry on Motorola's tradition of attention to detail when it comes to design.
The Moto X Pure is the taller device, with a 5.7-inch display compared to the X Play's 5.5-inch screen and is also 10 g heavier, at 179 g. Discounting the slightly more prominent metal rim of the X Play, these phones look very alike.
Both devices are water-resistant, but the front-facing stereo speakers of the Moto X Pure set it apart from the mono speaker-wielding Moto X Play.
Moto X Pure Edition vs Moto X Play: display
The Moto X Pure Edition display is quite a thing to behold. It sports a 5.7-inch quad-HD LCD panel (1,440 x 2,560), with a pixel density of 520 ppi. The display is also covered in a Corning Gorilla Glass 3 layer of protection, making it scratch-resistant.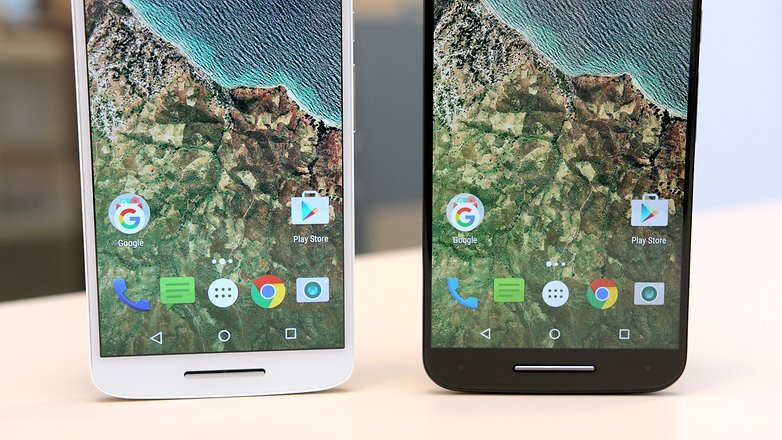 The Moto X Play display comes in at 5.5 inches and has a 1,080p Full HD resolution, offering a pixel density of 403 ppi. It is also covered in Gorilla Glass 3. These displays play a large part in the overall decision of which phone to buy. Is a larger, richer display more important to you than a compact, cheaper handset?
Moto X Pure Edition vs Moto X Play: processor
The Moto X Pure Edition goes slightly against the grain with its processor. While many 2015 flagships have been built using the Qualcomm Snapdragon 810 processor, Motorola decided to go for the less powerful Snapdragon 808, clocked at 1.8GHz. This hexa-core CPU is also paired with an Adreno 418 GPU.
For the Moto X Play, Motorola went with the Snapdragon 615 octa-core CPU clocked to 1.7GHz. This is paired with an Adreno 405 GPU. Overall, the processing power of the Play is good, but the Pure's is far superior.
Moto X Pure Edition vs Moto X Play: storage
The Moto X Pure Edition comes in 32 GB and 64 GB variants and also has microSD card support up to 128 GB. The Moto X Play comes in 16 GB and 32 GB versions, and also supports 128 GB microSD cards.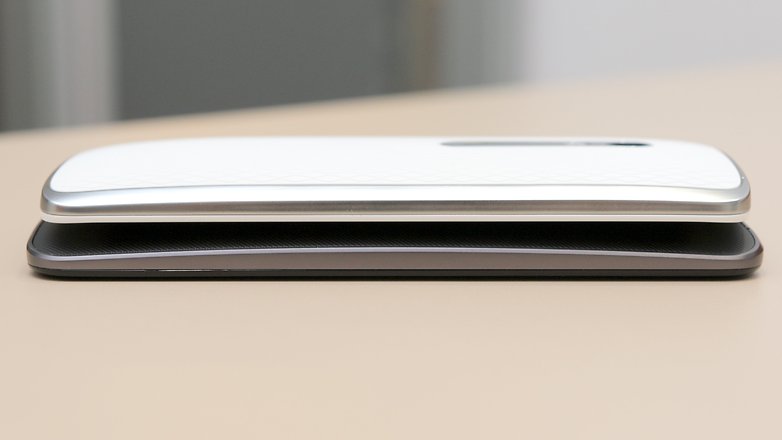 While some may prefer to use cloud services and carry less flash memory in their phone, internal memory is an important factor in many people's buying decision. But having expandable storage almost negates the larger memory of the Moto X Pure Edition; when you can bump storage by 128 GB, a 32 GB initial difference almost becomes negligible, save for the fact that flash memory is a little faster.
Moto X Pure Edition vs Moto X Play: cameras
The Moto X Pure Edition has a truly impressive rear camera. It comes in at a huge 21 MP, with an aperture of f/2.0. Other features include phase detection auto-focusing, dual-LED (dual-tone) flash, 1,080p video recording at 60 fps and 4K video at 30 fps.
The front camera packs a 5 MP sensor, a f/2.0 aperture, wide-angle lens and night mode to go with the front-facing flash for all those night-time selfies.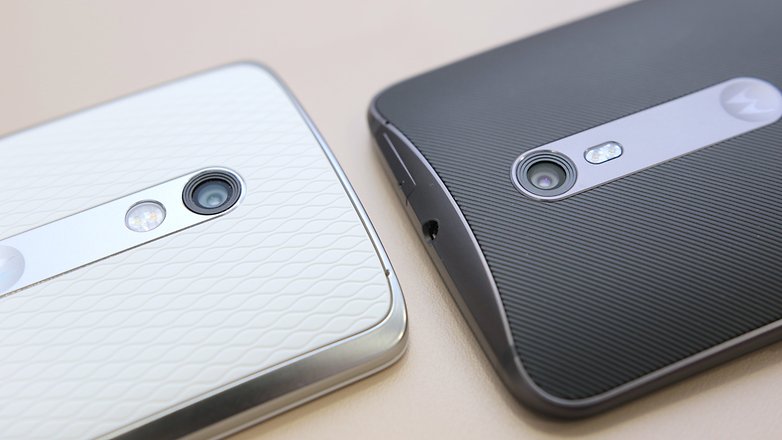 The Moto X Play camera specs are very similar. It has a 21 MP rear camera with f /2.0 aperture lens, shoots 1,080p HD video at 30 fps, has burst mode and also a quick capture feature. The front camera also has a 5 MP resolution, but it lacks the front LED flash that the Moto X Pure has. The X Play also lacks 4K video recording.
Overall, the performance of the Moto X Pure camera is superior to that of the X Play's.
Moto X Pure Edition vs Moto X Play: battery life
Battery life was always a sore point when it came to the previous Moto X models. The Moto X Pure Edition doesn't deliver great battery life with its 3,000 mAh battery. It will need to be charged daily with mixed usage. It does support quick charging though, which can add 10 hours of battery life in a 15-minute charge.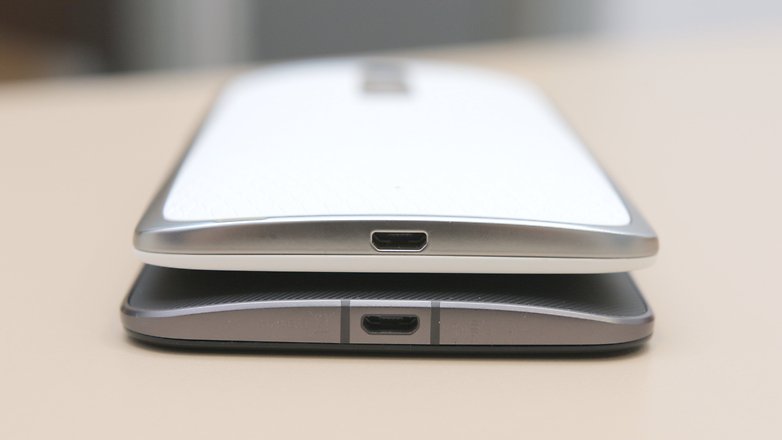 The Moto X Play has a larger 3,630 mAh battery which provides up to 30 hours of charge during mixed use. This is an interesting engineering choice on Motorola's part, given that the larger Pure Edition version of the Moto X is a more premium device. In the battery comparison, the Moto X Play is certainly the winner.
Moto X Pure Edition vs Moto X Play: software
Both the Moto X Pure Edition and Moto X Play run Android 5.1.1 Lollipop out of the box. There isn't much to compare in this regard, as they both run the same software and both will receive Android 6.0 Marshmallow in the future. Which device will get it first, we don't yet know.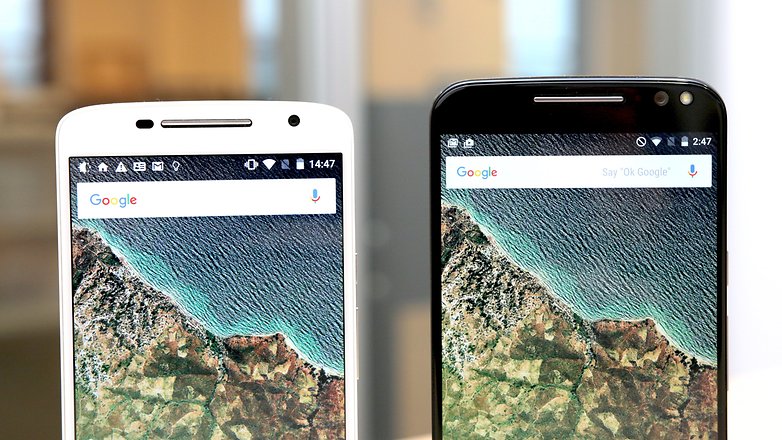 Moto X Pure Edition vs Moto X Play: price
The Moto X Pure Edition costs US$399, significantly less than many devices in its specs bracket, such as the Samsung Galaxy S6. The Moto X Play isn't available in the US, but the UK price starts at £279; £120 cheaper than the Moto X Style (Pure Edition) costs there. With such a solid spec-sheet, it's a great value phone.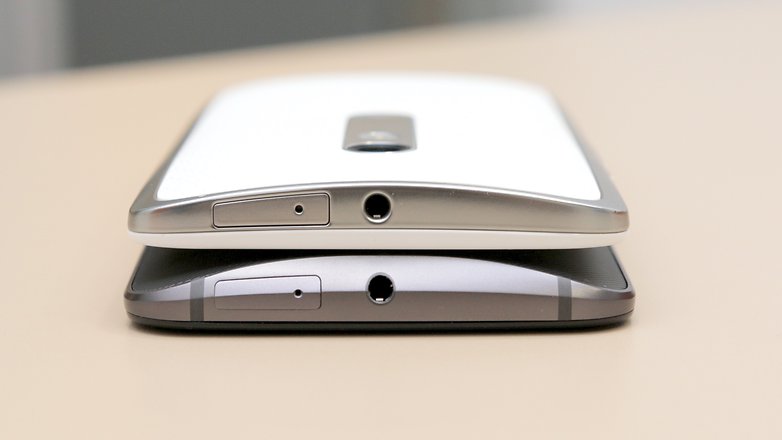 Moto X Pure Edition vs Moto X Play: specs
Motorola Moto X Style vs. Motorola Moto X Play technical specifications
Motorola Moto X Style
Motorola Moto X Play
Dimensions:
153.9 x 76.2 x 11.06 mm
148 x 75 x 10.9 mm
Weight:
179 g
169 g
Battery size:
3000 mAh
3630 mAh
Screen size:
5.7 in
5.5 in
Display technology:
LCD
LCD
Screen:
2560 x 1440 pixels (515 ppi)
1920 x 1080 pixels (401 ppi)
Front camera:
5 megapixels
5 megapixels
Rear camera:
21 megapixels
21 megapixels
Flashlight:
Dual-LED
Dual-LED
Android version:
5.1.1 - Lollipop
5.1.1 - Lollipop
User interface:
Stock Android
Stock Android
RAM:
3 GB
2 GB
Internal storage:
32 GB
64 GB

16 GB
32 GB

Removable storage:
microSD
microSD
Chipset:
Qualcomm Snapdragon 808
Qualcomm Snapdragon 615
Number of cores:
6
8
Max. clock speed:
1.8 GHz
1.7 GHz
Connectivity:
HSPA, LTE, NFC, Bluetooth 4.1
HSPA, LTE, NFC, Bluetooth 4.1
Moto X Pure Edition vs Moto X Play: verdict
It's still too early to tell which of these two devices is best, but we can see some marked differences between them. The Moto X Pure Edition is quite obviously aimed at different Android users to the Moto X Play – although they could certainly be appealing choices to anyone, it might just be a question of price or taste.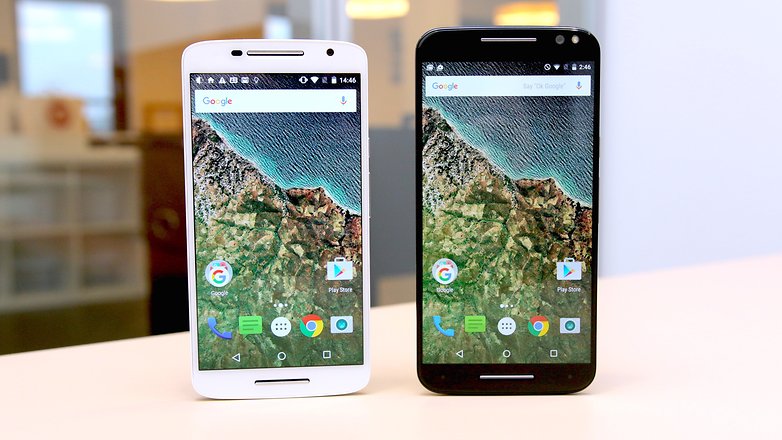 The Moto X Pure Edition is the better phone overall. It has superior hardware, and no amount of software updates will change that. But the Moto X Play is a lot cheaper (if you're buying in the UK) and has a bigger battery. Whether or not this is a tempting enough difference to go for lower screen resolution and fewer camera features, is up to you.
It's safe to say that you're in for a treat with either of these versions of the Moto X though. Pricing and availability might be the difference for you, but we recommend that you consider all the different aspects that we've mentioned above to make an informed choice about which to buy.
Which device do you prefer? Let us know in the comments.