Motorola Droid 5 Leaked (Rumor) When was the last time you could remember Motorola introducing a new smartphone that falls under their flagship Droid series? The Motorola Droid 4 would be the correct answer, and since then, it has been a barren 18 months plus with not a single bit of news or rumor concerning a new flagship Motorola Droid arriving. All that looks set to change, as a Weibo account (the "Twitter of China") has depicted images of the alleged new Droid 5 smartphone from Motorola.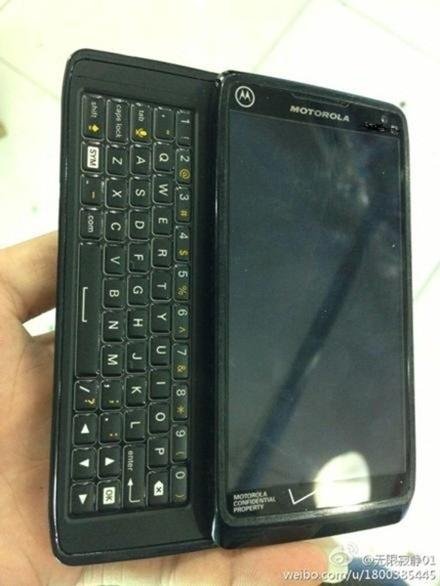 From what we can tell from the alleged leaked Motorola Droid 5 image, the basic design of the flagship handset does not differ too much from its previous four predecessors. In fact, it still carries its trademark slide-out QWERTY physical keyboard, although the buttons do seem to have shed their capacitive capabilities from its previous versions.
Judging by the image and based on our experience, the display does seem to reside comfortably between 4.3" and 4.5", while the Weibo account that leaked out this Droid 5 image also claimed that features such as NFC, wireless charging capability and a water-resistant as well as dust-resistant case are all part of the Droid 5's genetic makeup.
The case does show off the Verizon Wireless logo rather clearly, which goes to "confirm" that the Droid 5 looks set to be part of Verizon's smartphone lineup yet again, just like its predecessors. Still, we have absolutely no idea on what we can fund underneath the hood, nor its release date. Fans of the original QWERTY Droid design will be pleased to know that the same shape has been retained despite having a new owner - Google.