Motorola Droid RAZR and RAZR Maxx Tips and Tricks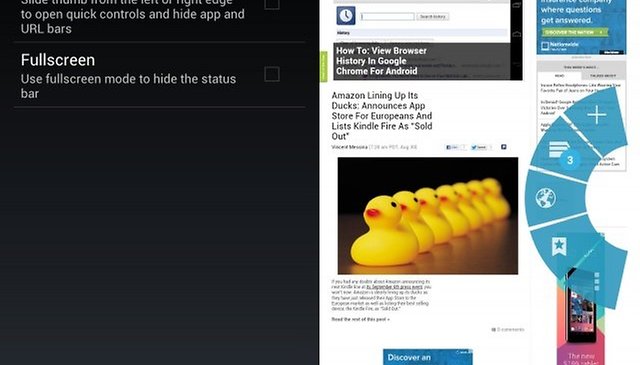 So, you didn't fall for the iPhone and Galaxy S3 hype and decided to purchase a Droid RAZR or RAZR Maxx instead. You've just opened the box, what now? Besides Android's stellar features, Motorola has packed a number of goodies into these two bad boys. Here are some tips and tricks for getting the most out of your Droid RAZR and Droid RAZR Maxx:
Unlock Your Browser's Quick Controls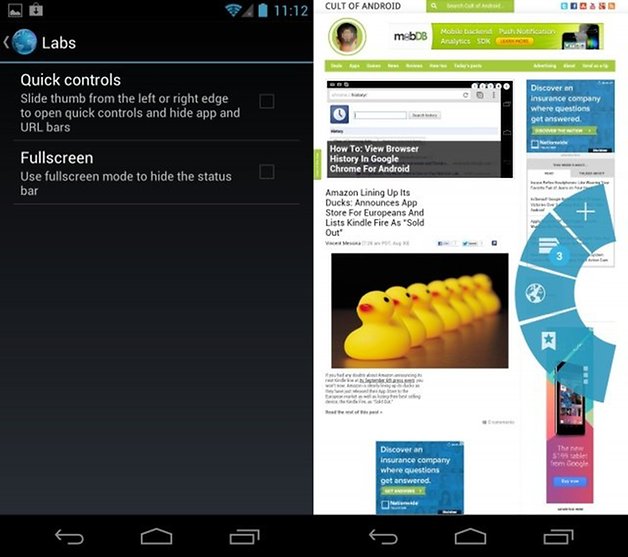 Quick controls allow you to easily switch views when browsing.
There's an easier way to browse. To use quick controls, open the browser and go to Settings -> Labs. From there, check the box next to quick controls. This will activate quick controls on your browser. To access them later, simply slide your finger from the left or right side black border on the screen area. The controls appear under your finger, allowing you to view the full desktop version of the site or save cntent for offline reading.
Use Voice Actions
You can get a lot done just by talking to your smartphone. To utilize voice actions, touch and hold the search button and say what you want to do. You can send an email, call a contact, pull up a map of Golden Gate Park or get directions to the nearest drugstore.
Radically Extend the Life of Your Battery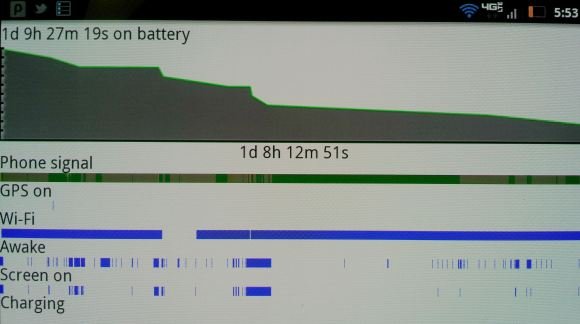 The RAZR Maxx already has an incredible battery.
Even without any tweaking, your Droid RAZR Maxx battery should last you 380 hours in standby mode and up to 21.5 hours of continuous talk time. If you'd like to further extend the life of your battery, go to apps and then click "smart actions." Here you can find settings "nighttime battery saver" and "battery extender." You can also extend battery life by turning off background data transfers. Go to Menu –> System Settings —> Data Usage —> Restrict Background Data. Other tactics involve the usual suspects: dimming the screen and limiting multimedia usage.
Use the HDMI Output to Play with Apps on the Big Screen
The RAZR's HDMI port. Photo from Ubergizmo.com
Did you know that your Droid RAZR can plug directly into your TV? Simply connect the HDMI cord from your phone's port to your HDTV for browsing on your television. Access all of your apps on the top right of the screen, click the right or left edges of the home screen to move between home screen panels and click to the left and right edges of the apps screen to flip through pages of apps and widgets.
Watch Your Phone's Videos on Your TV
Alternately, you can watch any video stored to your phone on your TV. Simply connect it via HDMI cable and adjust the viewable area on the HDTV by going to menu –> system settings —> display —> overscan.
Stream Content from Your Computer to Your Phone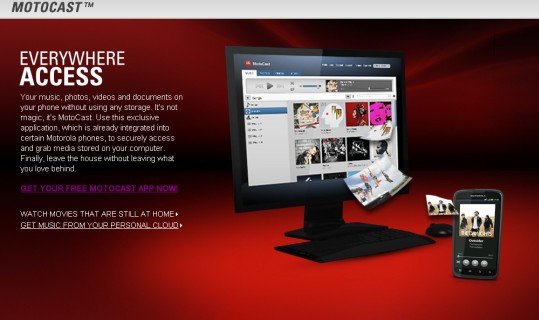 Motorola's MotoCast is easy to set-up.
MotoCast allows you to stream or download music, pictures, videos and documents from your computer directly to your phone without any cables. I suggest using WiFi for this, as you could end up gobbling up your entire data plan in a matter of minutes. To enable MotoCast, go to Menu –> System Settings —> Accounts and Sync –> Add Account –> MotoCast ID and follow the prompts to create a MotoCast account on your smartphone. To enable your computer , connect your smartphone via USB, then follow the on-screen instructions, and log in to choose folders to share.
Automatically Upload Photos and Videos to Your Computer
If you'd like to automatically wirelessly save content from your phone to your computer, open your camera or video app, go to Settings –> MotoCast auto upload.
MOTOPRINT
Your Motorola Droid RAZR Maxx can automatically discover network printers for you – no drivers necessary. You can print emails, documents, and contatcs directly to shared printers on a WiFi network by going to menu – > print from the file of your choise. Add a printer by opening the document or file you want to print, then touching Menu –> Print –> Find printers.
Did we miss anything? Sound off on our Droid RAZR forums.
(Top photo: Tech Revised.com)