Motorola Droid RAZR HD Photos Leaked, Rumored Specs Sound Tasty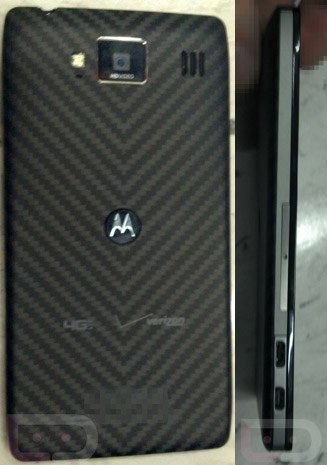 Motorola's Droid RAZR HD is already getting a lot of buzz for its rumored 1.5GHz Snapdragon processor, stellar battery life and 1196x720p display and now the first photos of the device have been leaked. It looks like the phone is going to have the same bulletproof Kevlar backing as the original RAZR and the device looks a bit thicker, which could be due to a larger battery.
Google's Motorola acquisition only became official a month ago so it's probably too early to expect a pure Google experience on any Motorola phone. That said, even with MOTOBLUR, this phone has a lot going for it. A longer battery life could position the phone well against the Galaxy S3 while the 1196x720p display stacks up nicely to the Galaxy S3's 1280x720p. Snapdragon 4 processor could certainly compete well against the Galaxy S3 and HTC One X. The device is also rumored to have a 13MP camera, although none of these rumors have been confirmed.
Other than these blurry pics and those rumored specs, little else is known about the follow-up to the Droid RAZR. I don't know about you, but I'd be willing to buy a Motorola phone for these impressive specs, even with the crappy firmware. 13MP? Hot DAMN.