Motorola RAZR i: A Single-Core Phone with a Seriously Outdated Display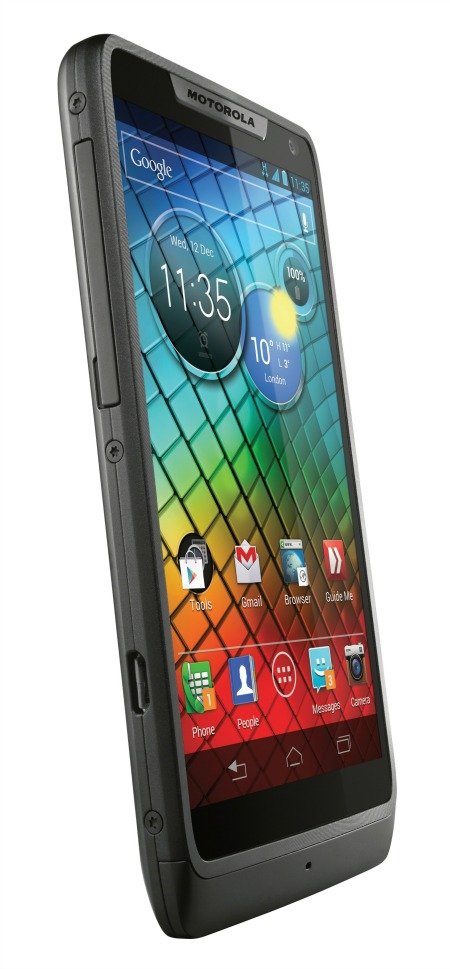 Motorola's Intel-based RAZR i was just announced in London. Motorola is claiming this is the first smartphone with a 2GHz processor and an "edge-to-edge" display. But if look into the specs, what you find is actually a very disappointing mid-range Android phone that's already outdated. Here's why:
Design
Stylistically, the phone looks similar to its cousin, the RAZR M, which is being launched in the U.S. It has a Kevlar-based material that apparantly protects the entire device from water, and a screen which nearly reaches the edge of the device. Motorola has wrapped the rest of the device in "diamond cut aircraft-grade aluminum" and the screen is protected by Corning's Gorilla Glass (like most smartphones these days). That's nice, but the Kevlar look is getting a bit stale, and we wish Motorola was investing more in creating thinner, sleeker smartphones. Remember when the RAZR was synonymous with an ultra-slim design? Those days are gone.
Display
Motorola has been touting the device as having an "edge-to-edge" display, but for all the you'd think they'd invest more in the quality of the display. It has a resolution of just 960x540p, which really isn't very competitive in this day and age.
Processor
Motorola is claiming the Intel processor inside the device can reach speeds of up to 2GHz, but this is a SINGLE core processor. Considering the fact that quad-core is becoming standard, we'll have to test this claim of "2 GHz." We have our doubts..
Camera
According to Motorola, RAZR i's camera can start up in under a second, take up to 10 photos in less than a second, as well as handle 1080p video recording. Unlike the RAZR M, this phone also has a hardware shutter button. It is 8MP, which is about right. Nothing revolutionary, though.
OS
Motorola is launching the RAZR i with Ice Cream Sandwich on board which is a crying shame; the company claims the OS will be upgradeable to Jelly Bean, but I still can't believe it's September 2012 and we're still seeing ICS-based smartphones being released.
Internal Memory
Shockingly, Motorola's RAZR i has just 5GB in onboard storage, which is totally inadequate for most people. In comparison, most Android models begin with 16GB in onboard storage. Perhaps this lowered the price of building the smartphone, but it seems woefully underequipped. Just a few hundred pictures, a video or two and a two dozen apps and your memory is shot. No cloud storage deals, either.
Availability
The RAZR i is launching exclusively in markets outside the U.S. including U.K, France, Germany, Argentina, Brazil and Mexico. It's European retail price is expected to be €399 (which really isn't too shabby).
Can I See a Corny Commercial for the Device?
Yes, of course:
So, What Does All This Mean?
Nothing good. This is a very disappointing entry from Motorola. We had high hopes but we are quite frankly shocked Motorola would be introducing a phone that runs Ice Cream Sandwich, has a measly 960x540 pixels and only 5GB in storage onboard. The bezel is thin, but not thin enough to be revolutionary. The kevlar-backing is a tired look that should have been retired after the first Motorola RAZR. The camera looks decent, and the 2,000 mAh battery should be more than enough to last you a day, but overall, this is not such an impressive entry. At least its starting price isn't outrageous...